Metaverse games are a synthesis of several technologies, for example blockchain, NFT, digital fashion, art, p2e, and virtual and augmented realities.
The metaverse is also seen as the future of gaming and human interactions. This report by Verified Market Research in fact estimates the industry will hit $824 billion in valuation by 2030.
There're numerous metaverse game projects in the works currently.  In this article, let's go beyond the well-known blockchain metaverses like the Sandbox or Decentraland. And learn a little more about what else the immensely growing metaverse game industry offers. 
#1 MegaCryptoPolis
MegaCryptoPolis is a city builder strategy game. All game assets, i.e., lands, buildings, citizens, districts, and packs, are ERC 721 tokens. Players can interact with the virtual city in a variety of ways. 
For example, they can craft materials for other players, create and rent out buildings to earn passive income, breed new citizen generations, and govern an entire district.
#2 The Suites
Inspired by the real local pubs dedicated to one single team during a game, The Suites allows its visitors to win prizes for competing in betting sports contests and games.
The sports-metaverse has 4,932 suites, available as NFTs on the Solana marketplace Magic Eden. You can join a demo Suite here.
#3 Netvrk Land
Netvrk Land is a metaverse built in Unreal Engine. The metaverse consists of 15,000 land parcels. Players can join the P2E game as landlords and build assets on their lands.
They can also rent out their lands to other players. The metaverse game also allows players to create other metaverse-ready NFT assets via a dynamic creation toolset.
#4 Webb Game
As an MMORPG metaverse game in pixel art style, Webb Game integrates a battle arena where players can invite other players to fight their pets.
This is a simple 1v1 battle known as the battle for fun. The digital real estate of this game is called apartments. You can try the metaverse builder here and showcase your NFTs in your apartment once you build it. 
#5 Aiternate
Aiternate metaverse, is a spaceship known as Aurora.  The metaverse is built on solana, one of the leading blockchains in the world. It's made up of 12 sectors that contain 555 entities.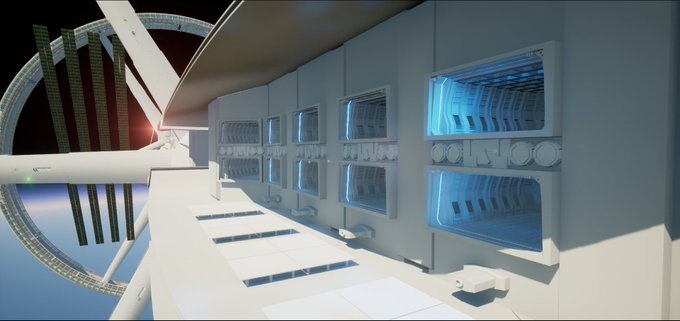 Players can buy entity NFTs to join the game. There're also 6,660 holotabs which represent private rooms in the spaceships. You can customize your rooms and showcase your NFTs via Audius integration. 
#6 DeNations
Decentralized Nations (DeNations) is a metaverse based on real-world data from 195 countries. Each nation has 1,000 nation ownerships, and you can acquire one as an NFT.
The metaverse hosts DeNation's Art Chain, a platform where artists can convert their artwork into NFTs. Players can also earn p2e rewards, for instance, by participating in activities like constructing buildings for landowners and collecting taxes. 
#7 Etherland 
In the Etherland Estatepedia metaverse, players can register a Land ID for their favorite places in the real world by uploading images, videos, descriptions, etc. It functions in a similar vein to Wikipedia. It's possible to own and exchange Land IDs within the metaverse. 
#8 Portals
Portals is another city builder metaverse. It's based on Solana. Portals NFT owners have early access to the central area of the metaverse and can play games and collect new items. You can have a flavor of the Portals rooms entering the single-player demo version.
#9 Vegas City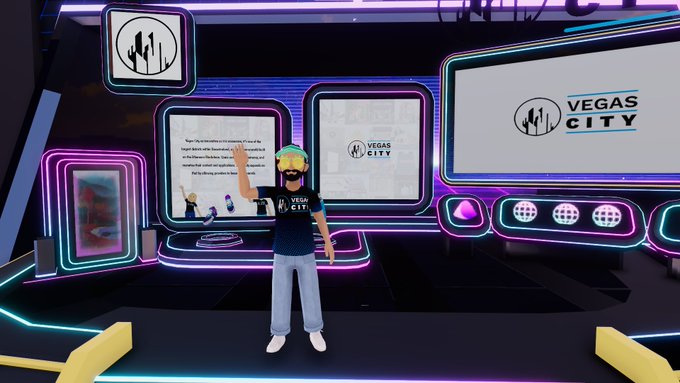 Vegas City is a gaming district in the Decentraland metaverse. Just like other Decentraland experiences, users can create and monetize their own virtual worlds inside the metaverse. The district has 85 galleries and one casino known as the aquarium. 
#10 Over
Are you more into geo-localized metaverse experiences? Then, Over is for you. Landowners can scan real-world places to digitize them for the metaverse and can also incorporate 3D mapping. There's also a hunting feature where you can as many 3D collectibles as possible. 
#11 Matrix World
A multi-chain open-world project, Matrix World stands out with its programmable assets feature. Thanks to it, players can customize almost everything within the metaverse, and they can assign custom attributes and behaviors to them.
#12 The Paradox Metaverse
Paradox is a multiplayer P2E metaverse that has 8,888 Paradoxian characters. Players will be able to join the games by owning the Paradoxian NFTs as heroes and earn PARA tokens as rewards. 
#13 Lux 
Lux is a metaverse experience that brings commerce, art, gaming, and other forms of entertainment together. The project's native token, Lux, will enable holders to stake and purchase items inside the metaverse. In addition, there'll be p2e rewards distributed as Lux tokens. You can try the alpha version for PC here. 
#14 Desolate Space

This metaverse brings the editable virtual planet concept to the table. There're 6667 planet NFTs in Desolate Space distributed over 8 clusters. You can view the map and play the demo. 
#15 Heaven Land
Another solanaverse worth trying is Heaven Land. This futuristic metaverse city exists in a rotating gravitational cylinder in the Earth's orbit. This design emerged as a result of discussions on building a sustainable city, so it looks very different from what we see on earth. You can explore the Heaven Land here. 
Final Thoughts
Metaverse applications are becoming more dynamic each day. From virtual gaming to virtual shopping, developers are finding creative ways to use these platforms for everyday activities. The integration of decentralized technology also makes virtual reality one of the most promising areas of the future.
These platforms can be a disruptive force in many traditional industries including travel, real estate, art, and so many others. While many more metaverse platforms and games will launch in the near and long term, the 15 above should be a great place to start for the metaverse novice. Feel free to also read our article here about how to be safe in the metaverse.