Axie Infinity has announced that it will release a balancing patch for Origin's in-game economy in the coming days. The news comes as players continue to explore Origin Season 0, a massive milestone in rebooting the game. Axie Infinity also notes that the balancing will involve a series of adjustments on cards, Runes & Charms, and more. Season 0 is the third of four phases to launch Origin officially.
We are working on a balancing patch towards the end of this week.

The patch will have adjustments to a variety of cards, effects, Runes, & Charms.

As a reminder, we have firmly set expectations that balancing should be expected during Season 0 through the launch notes. pic.twitter.com/8BLLZ1GjhE

— Axie Infinity🦇🔊 (@AxieInfinity) August 24, 2022
Balancing Details and Key Developments
Axie Infinity insists that the balancing patch is more of a working progress. Although users should expect several vital changes, the game intends to do this in a phased, more gradual approach. So, what are some of the updates coming for Season 0?
To start with, Axie Infinity has migrated all SLP rewards to Origin. Players of the original Classic V2 game will no longer be able to earn SLP tokens from the gameplay. However, SLP rewards will only be limited to PvP Ranked mode in Origin Season 0.

Also, Origin players will be required to spend SLP coins on crafting Runes and Charms. Axie Infinity is also prohibiting SLP minting for Season 0. This is done purposefully to monitor the in-game economy and implement any necessary balancing steps in the coming weeks.
Adjusted Leaderboard Rewards
Season 0 will also feature adjusted leaderboard rewards. Initially, Axie Infinity had announced a leaderboard reward pool of 49,157 AXS tokens to be distributed to 10,000 players. The reward pool will, however, improve significantly with this update.
Players will now compete for a reward basket of 60,708 AXS tokens which will be paid out to 20,000 players. The top player at the end of the season will get 600 AXS, while the second-placed player will receive 480 AXS. All players who rank in the top 20 will all receive above 150 AXS.
NFT Runes and Charms Launched
Runes and Charms were introduced as part of Origin right from the beginning. In fact, these Axie enhancements did not exist in the Classic V2 game. However, although Runes and Charms play a critical role in the gameplay, they were not backed by NFTs.
Axie Infinity is now changing this with Season 0. Moving forward, all Runes and Charms will be backed by an ERC-1155 token, effectively transforming them into an NFT. It will also be possible in Season 0 for players to transfer their Runes and Charms to the Axie Infinity Marketplace and sell them.
Axie Infinity has also introduced new crafting changes for Runes and Charms. First, players will need SLP tokens to craft these NFTs. Also, the NFTs can only be minted onto the blockchain, and this will attract a small minting fee.
The minting fee will be around $3, but it will be paid via AXS. Please also note that the minting fee will apply to all Runes and Charms, even those that existed in the game before this update.
Also, since Axie Infinity is still trying to balance the economy, the P2E game is taking a more precautionary approach to minting Runes and Charms. Minting will only be available for seven days in Season 0. This will give the game ample time to assess its impact on the economy and see if more updates are needed.
More Crafting Changes in Season 0
Season 0 is also expected to have more crafting recipes in a bid to offer more variety for players. There will also be some minor changes in the utility of crafted items. However, details of these changes are yet to be released.
Axie Infinity will also limit the crafting of some utility items. Moonstones and Moon Dusts will likely be affected by this. Nonetheless, Season 0 will have some of the most radical crafting changes.
Updates on Moon Shard Rewards
As noted above, Axie Infinity is tweaking the utility of crafted items in the blockchain game. We are also learning that some changes on how Moon Shards are earned and used are coming in Season 0. Moving forward, utility items will now be earned in the gameplay instead of just being crafted.
The goal here is to incentive players to work through various levels in the game and maintain higher engagement. Axie Infinity is also increasing Moon Shard rewards from Ranked PvP arena wins.
The play-to-earn game is also looking to implement sporadic giveaways for utility items. This will be done in first-time rank-up rewards.
Other Exciting Updates
Season 0 will also introduce special stickers that players can showcase as part of their in-game collection. There will be two types of stickers. The first one will be awarded to players who achieve the "Chick" level this season.
The second sticker will be handed over to all players who finish in the top 20,000. Axie Infinity is also changing matchmaking and victory stars. For starters, the matching logic has been reworked, albeit details of how it will work moving forward remain unknown.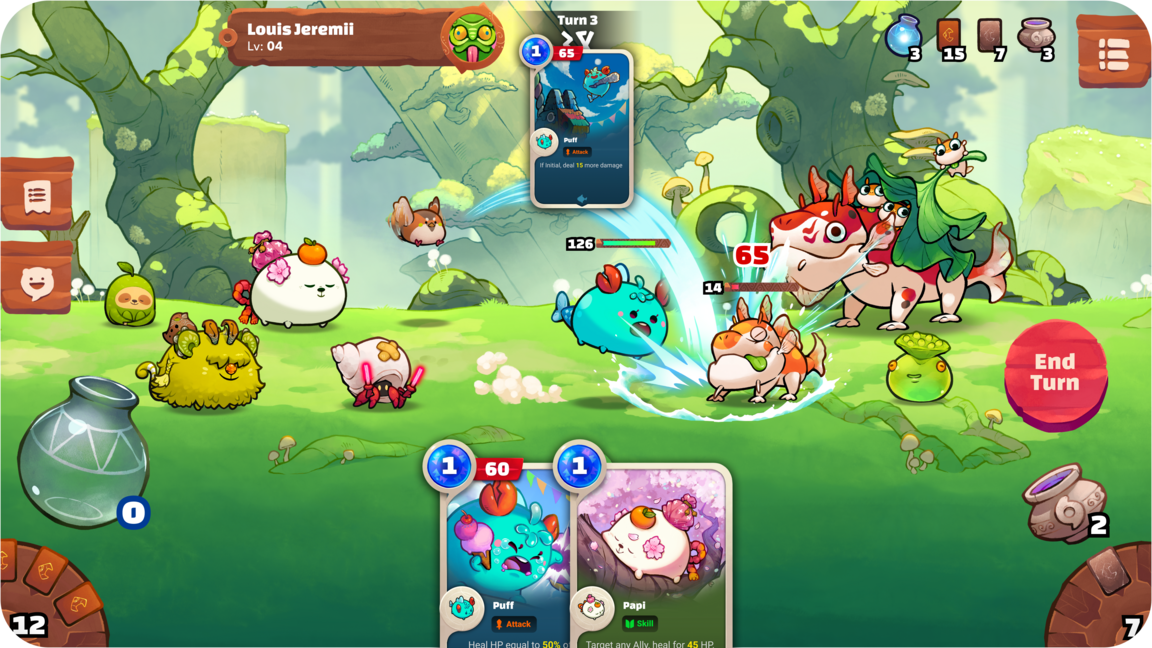 Season 0 will also see users get 10x on all earned victory stars. This is done purposefully to make it easier for folks to transition within the ELO rating system.
Axie Infinity has also made it clear that balancing to optimize earnings should be expected all through Season 0. However, the game has added that it will refrain from making balancing decisions mid-season unless it is absolutely necessary to do so.
Axie Infinity Origin Getting Closer
The launch of Season 0 represents a big step in the ongoing journey to reboot Axie Infinity. In fact, Season 0 is the final phase before the official global launch of the P2E game. So far, Axie Infinity Origin has managed to generate some excitement even during a crypto bear market.
Although we have not seen the latest data, Dapp Radar had estimated back in June that over 600k people had already signed up. Axie Infinity is still fine-tuning the game and its economy to try and offer a more sustainable experience.
The global launch of Origin will coincide with the official launch of Season 1. While no specific date has been given, we are now closer than ever.