Axie Infinity has released the commencement date for Axie Origins Season 1. The season kicks off on September 14th and will feature a leaderboard prize pool of 112,000 AXS tokens. The launch of Season 1 marks the official start of Axie Infinity Origin, a reboot of the original game that started in early 2022.
Axie Infinity: Origins

⚔️| Season 1, September 14th
🔷| 112000 AXS leaderboard prize pool

🔊| Sound on pic.twitter.com/zsBvcLujKr

— Axie Infinity🦇🔊 #AxieCon (@AxieInfinity) September 8, 2022
Origins Season 1: What You Should Know
The launch of Origin Season 1 was announced at this year's Axie Con in Barcelona. It also coincides with the official launch of the Axie Infinity Origin trailer. The 2-minute video gives a sneak preview of the game's appearance and overall gameplay.
Also, Season 1 is a part of a phased launch that Axie infinity started a few months ago. As such, players who played Origin right after the Classic V2 should expect some changes in Season 1. First, all Moonshards will be reset from player inventories.
The Match Making Ratings will also be reset to ensure every player begins on a fair footing. The leaderboard, too, starts afresh for season 1.
Please also note that all Runes and Charms available in previous seasons will automatically expire. This also includes runes and charms backed by NFTs.
Now, these changes were actually expected. Axie Infinity had communicated earlier what these resets would happen when it finally gets to the official global launch of Origin.
But we may also see additional changes in Season 1 depending on the lessons the game developers have learned since they began this journey.
Axie Infinity Origin Season 1: How We Got Here
As noted above, Season 1 marks the official launch of Axie Infinity Origin globally. It's been a long and arduous process, but Sky Mavis has done well to pull it off.
The launch of Origin was conceived after Axie Infinity decided to reboot its game in 2022. Several reasons triggered this, but most of all, the game wanted to rework its economy and create better incentives to attract and retain P2E players.
Besides, Axie Infinity was on the decline after peaking in 2021, and as such, the developers needed something fresh and exciting to deliver to the community.
A Phased Approach in the Origin Journey
Axie Infinity took a reasonably exciting approach as it began work on Origin. Instead of just working on the game behind closed doors and releasing a beta to the community, it decided to do a phased approach that would allow users to interact with the game during its development.
Sky Mavis settled on four key phases that would eventually lead up to the official global launch of Origin season 1. In the first phase, the main focus was to completely retool and test the in-game economy and ensure it is as sustainable as possible.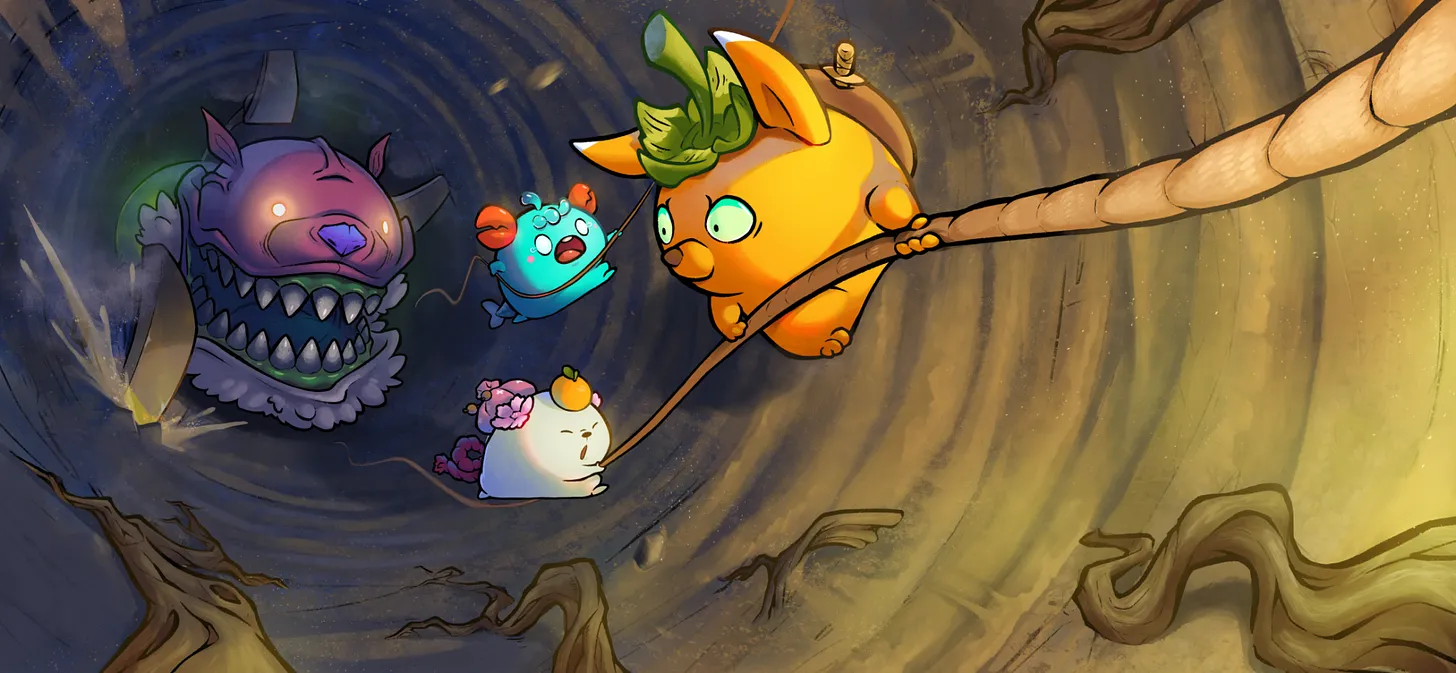 Axie Infinity also wanted to make Origin more competitive and player-centered. The second phase, which began in July, allowed Sky Mavis and the development team to introduce new features.
The team also tested the progression system in the game, crafting, and different game modes. The second phase also came with the launch of the Alpha Season.
Phase 3 and the Launch of Season 0
The third phase of the Origin story was perhaps the most significant since most in-game features were already in place. Axie Infinity also announced the commencement of phase 3 with the launch of Origin Season 0.
Phase 3 also marked a significant move away from the classic V2 game, which is essentially the original Axie Infinity. For instance, SLP rewards were phased out in Classic V2 and moved to Origin Season 0. This was done to incentivize more players to come on board the Origin ship.
Season 0 in Phase 3 ran for 30 days. Sky Mavis also monitored the in-game economy to see if any red flags or bugs needed fixing.
The game, in fact, released a major balancing patch a few weeks ago to implement some of the lessons learned through the first three phases. Phase 4 is where we are now. This is the official launch of Axie Infinity Origin.
Will Origin Take Off?
Sky Mavis has managed to rework the Axie Infinity in-game economy, and the game feels a bit fresher in a sense. Origin has also managed to generate a lot of excitement in fact, a few weeks after the first phase launched, the game registered nearly 600,000 new accounts. Sky Mavis has also made the transition from play-to-earn to play-and-earn.
So, instead of just incentivizing players with cash rewards alone, the gameplay has been improved significantly to make Origin much more enjoyable to play.
Despite this, Origin is still nowhere near the peak days of Axie Infinity. It's unclear if the game will ever grow to those heights again.
But so far, Origin is off to a good start. For now, the only thing players and interested stakeholders can do is monitor Season 1 and see how the game progresses.
The State of the P2E Industry?
Despite its decline in 2022, Axie Infinity still remains the biggest P2E game based on several key metrics, including total NFTs transacted in its in-game economy. However, the game is facing major competition.
The broader P2E market has also maintained steady growth in 2022. In fact, according to the latest industry report by DappRadar and the Blockchain Gaming Alliance, nearly 850,000 daily Unique Active Wallets interacted with P2E apps in August alone. P2E games raised over $750 million in the same month too.
This represents a significant upward trajectory, especially considering that the broader crypto market has remained uncertain.
The DappRadar Report also notes that play-to-earn and metaverse projects are now the world's main drivers of Dapp usage. As long as these trends hold, the industry will continue to expand, and games like Axie Infinity Origin will reap the benefits.