Blockchain-based RPG games are pretty much the same as regular RPG games, but instead, they run on NFTs and blockchain technology. RPG, or Role-Play Games, has always been a trendy genre in the gaming industry, and it seems to never get old. The main distinction of RPG blockchain games is the fantasy element and a particular focus on characters and their abilities. 
In this article, we will cover some of the best RPG blockchain games out there and do our best to provide you with a clear winner. 
What Exactly is a Role-Playing Game?
Before diving deeper into our selection of the best RPG, let's quickly cover what a role-playing game is and why it is so popular amongst veteran gamers. RPG consists of playing a fictional character that develops in a rather fantasy world. As the name suggests, when playing a character in a role play, you play the role of that character. Quite similar to an actor playing a character in a movie. However, unlike scripted movies, the characters in RPGs are free to evolve as per the player's wishes. RPG allows players to enter a world far beyond reality and go on adventures with their friends. Players get to decide what the climax of their character will be by adapting and conquering different events thrown at them.
Top Three RPG Blockchain Games
Below, we will cover our selection of the top three RPG games in descending order. These games are selected based on their popularity (number of active players), their trading volume and the potential for scalability.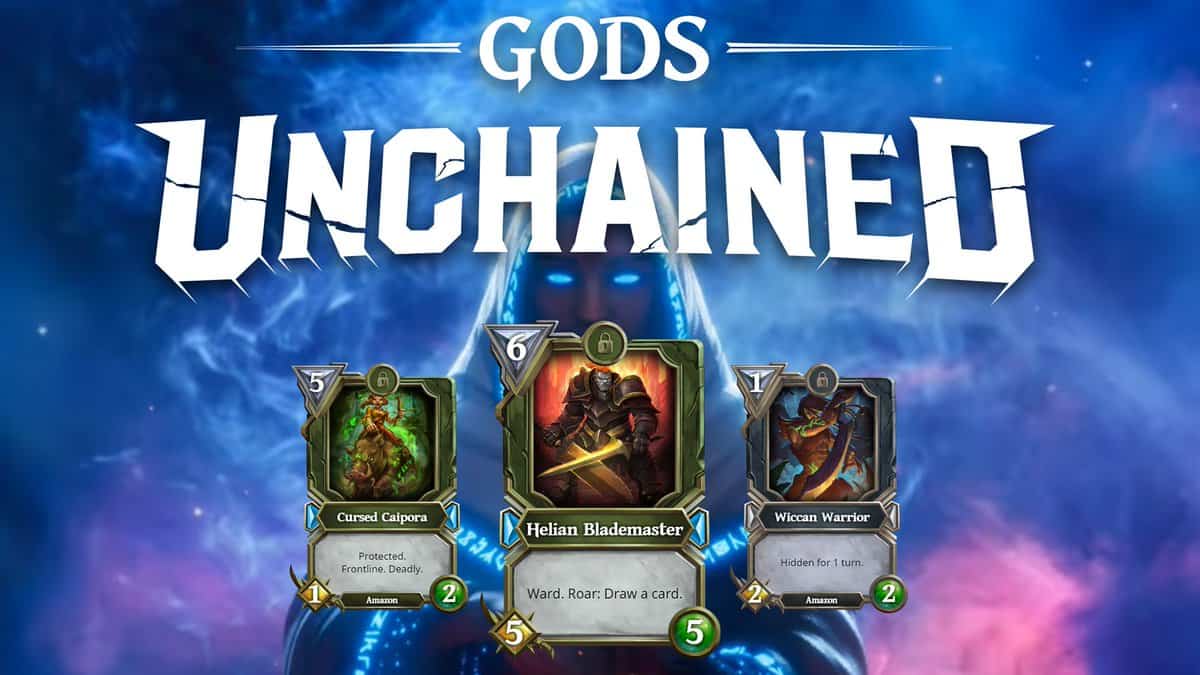 Recognized as one of the top-performing RPG games by crypto enthusiasts, Gods Unchained certainly deserves a spot in our list of top three. A relatively new game, Gods Unchained, is a blockchain-based card game that allows players to control ancient civilizations. As a top-rated crypto game in the market, Gods Unchained was designed to offer a thrilling experience unmatched by any other card game. 
One of the other reasons why Gods Unchained made it to our list is because it's one of the few free-to-play, play-to-earn games out there. Providing the ability to earn digital assets without any initial investments creates an unparalleled attraction for the fanbase of this game. New players receive a Welcome Set of 140 cards when they join their journey at Gods Unchained. Players need to invest time and effort to level up in-game, unlocking the packs containing Common Core Cards. To earn NFT-based cards, players must earn Flux by winning Ranked matches. Flux is required to fuse duplicate Common Core cards via Forge. This results in minting NFT cards that are registered on the blockchain and can be traded or sold for real money on the marketplace. 
With over 650 thousand transactions and traded volume of approximately 1 million dollars, Gods Unchained is undoubtedly a force to reckon with. The total active user count to date amounts to 11.5 thousand. 
Next on our list is Splinterlands. Described as one of the most consistently performing RPGs in the world by many, Splinterlands is also free to play. Similar to Gods Unchained, Splinterlands is another card-trading NFT game that allows players with equivalent ranks to match up for a shot at glory. If you are a fan of magic games, Splinterlands will certainly not fail to disappoint you. NFT enthusiasts praise this project as it guarantees you plenty of fun and entertainment – all while allowing you to earn.
As an RPG game, it allows players to participate in the development of kingdoms and empires. Players can trade NFT items, build their kingdom and expand their armies. Enter the world of kingdoms, and enjoy countless hours of thrilling gameplay and strategic battles against other players. What sets Splinterlands apart from Gods Unchained is the former's highly interactive and engaging community. The community members are always there to help each other, which makes the growth of Splinterlands unparalleled.
In terms of numbers, Splinterlands currently has roughly a million active users on its platform. These users have collectively completed 60 million transactions with a traded volume of approximately 80 thousand dollars.
Although a tough decision for us to make, the winner of the best RPG blockchain game would be Axie Infinity. There are several reasons why we believe Axie Infinity deserves this rating. If you are unfamiliar with this top-rated NFT RPG game, worry not; we're here to help. Axie Infinity is a collectible RPG game that can be played on Android, IOS, and desktop platforms. The gameplay of Axie Infinity is often referred to as a direct inspiration of Pokemon. Players have a team of three creatures called Axies, with different abilities and powers, which they need to battle with. The rivals can be either AI or other real-life players.
Whereas the first two RPG games were free to play, Axie Infinity is not. In fact, it is often considered an expensive game to enter, creating relatively high entry barriers for newcomers. What sets Axie Infinity apart from all the other games is how it incorporates NFTs into the formula. As NFT recreates scarcity in the digital world, its perceived value increases rapidly. The main characters of Axie Infinity, Axies, are all NFTs. The game offers 'breeding mechanisms' which make each Axie unique and original. It takes real-world time and effort to breed an Axie monster. Players have to win battles to earn tokens. These tokens can be used to breed another Axie NFT. Currently, the cheapest Axie available is around $200. Therefore, new players can expect at least $600 (for three Axies) as the starting price for entering Axie Infinity.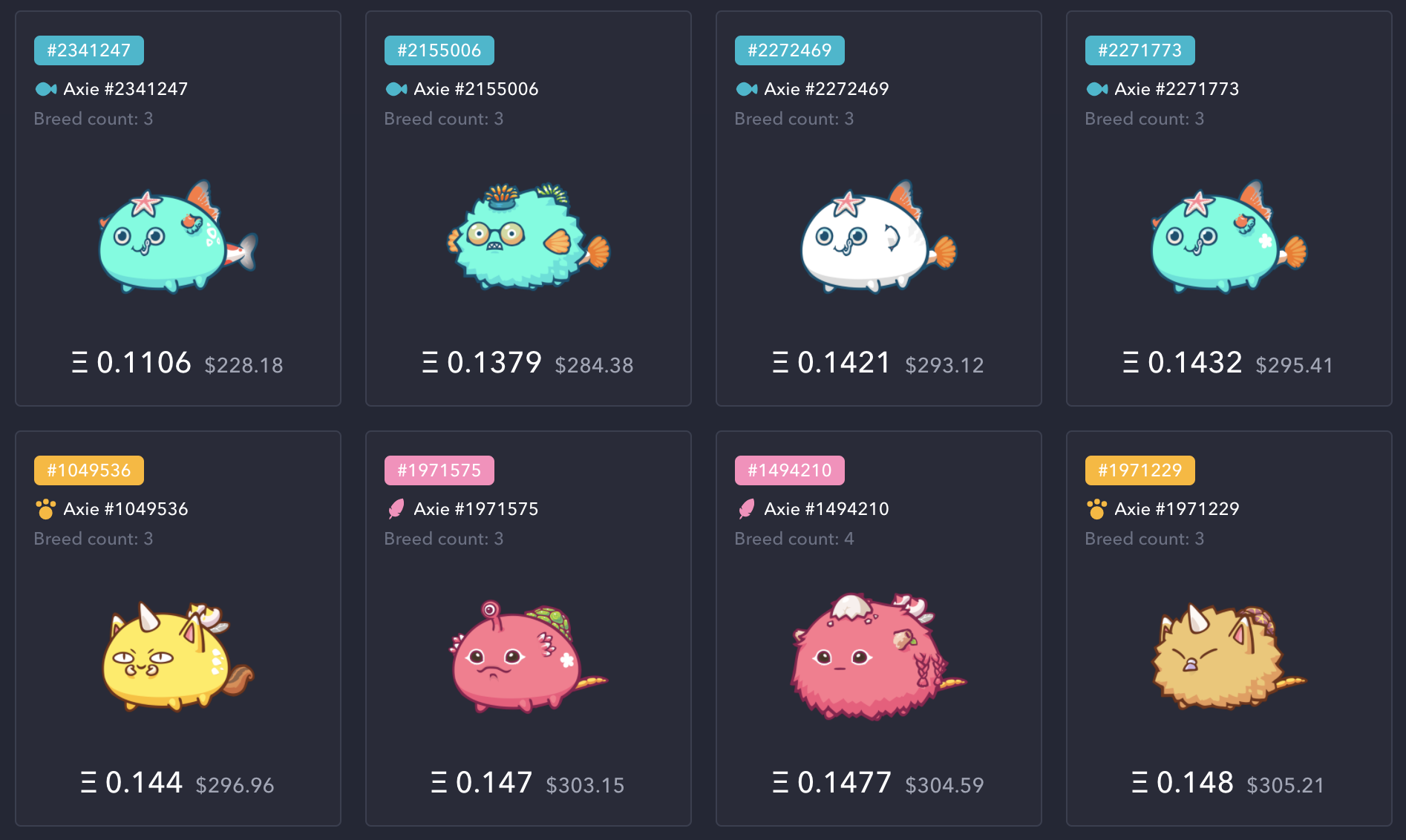 If it is that expensive to start playing Axie Infinity, why did we rank it so high on our list? The answer is the return on investment. The potential of earning in Axie Infinity is vast compared to any other game. Each character you purchase or breed will likely increase in value with time and effort. The potential of turning $200 into $2000 is entirely plausible. This becomes quite evident from factual data. With over $4 billion traded in the volume of Axie NFTs, it is by far leading the RPG landscape. The current market cap of this platform is around $8.5 million. With over 800 thousand users since its inception and approximately 4.2M transactions, Axie Infinity is one of the largest community platforms. 
In conclusion, the growing interests from investors to game developers and crypto lovers make Axie Infinity the best RPG blockchain game on the market.