Cardano is one of the biggest blockchain networks in the world. The platform was established in 2015 as the ultimate 'Ethereum killer' by Charles Hoskinson, one of the five founders of Ethereum.
It was designed to solve some of the key challenges associated with proof-of-work blockchains including high transaction fees, slow speeds, and lack of scalability.
The network was also one of the pioneers of the proof-of-stake consensus. Over the past few years, Cardano has become the biggest proof-of-stake blockchain and a major option for DAPP developers.
It has also seen its fair share of exciting NFT projects. With this in mind, we wanted to take a deep dive into some of the major NFT projects on the platform and the potential opportunity they offer.
What are Cardano NFTs?
NFT is an acronym that stands for non-fungible token. This has been one of the hottest trends in crypto in recent months but surprisingly, very few people actually have any idea what these things are. Well, the word non-fungible means unique in a way that it cannot be replaced by anything else.
So, when we say non-fungible tokens, we mean blockchain tokens that cannot be replaced or duplicated in any way. But how does this apply to all those ape NFTs you've seen? Most NFTs that have made headlines have after all been JPEG images.
Well, what happens is that an NFT can be attached to a piece of digital media to create exclusivity and proof of ownership. So, for example, if an NFT is attached to an average ape photo and you happen to own that NFT, it means you have exclusive rights to the ape photo that nobody else has.
Cardano NFTs are basically NFTS based on the Cardano blockchain. Remember all NFTs are stored on blockchains. The related images are however stored in traditional cloud infrastructure.
Why Consider NFTs Right Now?
The NFT industry has become one of the most important growth sectors for crypto. These digital assets were quite popular in 2021 in fact, total NFT sales during that year topped $40 billion. Some NFT assets went on to hog the headlines with record-breaking sales (See below graph).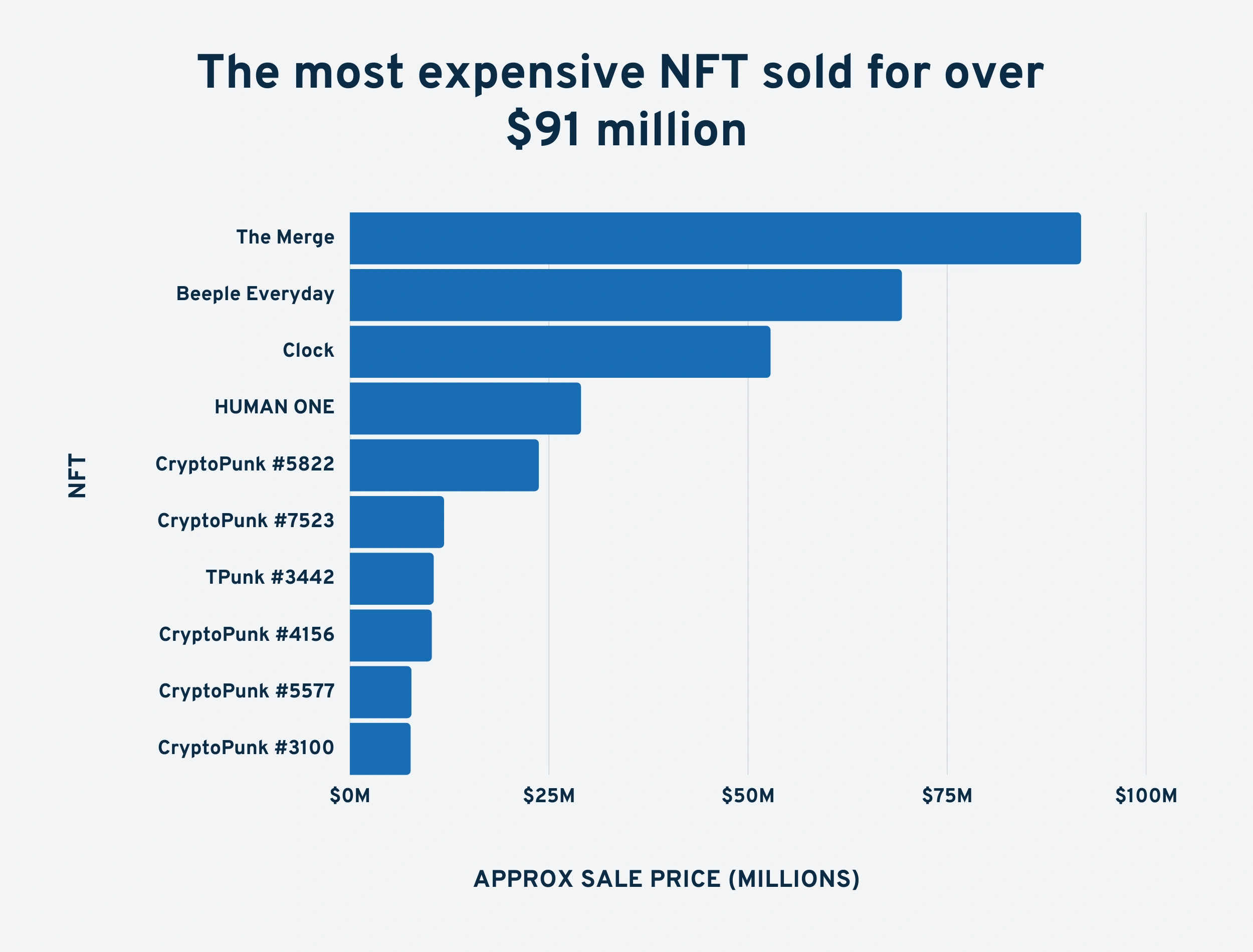 In 2022 however, we have seen some decline. This article by CBS found that sales in Q1, 2022 declined by nearly 47%. Despite this, NFTs are still very promising and even with the slowed growth in 2022, NFT sales in 2022 are still on course to surpass records seen 12 months ago.
The explosive growth of play to earn and the rise of exciting metaverse projects has also placed greater emphasis on the value of NFTs. In fact, Axie Infinity, one of the biggest P2E games in the world, has sold the highest share of NFTs. Total Axie sales have now topped $4.2 billion.
With these numbers, the acceleration of P2E and metaverse projects over the coming years will open new horizons for the growth of NFTs.
Why Cardano Is Suited for NFT Projects
Cardano has done quite well to enhance the suitability of its network for NFTs. To compete with Ethereum, the biggest NFT blockchain network, Cardano has ramped up transaction speeds on its network.
Initially, the maximum speed stood at 250 transactions per second. However, the platform announced the launch of Hydra in late March 2022. Hydra is a layer 2 scaling solution that will increase Cardano's speed to 2 million transactions per second. This will make the platform one of the fastest blockchains in the world.
Cardano Vs Ethereum NFTs
Cardano offers some of the lowest fees among major blockchains. For example, between January 2021 and May 2022, the average gas fee for Ethereum was around $40. Interestingly, this was during the NFT craze that dominated the crypto market.
In fact, data from BitInfoCharts found that NFTs transactions were responsible for the sharp increase in gas fees for Ethereum. At one point, the fees went as high as $198. This is not sustainable and for NFTs to scale, better more affordable chains are needed.
This is where Cardano has stepped in. Some estimates show that the average cost of a transaction on the Cardano chain is as low as $0.91.
The blockchain has also seen some success with NFTs. For example, SpaceBudZ, an NFT project modeled behind the famous CryptoPunks Collection, became the first $1 million NFT on Cardano in 2021.
How to Buy Cardano NFT Collections
There are several main ways to get Cardano NFTs. You can first of all mint your NFTs. However, minting is not for everyone. Also, you can wait for NFT airdrops.
But you will need to get whitelisted for Cardano NFT minting which in most cases means you must fulfill certain criteria.
Finally, if you miss out on airdrops, you can always buy NFTs in a Cardano marketplace. Here are some simple steps to take:
Make sure you have a Cardano native wallet. (Check this post for more info)
Find a reliable Cardano NFT marketplace (See our detailed guide below)
Once you are on the marketplace, go ahead and connect your Cardano wallet.
Peruse the NFT collection available and choose the NFTs you want.
Click buy and follow the prompts until the transaction is completed.
How To Mint an NFT On Cardano?
Creating NFTs on Cardano is a bit more technical than actually buying. To do this, you need 3 main things. First, make sure you have a decent understanding of Cardano CLI mint NFT terminologies and workings.
Secondly, you must own a complete Cardano node. Finally, make sure you have a Cardano wallet and at least 2 ADA coins in it. Once you have these things, follow the detailed guide in the video above and you should be fine.
In most cases, minting NFTs on Cardano is done by people who have some background in computer programming. It may be hard for the average person to pull this off. Please also note that minting NFTs on Cardano is free of charge. You will however pay the transaction fees.
Cardano NFTs – Best Projects Right Now
Cardano offers a huge pool of new and existing NFT projects for all investors. It can therefore be hard to decide in this sea of digital assets which ones are worth your time. Well, we actually did some in-depth research on some of these projects and came up with a list of some of the most promising NFT projects on Cardano right now.
Our analysis is based on several factors including NFT rarity, trade volume, utility, uniqueness, and overall future use cases. We also considered the credibility of project creators, the size of the community behind the project, the market strategy or roadmap for each project, and a host of other factors.
Also, we thought it would be nice to focus on blue-chip NFTs only. While there are several exciting upcoming projects, blue chip collections are often relatively less risky from an investment point of view. Without further ado, here is the full list.
N.B. All stats used to analyze NFTs are based on the most recent data from several analytic tools. These stats can change over time but the basis of using them to analyze NFTs is still credible.
Blue chip Cardano NFTs
In general, a blue chip NFT is a popular well-known project that is already established within the marketplace. Blue chip NFT projects are often verified and stable. They are considered to be a good option for long-term NFT investments. We have quite a few blue-chip Cardano NFTs to go through here below. Check them out!
#1. SpaceBudz
Launched in March 2021, SpaceBudz is one of the most successful Cardano NFTs so far. The collection features 10,000 completely unique and adorable astronaut NFTs.  All the unique traits of each SpaceBud are stored on-chain to guarantee security and longevity.
However, the images themselves are stored on IPFS and Arweave. As one of the pioneering CNFTs, SpaceBudz has managed to establish a strong community of passionate fans. These Cardano NFTs hold the all-time high single sale record of 510,000 ADA. At the time, this translated to over $1 million.
The performance stats are also quite impressive. According to data from CFNT.io, the lifetime volume for SpaceBudz NFTs stands at 37.8 million ADA, the highest among Cardano NFTs. Sales have reached 3,680 NFTs with over 3,000 unique wallets purchasing this collection.
However, SpaceBudz NFTs have a relatively higher floor price of around 3800 ADA. It's the highest floor price among the top 20 Cardano NFTs right now. The SpaceBudz community has also expanded relatively strongly in recent months. The project has well over 34k followers on Twitter right now and almost 10,000 active members on Discord.
#2. Pavia
Pavia is an immersive metaverse project, the first of its kind on Cardano. The metaverse has an interesting backstory. It is named after the Italian city of Pavia, the birthplace of Gerolamo Cardano, the mathematician whose name appears on the Cardano blockchain.
The project has been offering a wide range of NFTs including metaverse land and other in-game items as well. According to data from OpenCNFT, 100,000 unique Pavia NFTs have already been minted. 42,000 have already been sold while total NFT trades are at 59,000 in total. Pavia NFTs have reached a trading volume of around 32.2 million ADA as of now, only second to SpaceBudz NFTs.
Interested buyers also get a relatively lower floor price of around 190 ADA. This is large because of the huge number of minted Cardano NFTs under this collection. Also, Pavia CNFTs have been quite popular among the Cardano community.
As of now, nearly 18,000 unique wallets hold these collectibles. The NFTs have also managed to attract big money buyers with an all-time high single sale of around 50,000 ADA. What makes Pavia such an interesting NFT connection is the potential utility it has.
The platform is currently building its metaverse. In the future, Pavia NFTs will become an integral part of its virtual economy.
This means that it will be possible to generate revenue by holding these assets. As such, the value of these CNFTs will likely grow as the Pavia metaverse expands its in-game economy in the future.
So far, the Pavia community on Twitter has hit around 70,000 people while the discord channel has around 72,000 active members. It is one of the largest Cardano NFT communities right now.
#3. Clay Nation by Clay Mates
There has been debate out there whether Clay Nation by Clay Mates is a blue chip NFT collection. Well, the stats don't lie, and when you consider it's rated 3rd among CNFTs, it's hard to argue against its blue-chip status. Anyway, Clay Nation by Clay Mates is a collection of 10,000 unique NFTs.
The collection features a series of unique characters who come to life using stop motion animations. The NFTs have also been retooled to adapt to the Cardano blockchain. What makes Clay Nation by Clay Mates such an exciting NFT project is the fact that it's super original.
We have all seen NFTs of bored apes saturate the market. But nothing out there is quite like Clay Mates. The project also regularly hosts adoption days where users can get their own Clay Mates free of charge. Now, let's get to the stats.
Established in April 2021, the Clay Mate collection has so far sold out 7,000 out of the 10,000 unique NFTs minted. Data from OpenCNFT also shows that trade volume is now at around 27 million ADA while the current floor price is at 2,649 ADA.
This makes Clay Mates some of the costliest NFTs in the market right now. The project has also attracted over 7,000 unique wallets. The Clay Nation Twitter community has reached around 60,000 followers while discord members have reached around 20,000.
Clay Nation also wants to give these NFTs more utility through the launch of the Clay Nation Metaverse. This is a big step in sustaining the collection for a long time to come.
#4. The Ape Society
The Ape Society is the largest ape-inspired NFT project on Cardano. It is actually ranked 6th by volume but there are a few other aspects that make it an interesting blue chip CNFT. The Ape Society is a collection of unique Ape NFTs.
Only 7,000 NFTs have been minted, each with unique traits and attributes. The collection has seen a lifetime trade volume of a little over 14 million ADA. It is one of only 8 Cardano NFTs that have a trading volume of above 10 million ADA.
The Ape society has over 2,200 unique wallet holders. Out of the 7,000 NFTs minted, 5700 have already been sold with total trades topping 11,000. The Ape Society has also reported one of the highest single sales after one of the NFTs sold for 107,000 ADA.  There are a few other interesting things about this collection too.
First, all existing apes are whitelisted for a cabin plot within the Ape society metaverse. These are basically customizable rooms that are all NFT-backed and tradable. The project is also working to build a robust ecosystem around its NFTs.
So far, the Ape Society has already launched its native utility token called $SCOCIETY. The token can be used to add utility to ape NFTs and expand the functionality of Ape cabins to generate more income.
The ecosystem is also introducing crafting where users can use resources collected in the virtual world to make unique NFT items for sale. This expanded utility makes the Ape Society collection a very unique CNFT with immense potential.
#5. Boss Cat Rocket Club
The Boss Cat Rocket Club is also one of the major Cardano NFTs focused on building sustainable collections through the integration of metaverse utility.
The collection, which was founded by a member of the BAYC community, features a finite supply of just 9,999 unique NFTs. It has so far hit a trading volume of around 22 million ADA.
Out of the 9,999 NFTs minted, so far 7,300 have been sold. Total NFT trades, according to analytics done by OpenCFT, have reached 16k. At the moment, Boss Cat Rocket Club NFTs are held by around 4200 unique wallets.
The roadmap and plans for the collection also look very interesting. The project is building the Boss Planet Metaverse to help expand its community and enhance the overall sustainability of its collection.
The plan is to offer around 129, 600 distinct parcels of land where users can interact and craft additional tradable NFT items.  Each of these parcels in the boss planet will be backed by NFTs too. Boss Cat Rocket Club has also released BCRC Rocket collections.
This is a limited edition NFT that users will need to explore the Boss Planet Metaverse. So far, 1,111 rockets have been released.
But to make things interesting, the project has also issued 3,333 NFT-backed rocket parts. Users can collect these parts and use them to build full rockets. The rockets can then be sold or used to explore the BCRC metaverse.
#6. Boss Cat Rocket Parts
As noted above, The Boss Cat Planet is going to be a highly functional metaverse for Boss Cat Rocket Club NFTs. However, to explore this planet you need rockets, right? So far, the project is releasing NFT-backed rocket parts that will be needed to build fully-fledged rockets.
It turns out that these NFTs have actually become quite hot over the last few months.  So far, a total of 4,444 NFTs fall under this collection. This includes 1,111 full rockets and around 3,333 rocket parts.
The NFTs have also attracted big money transactions with an all-time high single sale of 32,000 ADA. Lifetime trade volume has also risen to 14 million ADA while the total number of unique wallet holders is at 1235. Out of the 4,444 NTFs already minted, about 3,000 have already sold.
The NFTs have also attracted one of the highest floor prices among the top Cardano NFTs. Right now, the floor price is at 1600 ADA. The Boss Cat Rocket parts are ideal for people who already own Boss Cat Rocket Club NFTs.
These collections are highly intertwined and their value could expand massively once the Boss Club metaverse becomes fully functional.
#7. ChilledKongs NFTs
ChilledKongs is a collection of chilled ape NFTs with every piece in the collection featuring its own unique attribute. Only a limited supply of 8,888 NFTs have been minted under this collection and so far, 6300 have already sold.
The ChilledKongs NFTs also has one of the highest lifetime volumes among Cardano NFTs. The collection ranks in the top 10 with 14 million ADA already traded. The NFTs have also recorded an all-time high single sale of 135,000 ADA, one of the highest on Cardano.
The NFTs are among the most expensive too with an average floor price of 2590 ADA. The ultimate goal for ChilledKongs is to build a robust ecosystem around its NFTs. So far, the project has released its roadmap and we are seeing some very interesting aspects.
For example, the collection is working on metaverse spaces that will be the basis of interaction for its NFT holders. Work on the Kong's token is also in progress. The token will be the in-game currency of the ChilledKongs metaverse.
There are also plans to launch a Kong's garage where users can buy additional NFT items while the development of 3D Kong's is in full swing as well. ChilledKongs is also selling related merchandise.
Although these roadmap highlights are a few months away from reality, they indicate that ChilledKongs wants to be more than just a collection of digital NFTs. There is a deliberate effort by the community to expand the utility and this is very good for the long-term growth of this NFT project.
#8. Aquafarmers NFTs
Aquafarmers is among the latest Cardano NFTs. The collection launched through a single airdrop on May 17th, 2022. It features 10,000 unique NFTs. The project is a brainchild of Liqwid Finance, a DeFi lending protocol built on Cardano.
Now, Aquafarmers is currently not among the top 10 Cardano NFTs in terms of trade volume. But it's not off by much in fact, the fact that it launched a few weeks ago and is now ranked 15th is a sign of how exciting Aquafarmers is.
The stats also look very good. For starters, the collection has already surpassed a volume of 3.5 million ADA. Also, out of the 10,000 NFTs minted, 4,700 have already sold. The average floor price for Aquafarmers is also relatively cheaper at 260 ADA. So far, the project has set an all-time high single NFT purchase of 61,000 ADA.
The Aquafarmers NFTs also comes with 4 rarity levels. The legendary tier, which is the highest in the pecking order, is the most valuable. Only 1% of all minted NFTs are legendary, making it a very exclusive option for investors.
The second tier is the Super Rare category where only 10% of all minted NFTs will be.  The rare and common tiers will both have 22% and 67% of all minted NFTs respectively.
We have not seen any specifics on how Liqwid Finance intends to drive utility for Aquafarmers. However, since the collection is fairly recent, some of these details will likely come out soon.
#9. Disco Solaris
Disco Solaris is a highly integrated retro-inspired decentralized metaverse. The platform is building what it calls 'Neo Miami', an immersive retro city where users can interact, play games, and enjoy an exciting virtual experience.
To expand Neo Miami and build a strong community around it, Disco Solaris is now offering its Cardano NFTs. The Disco Solaris NFTs first of all grant you access to the Neo Miami metaverse.
You also get to own a piece of this exciting land. There are however plans to expand how NFTs are used in the game. Right now, a finite number of 5,777 Disco Solaris NFTs have been minted. 5,100 of these have already been traded.
Disco Solaris NFTs have also scaled the rankings of the leading Cardano NFTs with a trading volume of 3.2 million ADA. This puts the collection in the top 20 for now.
As for all-time highs, the biggest single sale stands at 125,000 ADA while the average floor price is at 420 ADA. Disco Solaris is a very interesting pick because there is huge potential here to unlock long-term value.
By making these NFTs the basis of the Neo Miami metaverse, it is possible to see a path through which these assets could become very useful in an exciting immersive world.  Nonetheless, the metaverse project is still in its early stages.
#10. Zombie Chains
Zombie Chains is a collection of 10,000 unique zombies. The project has two parts. The first one allows users to buy NFT zombies. The 10,000 zombie NFTs have already sold out but you can still buy them from 3rd party marketplaces.
The second part of the project allows investors to own Zombie hunters. 10,000 unique zombie hunters have so far been minted. The overall stats for the collection are not that bad too. With a trading volume of around 3.2 million ADA, Zombie Chains is among the 20 most traded Cardano NFTs.
The zombie collection has also managed to hit a single sale all-time high of 36,000 ADA. Although this is not one of the largest sales on Cardano, it's still quite respectable.
The project also has a growing community on Twitter and Discord and has attracted 2676 unique wallet addresses so far. The sustainability of the collection is also looking good.
The best way to expand the value of NFTs is to expand their usage. Whether you do this through play to earn games, new virtual worlds, or even real-life cases, this is a big part of modern NFTs. Zombie Chains is making moves on developing a trading card game based on its collection.
The general premise of the game is to put zombies and hunters on either side of the ring. So far, the game has been finetuned with additional features as Zombie Chains looks to enhance the utility of its NFTs further.
The Best Cardano NFT Marketplace
Minting an NFT is not always an option for a lot of people. Besides, top Cardano NFTs are often released in finite supply. As such, the collectibles will typically mint very fast and this eventually locks out a lot of interested buyers.
But you don't need to worry because you can still buy CNFTs from third-party marketplaces. In fact, marketplaces account for the biggest share of CNFT trading volumes. Well, there are several Cardano NFT marketplaces to use. However, the following are some of the most trusted and reliable options in the market right now:
Now let's take a closer look at some of these marketplaces, the features they offer, and why you should consider them for your CNFT purchases.
CNFT.IO
CNFT.io is one of the biggest Cardano NFT marketplaces right now. The platform was launched in July 2021 and has grown to become the ultimate stop for some of the hottest Cardano NFT projects. CNFT.io has a wide range of collections available.
From the more popular NFTs to the relatively new ones still under the radar, you will find everything you need on this Cardano marketplace. CNFT.io was also the first marketplace on Cardano. Over 50,000 native assets have already been listed here with millions of dollars worth of sales so far. The fees are also standard.
The platform charges a 2.5% fee on all NFT transactions. Also, the Cardano NFT marketplace offers very useful analytics tools including important data on all assets listed. This should help you gauge the authenticity of each NFT project before you buy. (Check out this video below on how to buy NFTs on CNFT.io)
CNFT however wants to be much more than just a Cardano NFT marketplace. The platform is already working on an NFT launchpad project that will give interested investors early access to new and promising NFT projects. CNFT is also working on its native utility token that will unlock more value for its community.
JPG Store
JPG Store is also a fully dedicated Cardano NFT marketplace that will allow you to create, discover, buy, and sell some of the best Cardano NFTs out there. The marketplace has so far processed 272.5 million ADA in trading volume, making it one of the largest marketplaces for Cardano collectibles.
JPG Store has also interacted with 180,000 unique wallets and paid out 10.2 million ADA in royalties. You will also get a robust collection of NFTs including some of the rarest most sought-after Cardano NFTs.
The marketplace is constantly updating its offerings to ensure you get the latest collectibles as quickly as possible. JPG Store also has a functional NFT launchpad as well for early projects and will give creators a set of innovative tools to create and sell their unique NFTs.
Whether you are an NFT collector, a creator, an enthusiast, or just a trader, there are enough collections at JPG Store to fully satisfy your needs. (Check out the video below for a step-by-step guide on how to buy NFTs on JPG Store).
This Cardano marketplace has also taken a community-driven approach. It strives to accommodate the feedback and views it gets from creators and buyers to make the platform more user-friendly. JPG Store also adheres to the Cardano ethos and the core value systems that have made Cardano one of the leading chains in the world.
Cardahub
Cardahub is considered one of the most advanced Cardano NFT marketplaces. It is quite literally your one-stop shop for all major and non-major Cardano NFTs in the world. The platform also offers some additional info to help you stay ahead of the NFT market.
For instance, you get access to detailed analytics and some up-to-date info on airdrops and such things. Cardahub has also developed advanced and easy-to-use creator tools for artists who want to build their NFT collection.
There is also a dedicated section of 'Recently minted" NFTs that provide up-to-date info on the latest CNFTs hitting the market. Cardahub is also a trustworthy Cardano marketplace with extra emphasis on security, privacy, and safety. (Check the video below for a guide on how to buy NFTs on Cardahub)
If you are looking for a stress-free marketplace that is versatile enough to accommodate creators and collectors, you won't find a better option out there than Cardahub. The platform also charges a standard fee of 2.5% of all transactions.
There is also a huge collection of NFT assets to choose from and a comprehensive search tool that allows you to filter out results based on very specific NFT attributes.
Tokhun
Tokhun is also a comprehensive and well-built marketplace fully dedicated to Cardano NFTs. The platform offers a series of incredible features too. First, you get daily updates on all NFTs that are on discounted sale. This can help you save a ton of money in the process.
Tokhun also has a reliable discovery tool that lets you explore the huge variety of collections available and see if you can uncover a few hidden gems. There is also an updated list of the recently sold NFTs together with the floor price and other details.
Speaking of details, Tokhun also gives you access to advanced analytic tools with detailed info about each collection. The interface looks a bit cluttered but it should be easy for most people to navigate through and find what they need. (Check out the video below for a step-by-step guide on how to buy Cardano NFTs on Tokhun).
This Cardano NFT marketplace is also building an integrated ecosystem with its TKHN token. Holders of the token get exclusive access to certain NFTs and projects. However, this is still a working progress.
NFTJam
NFTJam calls itself a 'High velocity' and highly advanced Cardano NFT marketplace. Well, it's actually true in fact, the platform offers some of the most advanced listing and analytics features you will find. The marketplace also prioritizes performance.
While it works to ensure you get a huge variety of NFTs, NFTJam has invested heavily in the technology needed to make it easier for you to find what you want. This includes all the info and data required to make an informed choice on whether to buy an NFT or not.
The platform also has a simple and intuitive user interface and a robust customer support department to walk you through any issues.
Conclusion
Cardano has positioned itself as one of the most promising NFT blockchains in the world. The high transaction speeds, low gas fees, and scalability have made the platform a great choice for new NFT projects.
Although Cardano is yet to match up to Ethereum, the biggest NFT chain in the world, the platform has been catching up quite fast. Besides, Cardano has so far seen a host of popular NFT projects that have gone on to generate millions of dollars.
There is a ton of new and upcoming projects as well that offer immense potential. This puts Cardano in the fast lane toward dominating the NFT space shortly. From an investment point of view, it makes sense to check out what is on offer there and see if you can discover some incredible digital assets.