Cardano Warriors Testnet has arrived! What does this testnet mean, and how is this blockchain RPG developing? We will be looking at how to play this exciting retro-style NFT game and a detailed summary of the new testnet features. Play-and-earn games are becoming increasingly popular, and the idea of an NFT-style retro game has had a lot of positive attention. So, let's find out more!
What Is Cardano Warriors?
Cardano Warriors is an upcoming retro-style play-and-earn RPG game on the Cardano Blockchain. The blockchain has a range of NFT games such as Cardano Village, and Yummi Universe. The game consists of buying islands, forging and upgrading items, partaking in challenges, and becoming the most legendary Cardano Warrior. When you play the game, you are required to buy an NFT warrior. There are common, uncommon, rare, epic, legendary, and mythical warriors for you to choose from. Investing in one of these warriors' NFTs allows you to trade for other game assets, as well as in-game items and digital Warrior points.
In Cardano Warriors, you can buy and sell islands as part of the earning process. The game defines itself as a play-and-earn game rather than a play-to-earn game. Players will be entitled to completely customize their island and almost all aspects of the game. Developers are interested in bringing the world of NFTs to the world of classic retro gaming.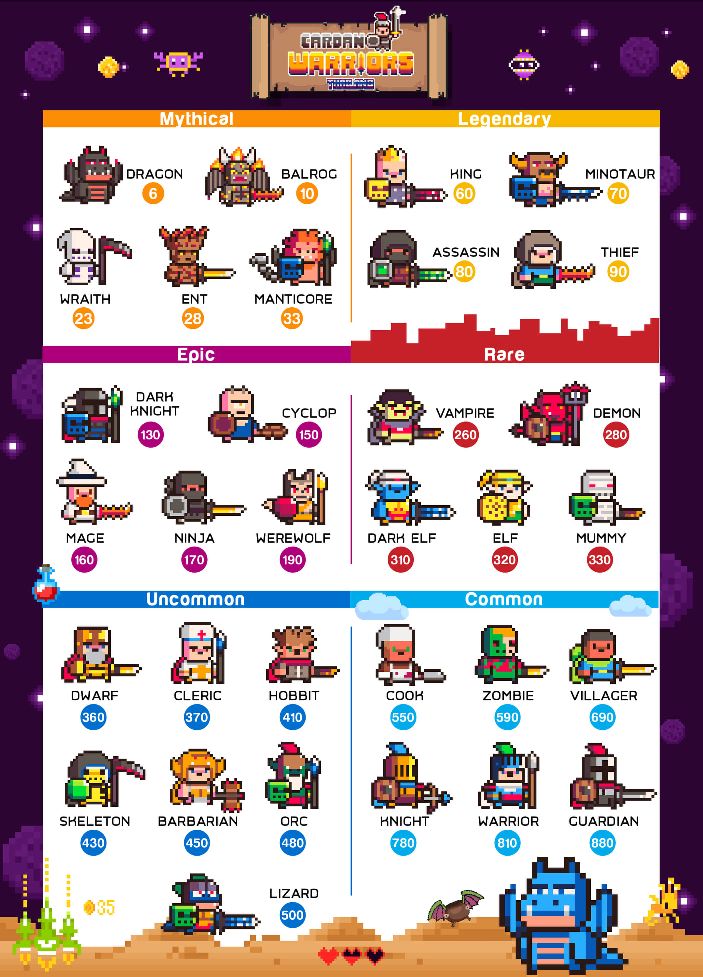 What Is a Testnet? 
All NFT play-to-earn games require a testing process. Simply, a testnet is used to test a network, implied from its name Cardano Warriors runs on a blockchain, and the testnet is used to test the future blockchain currency. The testnet is used to experience different features and improvements within the blockchain. Users can test out the game without causing any issues or harm to the blockchain network that the game is on. Testers and developers can try out features, exploring the game in-depth without worrying about the network, currency, or game being jeopardized. Without a testnet, users would be using genuine game coins, which would not benefit developers or future players. 
Cardano Warriors Testnet
Cardano Warriors have released the testnet for the game. The testnet refers to the testing process whilst the game is in development, allowing feedback from those testers. This feedback is primarily used to improve the game for its general release and get players' opinions. For those lucky enough to become a tester, the testnet includes testing the faucet tool, the claim and sale environments, the world builder tool, and the user profile feature. Let's look at some of these features.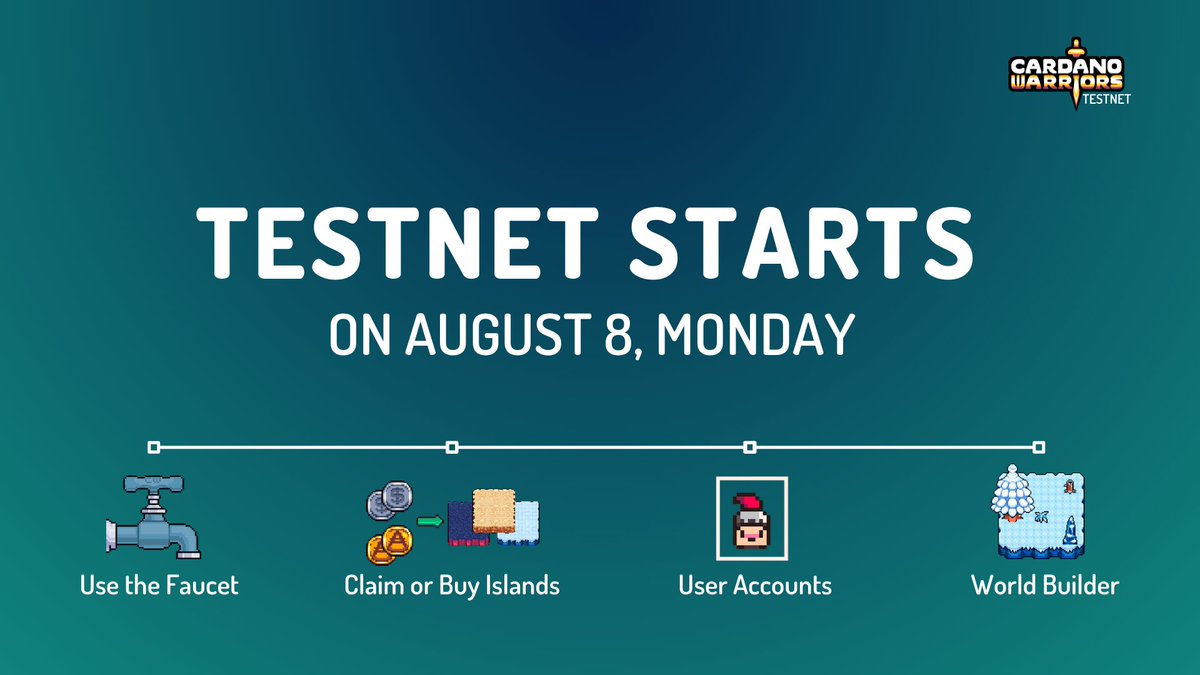 Faucet
To claim your island in Cardano Warriors testnet, you need a test warrior. To introduce test warriors, developers introduced a tool called a faucet. This tool allows players to test warriors. You need to connect your wallet and click mint to get a testnet warrior. Testing players are then presented with mystery boxes, where you can choose which warrior you want to test. 
The faucet was created to test the Cardano in-game currency in line with the gameplay. Cardano will be situated on its own independent blockchain network, meaning it will require its own currency. The testnet faucet provides free tokens to users of the testnet who are running a stake pool. Users can then experiment and try Cardano Warrior features without having to invest their real money into Cardano. This is partly because the game's currency has not yet been released. 
When minting, the tokens in the testnet are not genuine Cardano tokens. They are simply testing tokens with no real-world value. They are named Ada tokens, and as a testnet player, you need to request funds through the faucet. When you are finished using your Cardano test tokens, you need to return them to the testnet faucet. This allows other Cardano testnet members to use them. 
Claim and Sale Environments
In Cardano Warriors, the claim process allows users to test the experience of claiming an island within the game using Warrior Points (WP). As you trade and upgrade your warriors, your WP will increase, allowing players to claim islands. With 40 warrior points, you can claim a large island, 5 medium islands, or 20 small islands. It is up to you how you use these points. However, it is necessary to acknowledge that these prices will change with the release of the mainnet, as the testnet only reflects placeholder numbers. 
World Builder Tool
Testnet users will also be able to test the world builder tool. Island utilities will exist in the game from the very start. The world builder tool will allow players to customize their entire island. It will be updated regularly, and players will have their tools updated automatically. 
For testers during the testnet period, they will understand the round dynamics of the world builder tool. In the NFT market, during the island claim and sale, users will encounter rounds. The map of the World of Byron will be available in Rounds (also referred to as slices). Each round offers a specific number of islands in a biome. 
So, if the first round starts in the forest biome, players can choose the islands available within this biome to claim and purchase in their desired location. Players can pick exactly where they buy their piece of land. But, this means that other players can compete for the same piece of land. 
Each round will last 24 hours, or until at least 70% of the islands in this round are sold. Then, the next round will start. But, what is the benefit of this round system? Developers wanted to make island prices challenging, meaning all players must prepare before deciding on a purchase. For this reason, this will strengthen the token market within Cardano Warriors. Each user will be able to arrange a valuable playing strategy that will benefit them, as well as the general value of the game currency. 
User Profile/Accounts Features
Finally, testnet users will also be able to test the user features of Cardano Warriors. Developers have made a platform that allows you to log in with your wallet, email, discord, or Google account. Once you have connected this to your account, you can check warriors, warrior points, and islands on your wallet. There are also player security features that will ensure your account stays safe.
Final Words
Cardano Warriors is shaping up to be a super exciting play-and-earn game. The unique retro features and play-and-earn features make this game super unique. The testnet is currently ongoing, allowing testers to check out the features and feedback to the developers. Check out the Cardano Warriors roadmap for more updates.