CryptoBlades is a web-based NFT RPG developed by Riveted Games, which has taken the crypto industry by storm lately. The game centers around the idea of players defeating their opponents by participating in raids. Upon winning, players get rewarded in the form of SKILL tokens. These SKILL tokens are used to forge new weapons and also acquire new characters. Players are also given the option to either trade their weapons and characters, or they can stake their SKILL tokens. There's a lot to do in the game!
We're here to analyze whether CryptoBlades is worth spending time on. We'll have to consider multiple aspects of the game, so let's dive deeper into CryptoBlades!
Elements
CryptoBlades features four different elements in total. Each element has its unique strengths and weaknesses. Moreover, each element has the upper hand against one other element and is weak against another. The complete system of elements is as follows:
• Fire
Is trumped by Water
Trumps Earth
• Earth
Trumped by Fire
Trumps Lightning
• Lightning
Trumped by Earth
Trumps Water
• Water
Trumped by lightning
Trumps Fire
Game Mechanics
Players start in a plaza where they are required to mint their first character. They pay 4.6 SKILL tokens to mint their first character, which is assigned a random element. The new character comes with a minted weapon and also 200 stamina points. These stamina points are enough to last you five games. With time, you will be able to gain more stamina points. Additionally, players can own up to four characters at a given time.
Players earn experience as they go into combat against four enemies and come out victorious. Before going into battle, players must select their weapons by lining up their weapons with the element of their character. Players must choose a weapon that trumps the enemy's element to achieve an advantage over their enemies.
Before you enter battle, a minimal gas fee is paid by the players to face their chosen enemy. The game rewards you with character experience and SKILL points if you come out victorious. If not, the game counts as a loss. Experience is required to level up your character to increase its overall power. Experience continuously accumulates until claimed by the player, and upon claiming, a minimal gas fee is charged by the game.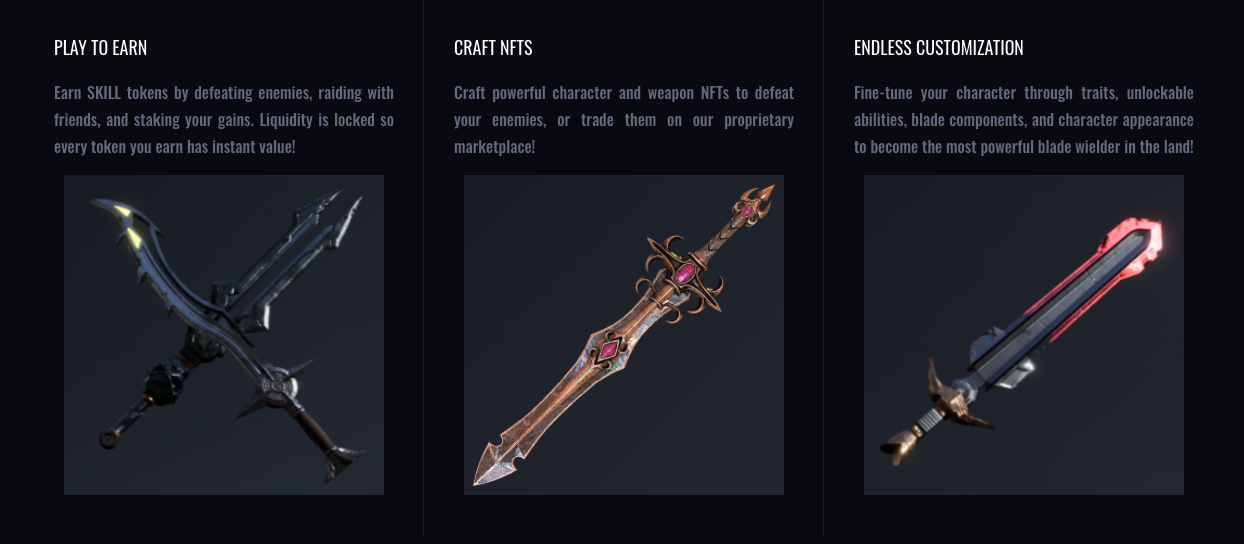 Weapons
There are five levels of weapons that players can obtain. One-star weapons are the most common weapons forged, and five-star weapons are the rarest. RNG is used in the forging process, and the odds of minting each tier of weapon are as follows:
One-star, 44% chance

Two-star, 35% chance

Three-star, 15% chance

Four-star, 5% chance

Five-star, 1% chance
Players can also reforge their weapons. Reforging in CryptoBlades is a process where two weapons are combined to form a new weapon. However, it does not increase the weapon's tier or change its attributes.
Reforging is useful when combining less valuable weapons with one of your better weapons. This enhances your superior armaments at the expense of your less valuable weapons. Remember that the burned weapons are destroyed and cannot be recovered.
Combat
Combat is where all the action happens! It begins when the player selects the character they want to battle with. They then have to enter the combat, which takes place in the plaza. When choosing your game weapons, you will see four combatants. Players then carefully choose their opponents by considering the following factors:
Attribute type of the character entering combat
Type of the weapon selected
Attribute type of the opponent
The power of the opponent
This is also a key factor in determining the outcome of the combat as each weapon has an element and each element has its weaknesses.
Market

CryptoBlades, being a blockchain game, offers its users to own their minted NFTs, weapons and characters. Players also reserve the right to sell or trade their NFTs. The game's NFT market includes characters and weapons to pick from. Using the dedicated NFT market ensures players have a secure and genuine NFT transaction.
Tokenomics
For CryptoBlades, the native gaming money is SKILL. Players use SKILL to buy and sell on the CryptoBlades Marketplace, as well as to acquire characters and forge and reforge weapons.
The following is a list of SKILL's available supply:
35 percent IDO
20 percent Incentives for gameplay
20 percent development
15 percent initial liquidity
Liquidity Incentives – ten percent incentive
The development money vests at a quarter-by-quarter rate of 25%. The monthly vesting rate for the Investor fund is 25%.
Is CryptoBlades Worth Your Time?
Overall, CryptoBlades is a novel concept, and now is the time to learn more about it. Before diving right into it, you should consider a few things.
CryptoBlades is not a full-fledged RPG where you can roam around a vast world with your hero. That's the bottom line of this situation. However, it still is an exciting game and offers fun gameplay for players. Most other crypto games, even the popular ones, don't have great gameplay either. The promise of a good tokenomy that allows players to earn well from the game is enough for many players. CryptoBlades does the same here, and thanks to their Rewards Pool that regenerates every hour, there's a chance to earn for everyone all the time!
So, if you're looking to have fun only based on gameplay, we would recommend going for other options. However, suppose you want good gameplay, focusing primarily on the P2E aspects. In that case, CryptoBlades is the way to go!