DeFi Land, the Solana-built farming blockchain game, is coming to your mobile. This free-to-play farming simulator game lets players farm crops, craft, trade, and earn real currency. Previously, the blockchain game has only been available on the web. But, the popular game is now coming to your mobile phone. We're going to take a look at the game's announcement, among other updates to the game. Let's get started!
DeFi Land Mobile Game Announcement
On Twitter, DeFi Land announced their transition to going mobile. In their Twitter post, they released details about the mobile interface launching on iPhone, Android, and Solana Solage devices. 
🚜📱 GM – Going Mobile!

🎉 We are excited to end the mystery of GM and announce that DeFi Land will be launching on Android, iOS and Solana Saga devices.

👨‍🌾👩‍🌾 DeFi Land Mobile will be the most user-friendly and engaging farming game to get in the crypto. #DeFiLand pic.twitter.com/jB4ThUWdxK

— DeFi Land (@DeFi_Land) August 22, 2022
Claiming to be the most engaging, user-friendly play-to-earn game in the mobile market, DeFi Land is shaping up to be an exciting release. DeFi Lands encapsulates the DeFi and GameFi concepts while featuring exciting features and gameplay. 
DeFi Land Mobile Game
The DeFi Land mobile game version will open up new opportunities and gameplay for the game. As the game is only available on a browser, the mobile game will have many features that are unique to its new platform. This means that the web-browser game may have limited features compared to the mobile game. These new or updated features will include a more extensive player base and continuous improvements to the DeFi Land ecosystem. 
The main aspect of the game is the DeFi aspect. This refers to the decentralized finance features of the game, allowing players to earn the game currency. The DeFi aspects on mobile will emulate the common features of the DeFi world while teaching players how the DeFi features work. One of the massive changes for the mobile game is the updated, better gameplay that will work for all mobile devices, even those with lower specifications. DeFi Land developers have also considered that better gameplay will engage new players in the Web3 DeFi Land ecosystem. 
New Mobile Features
Aside from the awesome general features we mentioned, DeFi Land developers are working on adding more unique mobile aspects to the game. This includes new assets, missions, and leaderboards. On mobile, DeFi Land players can play the game from a village and upgrade it with new buildings, features, and opportunities. This means that existing and new DeFi Land players will engage with a wealth of fun and engaging game activities that can boost the game's popularity. 
Additionally, players can use their digital currencies to customize their villages, upgrade them, and craft more materials to trade and sell. A new mobile wallet is also being developed, allowing mobile players to harvest their produce and spend any earned rewards on the wallet. 
Game Modes
Other gameplay features will include updates to fishing mode. The fishing mode allows players to use interactive features by touching their phone screen. This is an exciting feature for the DeFi Land, taking full advantage of mobile game features. The DeFi Land shooting game has been updated to be similar to the tower defense style games within gameplay. This is going to make things more consistent and engaging for new and current players. 
For the mobile DeFi Land game, the NFT utilities and features will remain exactly the same. This allows players to seamlessly switch between gameplay on the web and mobile without losing progress or money. 
Developers are working hard to ensure that the mobile version is lag-free, offering amazing gameplay for existing players. However, the developers are keen to introduce the game to a new market of people, attempting to get more people interested in Web3 gaming. We think this is an incredible idea and allows the game to rightly be seen and played by a wider audience. 
DeFi Land Developer Statement
The development team released a statement with their plans for the mobile-optimized gameplay. 
"It's time we finally put an end to the mystery of GM once and for all. In the last two weeks, we saw many interesting ideas: good morning, goldy markets, great minds, general managers, or game modes. However, we have something even more exciting to announce today. GM means that DeFi Land is Going mobile. We proudly report that we have completed our 3D visual assets and broken ground on DeFi Land mobile gameplay."
A Brief Overview of DeFi Land
DeFi Land is a farming simulation game where players can play for free and build up their villages. Improving their villages allows the crafting and trading of materials to earn real money. You can start earning with the DeFi features by completing missions, trading and crafting resources, yield farming, customizing lands, and staking. The game also uses NFTs, meaning players can build their net worth in the game. 
Additionally, players can use fake assets to get a brief understanding of DeFi and get to grips with the game's $DFL token used for competing, trading, and voting.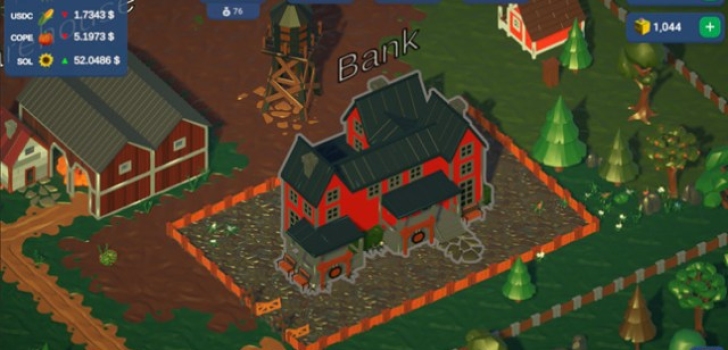 Final Words
DeFi Land is coming to mobile, and it could not be more exciting. The Solana-built game will likely soar in popularity as it will be available to a wider audience. With unique mobile gameplay aspects for all mobile devices, we cannot wait to see how the game looks.