The Sweat Economy M2E app has announced new Ethereum rewards for Sweat Wallet users. The ETH rewards are part of SWEAT token staking incentives and will begin running today.
ETH rewards come just a week after the move-to-earn app also announced Bitcoin rewards. The goal here is to encourage more and more Sweat Wallet users to stake their SWEAT tokens.
1 ETH now live in Sweat Wallet! 🎁

How to enter…

1) Stake your SWEAT in Growth Jars (125 needed)

2) Opt-in to the Reward

That's it! 💧 pic.twitter.com/U4EL710zH8

— Sweat Еconomy 💧 (@SweatEconomy) November 2, 2022
ETH Rewards: How to Get Involved
Getting your hands on the ETH rewards in the Sweat Wallet doesn't take too much. First, just stake your SWEAT token in the Growth Jars.
Also, each jar must at least have 125 SWEAT tokens staked. Users must also opt-in for the reward program to qualify.
For now, Sweat Economy is offering 1 ETH token. According to CoinMarketCap.com, the current market price of ETH is around $1554. The ETH will also be divided between 10 lucky winners. This means that each user will get 0.1 ETH or roughly around $150.
All rewards will be delivered to the Sweat Wallet. The rewards program will also run for a few days before winners are officially announced on Twitter.
Bitcoin Rewards on Sweat
The ETH rewards are exciting, no doubt. But this is not the first time the Sweat team is offering crypto rewards as part of its SWEAT staking incentives regime. As noted above, the M2E app also announced last week that it would offer 1 BTC.
Like the ETH reward, the BTC should be divided between 10 users. Based on data from CoinMarketCap.com, a single BTC is right now valued at $20,000.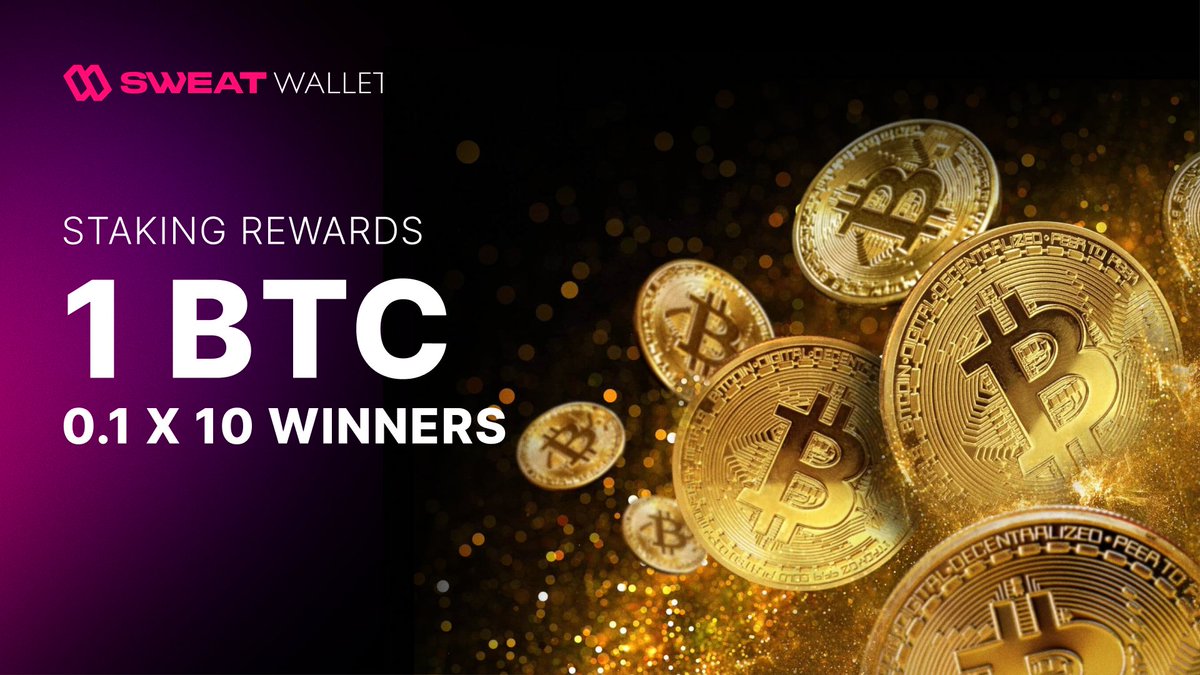 It is also likely that the ETH and BTC rewards won't be the last. The Sweat team will likely maintain BTC and ETH rewards in the longer term. But instead of just offering one ETH or BTC, the move-to-earn project could increase the quantity significantly.
SWEAT Staking: Rewards and Incentives
Staking is one of the most integral parts of the Sweat Wallet. The Sweat team has always maintained that, ultimately, the goal is to transform the Sweat wallet from just an M2E app to a more integrated DeFi application.
To this effect, the project has been pushing more and more SWEAT users to stake their coins. In fact, the ETH and BTC rewards account for just a small fraction of the reward package available for stakers.
For instance, ten lucky users have already won tickets to the 2022 FIFA World Cup. Some have won signed Cristiano Ronaldo and Leonel Messi jerseys, while thousands of gift cards have also been issued.
The Sweat team has also unleashed a flurry of NFT rewards. So far, over 10,000 NFTs have been issued. There have also been a few cash rewards for stakers as well.
Over 12,000 USDT coins have been given out already. We expect more to come in the near term to supplement the crypto rewards.
How Are These Sweat Staking Incentives Working So Far?
SWEAT was launched about two months ago. At the time, SWEAT coins were distributed to nearly 15 million wallets.
140M and counting.

Have you staked your SWEAT yet to access Rewards? pic.twitter.com/ieB0EbI7PQ

— Sweat Еconomy 💧 (@SweatEconomy) November 1, 2022
Ever since staking has really progressed quite well. According to the most recent update by Sweat Economy, over 140 million SWEAT tokens have already been staked.
Also, over 1 million growth jars have been created in the Sweat wallet to stake. This means that there are a million people who are already staking.
Now, this is not a big percentage, especially considering that over 15 million people own sweat wallets. This is why it makes sense that the sweat team is trying to add more and more incentives for staking.
Besides, the Sweat Economy is still a relatively new project. After the excitement of the September launch, staking will now stabilize, and growth will be relatively steadier.
By the end of the year, more coins may already be in growth jars, waiting to earn the 12% APR offered by the Sweat Economy project.
Inside Sweat Economy's Growth Plan
Sweat Economy is a move-to-earn project that is looking to challenge the likes of STEPN and others. The platform simply offers crypto rewards for movement. But to maintain the project's overall sustainability, the team is expanding beyond the web3 fitness space.
Sweat wants to be an integrated ecosystem. It will have DeFi, P2E Gaming, NFTs, and the M2E aspect. This approach has so far yielded some decent results. As of now, Sweat is averaging around 3.5 million active monthly users. This is the highest of any M2E project.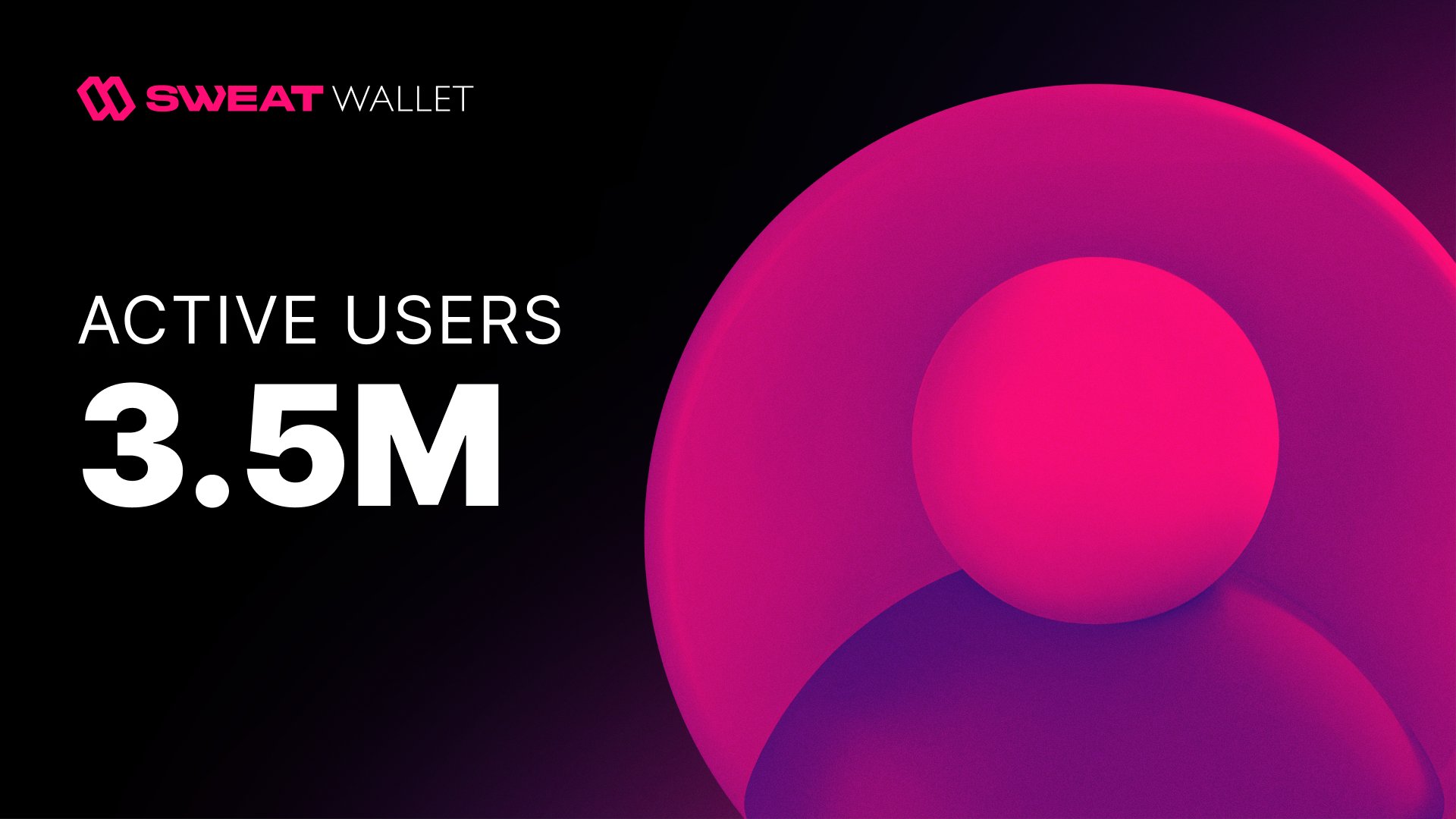 The project has also rolled out several new features designed to fully expand the DeFi utilities within the Sweat Wallet.
With 15 million users and counting, the wallet is now one of the most popular DAPPs in the world. Also, once P2E gaming and NFTs launch, it will be much easier for Sweat to appeal to a broader audience away from the M2E space.
This will help accelerate growth, keeping Sweat at the very top of the web three adoption movement.