Fiat-On Ramp is now available on the Sweat Wallet. The feature allows folks to buy SWEAT and other cryptocurrencies using fiat money. Sweat Economy is partnering with MoonPay to complete this integration. Fiat-On Ramp starts rolling out today as well. Users of the Sweat Wallet will be able to use it in the next 24 hours or so.
Fiat on-ramp is live in the Sweat Wallet app!📱

Top up your SWEAT balance with a bank card/transfer thanks to integration with @moonpay 🚀🌔👣#onesmallstepforman #walkintocrypto #moonwalk pic.twitter.com/Rxq21JtJ4K

— Sweat Еconomy 💧 (@SweatEconomy) September 29, 2022
What Does Fiat-On Ramp Mean?
As noted above, Fiat-On Ramp is a brand-new feature on the Sweat Wallet that allows users to buy crypto using fiat money. It will make it possible for folks to set up either a bank card or bank account to buy SWEAT tokens and other crypto assets.
The rollout is a key part of Sweat Economy's roadmap. The M2E app had, in fact, teased this rollout about a week ago, and we covered it in detail here.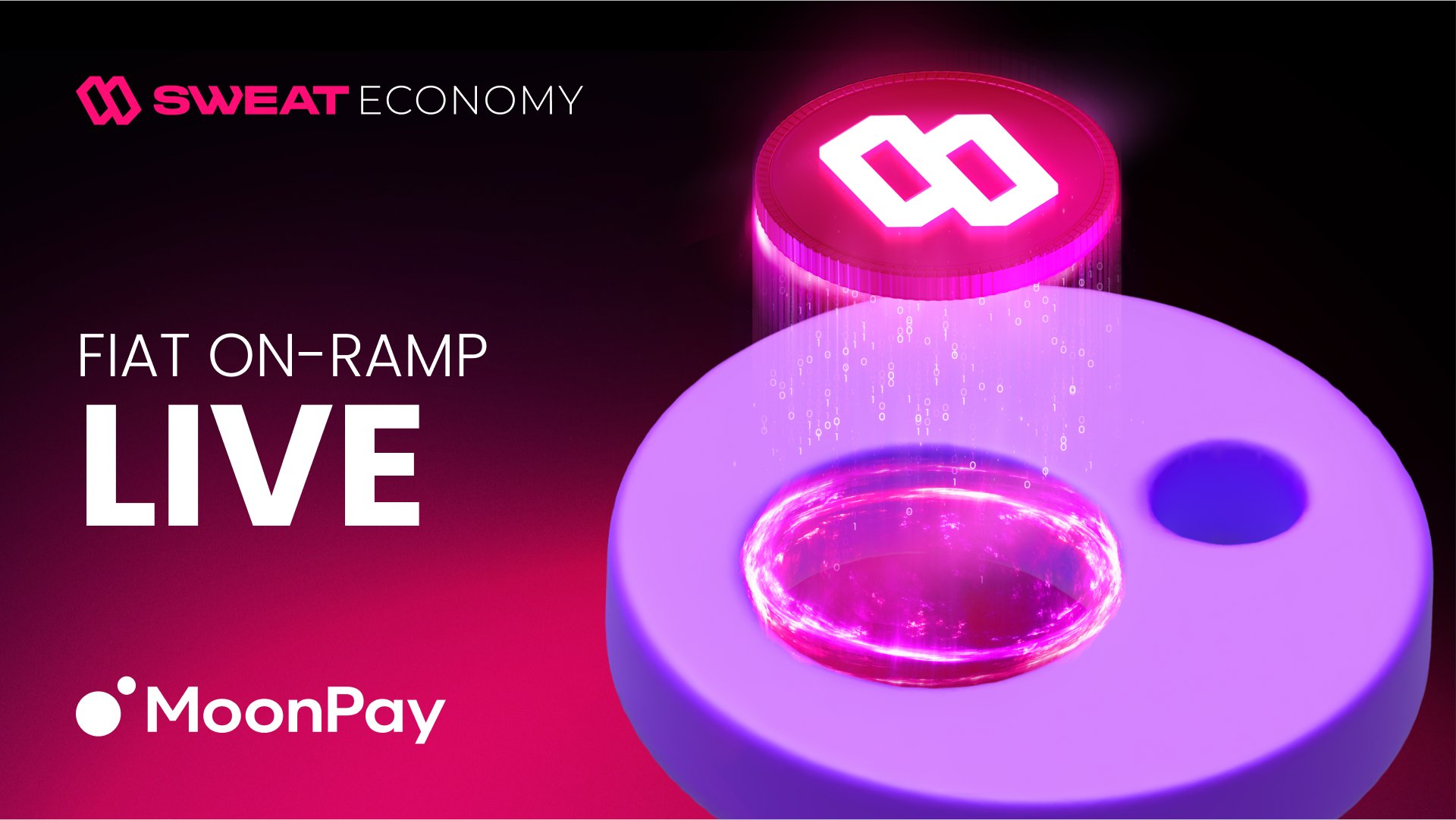 The launch of fiat-On ramp means that Sweat Economy can now move forward with other aspects of its roadmap that are designed to add more utility to the Sweat Wallet. In fact, the project is planning to add NFT and P2E integrations before the end of the year.
Sweat Wallet: M2E and DeFi in One Place
The Sweat Wallet has evolved quite significantly in the last few weeks. When it was first launched on the Near Protocol, it was designed to transition over 120 million Sweatcoin users to web3.
Sweatcoin is a move-to-earn app that has now rebranded to Sweat Economy to reflect the recent move towards the blockchain.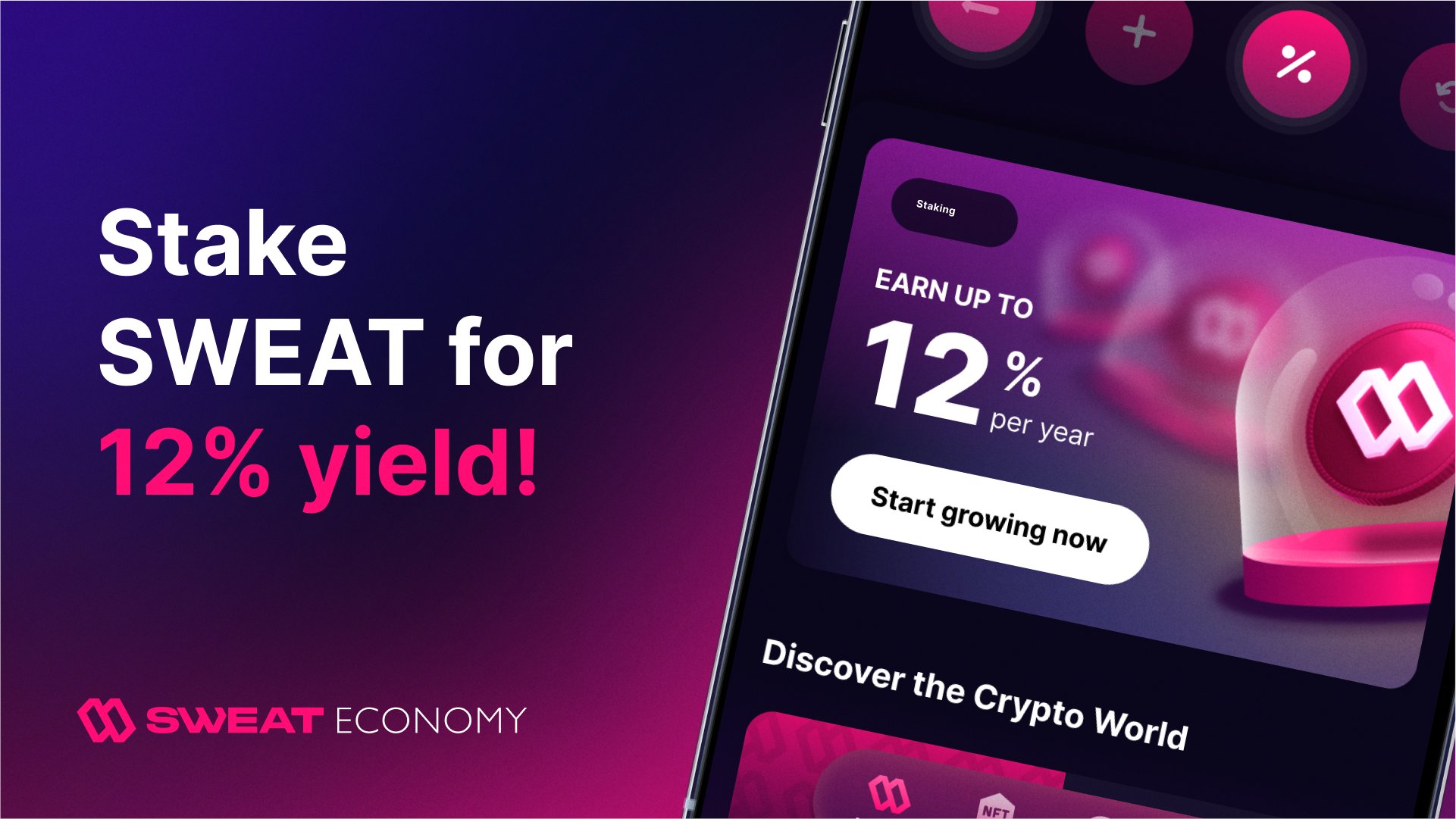 Nonetheless, over 13 million Sweat Wallets had been created before the SWEAT token launched through a TGE early in September.
All the SWEAT tokens that were generated during the TGE were also sent to the 13 million wallets. But things didn't end there. The Sweat Wallet would become more than just a storage for crypto.
SWEAT Staking and Rewards
Sweat Economy users get the first utility with the Sweat Wallet is SWEAT staking. With just a click of a button, owners of SWEAT would be able to stake their coins and get a 12% APY.
Two weeks since launch, and users have staked 65M SWEAT in the Sweat Wallet⚡️

That's 20M in the last week alone!💧

That's how you #walkintocrypto 🚶 pic.twitter.com/nf0TFmBZe2

— Sweat Еconomy 💧 (@SweatEconomy) September 27, 2022
Sweat Economy is also offering several other rewards for staking, including NFTs, World Cup tickets, gadgets, and so much more. In just two weeks after the launch of SWEAT, over 60 million coins had been staked through the wallet.
Onboarding Millions to Crypto
The Sweat Wallet is also keen on becoming a DeFi app that gives users access to the crypto market without too much fuss. In fact, the launch of Fiat-on ramp represents a big leap towards this goal.
Moving forward, anyone with a Sweat wallet will be able to buy, store, and manage a portfolio of crypto assets without any need for third-party apps.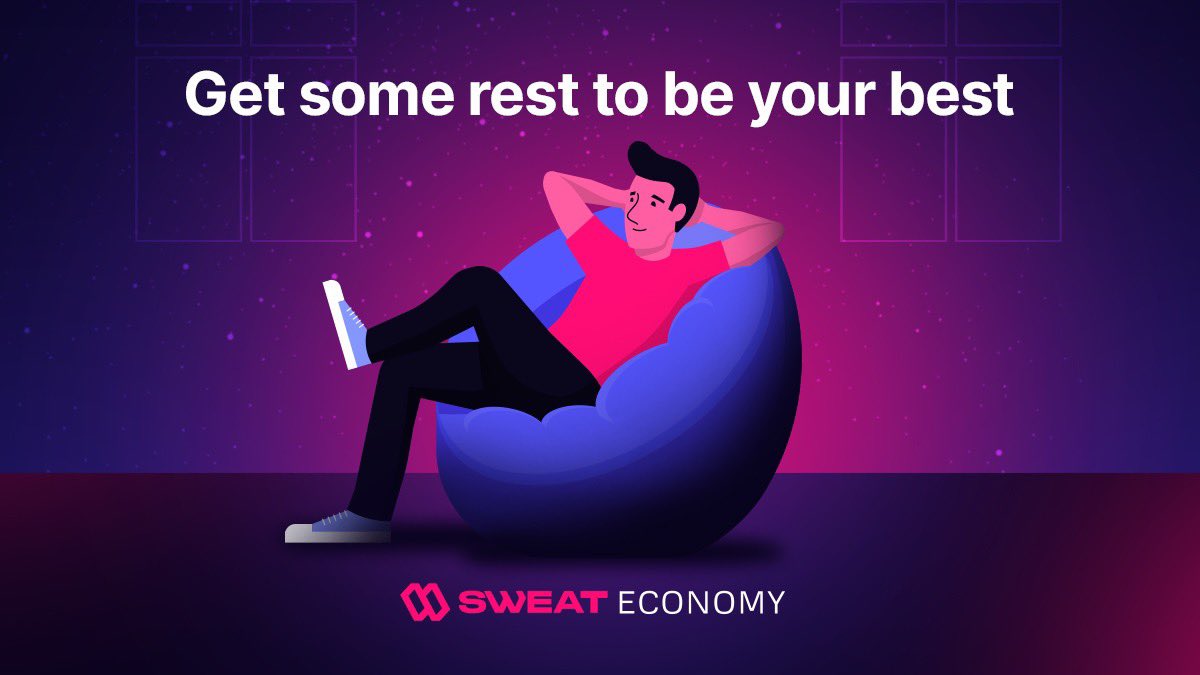 Even folks who are not necessarily interested in web3 fitness can leverage the simplicity of the Sweat wallet to buy crypto using their bank accounts or cards.
Sweat Economy: A New Dawn in M2E?
Although the Sweat Wallet has quite a lot to offer, in general, the Sweat Economy project largely remains a move-to-earn platform. So far, this sector has been booming, with STEPN leading the way.
However, Sweat Economy is promising a new dawn in M2E that will ultimately bring over 1 billion people to web3 fitness. This, of course, is an ambitious plan. But the project appears to have everything it takes to do it.
First, there is no risk when using Sweat. Unlike in STEPN, where users had to invest in volatile NFT-backed sneakers, with Sweat Economy, you just download the app and start earning.
Unlimited SWEAT Token Supply
One other thing that Sweat Economy is doing is introducing no limits on the number of SWEAT tokens that can be minted. The app has done this deliberately to encourage movement forever.
The good news is that it will become much harder to mint SWEAT through movement over time. This will likely help enhance the value of all existing SWEAT tokens, ultimately incentivizing more people to walk into crypto.
For now, 1000 steps will mint 1 Sweat token. But in the next two years, this will fall to 0.1 Sweat for every 1000 steps.
Massive Adoption So Far
When Sweat Economy launched into web3 through the Sweat Wallet, it had one big advantage. The app was already massively popular, with over 120 million users. The move towards web3 has also been a huge success.
At the end of last week, the Sweat Wallet was the No. 1 Finance app in 51 countries! It was also a top 5 Finance app in 115 countries 🤯💧 pic.twitter.com/blk2POqwc6

— Sweat Еconomy 💧 (@SweatEconomy) September 24, 2022
As we speak, the app has transitioned 13 million people into its decentralized movement economy. Considering this happened in less than four months, it is a huge achievement for an app that is already facing stiff competition in this space.
The challenge, of course, is to keep this going in the longer term. But it is clear that Sweat Economy has already positioned itself to become one of the biggest crypto phenomena in recent times.