The global film industry is highly centralized. Five of the biggest film studios (all in the United States) control almost the entire global movie industry.
With this kind of consolidation, the industry is now ripe for disruption, and Gala Film is hoping to be the driving force behind it.
Watch and earn is coming… 👀#GalaFilm pic.twitter.com/78qw9rqtkQ

— Gala Film (@GoGalaFilms) August 3, 2022
Gala watch and earn wants to democratize the film industry by empowering filmmakers, artists, and fans through innovative blockchain technology. The platform is also looking to become a global pioneer of the 'Watch and Earn' concept in a safe web3 environment.
What is Gala Watch and Earn?
The Gala Film ecosystem is a decentralized entertainment platform that will allow filmmakers and fans to interact in a win-win relationship. The ecosystem works in the same way as Gala Games and Gala Music. The only difference is that its main focus is on films.
So, how does it work? Well, for now, the nitty-gritty details of the project are still unknown. But the general concept simply allows filmmakers to create and launch works on Gala Film. Fans then interact with content by watching, sharing, or even buying some of the copyright.
In the process, filmmakers and those who get to watch earn rewards in a mutually beneficial way. This is where the concept of 'Watch to Earn' comes in. By streaming a movie on Gala Film, users will be entitled to some monetary compensation.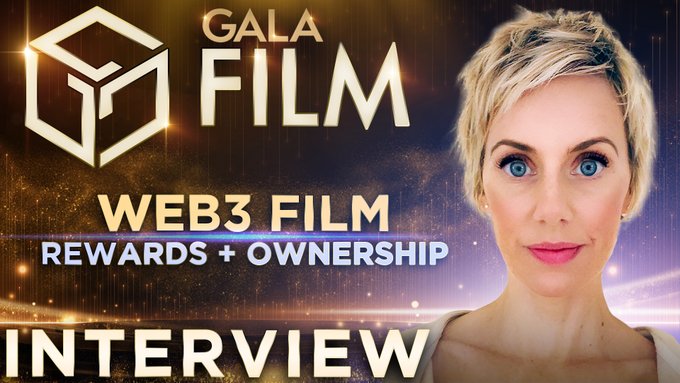 Besides, the traditional film industry is huge. This Report by Research and Markets estimates that the industry will hit $415 billion in market value by 2030. Gala Film wants a piece of this and the platform is ready to leverage disruptive decentralized technologies to achieve that goal.
True Ownership and Decentralized Copyright Distribution
The Gala Watch and Earn concept also wants to offer fans true ownership of their favorite films. The platform is designed to allow collectors and fans to buy exclusive copyrights to films if they want.
We're rewriting the script and creating a new democratized future for film that you can be part of. Discover how: https://t.co/qOyVTPJ9vK 👀✨🍿📽️🎞️#Web3 #Entertainment #Film #Web3Entertainment #NFTs #Nodes #WatchAndEarn pic.twitter.com/GanSkHqhJu

— Gala Film (@GoGalaFilms) July 26, 2022
And you don't even have to buy copyrights to the whole movie. Gala Film will use NFTs to allow fans to own sections of a movie. This allows the community to earn even more money through royalties in future movie streams.
Also, since these copyrights will be backed by NFTs, they can be sold and bought the same way you would buy any NFT. Gala Film believes that this concept will do several things. First, it will make it easier for new film producers and artists to be discovered.
'I think the next generation of storytelling will very likely be figured out and built on the metaverse'.
The talented Peter Draw from @aiandaiko shares why their partnership with Gala Film is so important during our AMA. Watch the full interview 👀👉 https://t.co/AIlPpEnx5u pic.twitter.com/5HjqejdNMS

— Gala Film (@GoGalaFilms) August 1, 2022
Secondly, the Gala Watch and Earn concept will democratize the movie economy. Unlike in the traditional film industry where copyrights are owned by a single company, Gala Film copyright will be owned by the community of fans.
Finally, the platform will leverage NFTs and other web3 innovations in the future to ensure intellectual property concerning these films is safeguarded.
Watch and Earn: What's Out There?
The Gala Watch and Earn concept is actually not new. There are some versions of it out there. For example, the Coinbase learning center runs a program where users earn rewards by learning about crypto.
Although technically this is Learn-to-earn, the fact that you would need to watch a series of videos could support the watch and earn conceptualization. There is also a similar program at CoinMarketCap.com.
We have also seen some Web2 initiatives where users earn rewards by watching TV and other videos. However, Gala Film is the first major web3 company to pursue watch and earn within a decentralized ecosystem.
Films Coming to Gala Watch and Earn
Gala Film has already managed to strike some interesting deals with independent filmmakers and big-name creators. The platform in fact announced today that it is partnering with David Bianchi, a US-based independent filmmaker with over 90 professional film and TV credits.
The platform has also partnered with Battle Island to produce 'Ghost of Ruins', an animated series that will launch exclusively on Gala Film in 2023. The trailer for the series is already out. Check it out below.
Gala Film has also partnered with Snoop Dogg in a short film series dubbed 'The Making of Chronic'. The series is inspired by Dr. Dre's globally acclaimed 1992 hip hop album and will feature 16 short films. More and more similar partnerships are expected to launch in the future.
How to Join Gala Film
For now, the only way to join Gala watch and earn is through the Gala Film pass. This is a highly exclusive NFT item that will give users early access to the platform and its content. A presale for the pass is still ongoing.
Only 1500 passes were minted, 500 of which were reserved for guests who attended the Galaverse event in early June. Right now, the best way to get these passes is through third-party NFT marketplaces.
Also, sales for Gala Film node licenses are ongoing. This is another way to earn rewards by simply supporting the hosting of content across the Gala Film ecosystem.
The maximum amount of node licenses you can buy totally depends on availability. However, a minimum purchase of 3 node licenses will be required.
How Sustainable is Gala Film?
The biggest challenge for Gala watch and earn is sustainability. This is not something new. Play-to-earn and move-to-earn have all faced similar challenges.
You see, watching a film, just like play to earn, is fulfilling and entertaining. But it's not an economic activity that generates monetary value. The fact that someone pays you to watch should not make economic sense.
So far, Gala Film has not released its litepaper or even broad details of how it intends to run its economy and Tokenomics. Quite frankly, it will be very interesting to see how the team solves the sustainability question.
However, the platform appears to be much more than just a watch and earn ecosystem. In fact, the project is more of a web3 entertainment company that decentralizes film production and distribution.
But even then, it will need to generate revenue from somewhere. Some platforms do it through NFT fees. The platform may also start selling exclusive access to certain films.
However, we have seen blockchain games disrupt the huge video game industry. Such a scenario is very plausible for the film industry too and Gala Film will hope to lead the way.