Genopets, the originator of the move-to-earn craze, is going through a mechanics update. This new game mechanics update includes genesis genopet boosts, the ability to level up your pet, and fixes to harvest efficiency for guild habitats. With such a complex game, we'll be looking at the ins and outs of this gameplay mechanics update. Let's get started! 
What is Genopets? 
Genopets is one of the first games in the move-to-earn gaming sphere. With such a high claim, the game truly lives up to standards. With various amazing features, graphics, and earning potential, the game is worth playing. 
Genopets is widely inspired by Pokémon, and users are greatly encouraged to get up and out into the world to explore real-world locations. When exploring these locations, you will overcome challenges in order to earn GENE and level up your Genopet. 
Genopets successfully combines the idea of nostalgic childhood games, such as Pokémon and Tamagotchi, with the idea of move-to-earn. Incentivizing users to get up and move for rewards is a great way to incite physical health and a stable cryptocurrency. 
Genopets Gameplay
Generally, Genopets has pretty varied gameplay. Based on the Solana blockchain, Genopets is built around the idea of evolving and taking care of digital pets. These digital pets have attributes and values; the more you move, the more your pets improve. 
When starting the M2E game, you can mint an infant Genopet for free. This means that if you want to play Genopets, you can play for free, with zero investment. However, if you are serious about earning an income from the game, you will need to invest money into the game. 
The game is a move-to-earn game but also a move-to-play game. This means that when playing Genopets, physical movement is translated into XP. The more XP you have, the better you can upgrade your Genopets.
Once they're enhanced to the degree of your choice, you can sell them on the NFT marketplace for a profit. So, your physical movements can pay off, literally. 
Additionally, habitats can be used to advance your gameplay. Habitats are used for the Genopets to stay and evolve, but you can also gain the ability to earn $GENE and $KI tokens whilst using a habitat. 
Mini-games are the primary point of gameplay within Genopets. In the mini-games, players can battle with other Genopets in order to walk away with the highest rewards. 
Genopets Game Mechanics Update
It has been almost an entire year since the launch of the GENE protocol, and the Genopets developers have introduced some new updates in celebration. 
📣 Mechanics Update!

We're doubling down on Genesis Genopets, making it more important to Level Up Baby Genopets, and introducing Harvest Efficiency for Guild Habitats to encourage consistent Refine and Repair.

We're just getting started!

Read More:https://t.co/dOp46AJywV

— Genopets | Phase II Whitelist Beta (@genopets) September 26, 2022
Firstly, there are new benefits for Genesis Genopets. These benefits include an upcoming airdrop, a 10% energy boost for Genesis Genopets, and the advantage of starting at level 22 and the step efficiency factor (in regard to Genesis Genopets). 
Genopets Leveling
Regarding leveling, the development team has been continuously observing player behavior for the past year. Since the step efficiency factor was introduced, developers recognized that players were not incentivized enough to level up.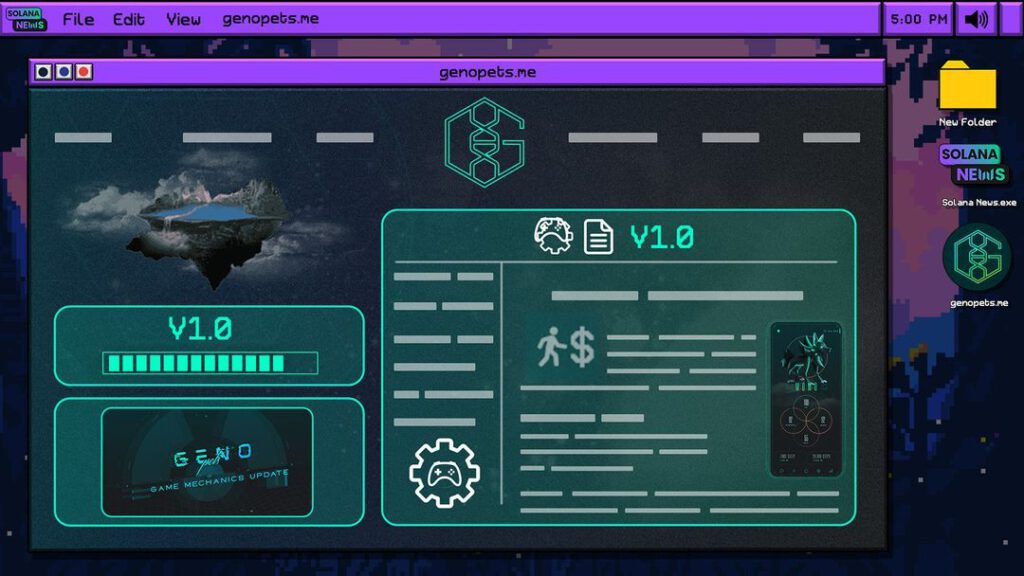 In this gameplay mechanics update, the step efficiency factor will be updated to provide a better advantage to players interested in leveling up their Genopets. The developers intend to influence players to invest time in leveling up their pets before earning. Some changes we're expecting to see are: 
More importance is placed on the advantage

Genesis Genopets

have by starting at a higher level (level 22) 

More fun from the evolution scenes

Reduced $KI token emissions
Harvesting and Habitats 
For a few months, the inflation of $KI and GENE has been a concern for a lot of players. Until crafting, there were only three things that GENE and $KI were used for.
This includes repairing, upgrading, and terraforming habitats. However, there has been a lack of regular repairing by guild habitats that are only harvesting $KI from the gameplay economy. 
The developers are introducing the concept of harvesting efficiency for guild habitats with the hope of preventing this. Find out more about this from the whitepaper, as things can get pretty complicated here. 
Crafting
Genopets developers have announced that the road to augmentation is the next major battle for them in phase 2 of the roadmap.
For one, this will bring utility to $KI and crystals to stabilize the gameplay economy. Additionally, the augmentation allows players to use these crafted items.
Crafting is the new priory for developers, and whilst there is no set date for this, it will remain the number one focus for the foreseeable future (well, until it's completed!)
Final Thoughts
We're excited about these gameplay updates, and the developers have stated that this is just the beginning. Of course, the private beta of the game only launched eight months ago, so things are still pretty fresh. Stay tuned for more updates about the game and its progression!