Gods Unchained, a leading blockchain-based trading card game (TCG), is currently seeking feedback from players to make improvements on its card packs.
The platform is hoping to learn more from its community and apply these lessons to enhance the user experience and the profitability of the P2E game in the future.
Mortals, the time has come! We're interested in you and your opinions.

💜When? August 6th to August 8th at 10AM PDT.
🎱Why? So we can learn more!
📔How? By filling it out!

👉https://t.co/0JZwlDOII9 pic.twitter.com/hx1DiT7ues

— Gods Unchained (@GodsUnchained) August 5, 2022
The TCG, which is built on Immutable X, has become a popular P2E choice with over $52 million worth of cards already traded. It is one of many games that epitomizes the massive growth of P2E gaming in 2022.
How to Submit Your Opinions
The Gods Unchained survey will be a three-day event that runs from 6th to 8th August. The focus right now is on card packs but it is likely more surveys on other aspects of the game will be launched in the future.
To get involved, you will only need to fill in a short survey. In fact, the survey has a total of 11 questions. Please also note that Gods Unchained will only consider feedback from the questionnaire.
Although players are free to express their views via Twitter and other social media platforms, these views will be much more helpful to the P2E game if they are addressed through the survey.
What Kind of Feedback Is Gods Unchained Looking For?
Looking at the survey questionnaire, it seems the game is seeking some general info about player participation and of course specific info about card packs. First, players will be asked when they signed up to join the game.
There will also be questions about how often you play. Gods Unchained also wants to know how much players have spent on card packs.
This does not need to be an exact figure. The estimates range from as low as $0 to as high as $10,000 and above. Also, players are required to give an estimate of the total number of NFT cards they hold.
Keep in mind that these will be Meteorite or higher quality cards. Plain and Welcome cards do not apply here. Again, you don't have to give an exact figure. The estimate starts from 0 and goes all the way to 10,000 plus.
Purchasing Decisions for Card Packs
Finally, Gods Unchained is seeking to know some of the factors that drive purchasing decisions for card packs. To this effect, the Play to Earn TCG will first, of all, aim to know the biggest motivator for players when purchasing card packs.
Whether you are a collector seeking to find rare cards or someone just interested in the gameplay value of each card, there will be a section in the survey questionnaire to give your opinions.
Gods Unchained is also seeking to better understand card drop rates with this survey. The P2E card game in fact wants to know if drop rates are motivating factors for buying rare card packs. All this feedback will play a key role in fine-tuning the game moving forward.
Why Is This Survey Important?
Gods Unchained has seen immense growth over the past two years. The TCG however feels that there is still a lot more to do in fine-tuning its game to meet the dynamic needs of its growing community.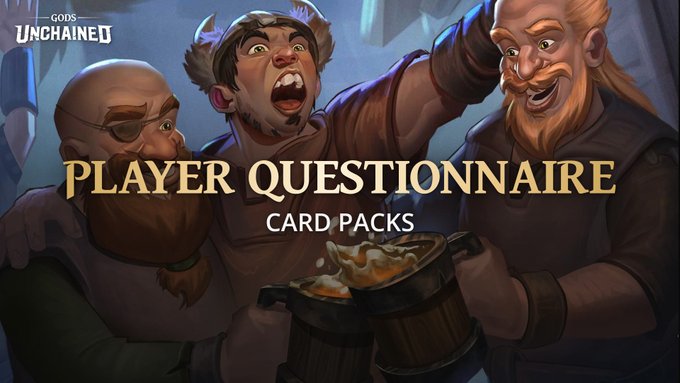 At the end of the day, Gods Unchained is an NFT-powered play-to-earn game. There is therefore a need to ensure that the ROI that comes from playing is reasonable enough.
Also, the survey gives the blockchain game a good opportunity to gauge how players have been interacting with it and some of the grievances they have.
Although this time the survey will focus specifically on card packs, depending on how successful it is, we may still see more and more such feedback loops in the future.
Besides, Gods Unchained has always worked to improve its game. As noted in this Forbes article, the game managed to bring in Chris Clay, a former executive at 'Magic: The Gathering', the pioneer of trading card games just to give players the real deal.
Gods Unchained Cards: What You Need to know
For those who are new to Gods Unchained, there are three things to understand about its cards. This includes card types, card quality, and card anatomy. Let's break this down a bit here below starting with card anatomy.
Card Anatomy
There are five key elements of a card's anatomy. The first one is the 'Domain' which denotes the god the card is aligned with. A card can belong to one of six domains available in Gods Unchained. There are however neutral cards as well.
Each domain is also color coded. So, red will be war, yellow represents light, green represents nature, turquoise represents death, purple is deception, and blue is magic. The color code on the top left corner of your card denotes the domain.
Other aspects of card anatomy include the Set which quite literally shows you the set the card belongs to. There is also the rarity, the tribe, and the stats which show card strength, health, and other factors. You can learn more about cards and packs for Gods Unchained in our detailed article here.
Card Types
Gods Unchained offers 3 types of cards. The first one is the "Creature" card. A creature card is used to attack other cards and their god. Each board gets a maximum of 6 creature cards.
The second category of card types is Spell cards. These ones cast an instant effect. However, the effect is not standard and is typically determined by the text on the card itself.
Finally, you will also have Relic Cards in Gods Unchained. Relic Cards allow players to attack an opponent's god directly.
Card Quality
Finally, cards in the game will also feature varying degrees of quality. The most basic quality is 'Plain'. This is a non-NFT card that will be earned freely by playing Gods Unchained. Trading Plain cards with other users is not possible.
The second tier of card quality is the 'Shiny'. The shiny tier has four quality levels.  The cards in all these 4 levels are all NFTs. They include Meteorite, shadow, Gold, and Diamond.
In case you would love to know more about this game, how to get started, and some of the things you can do to increase ROI, check out this review we did about the game. It has all the info you need.