The integration of online gambling with blockchain technology is gaining pace. Blockchain is seen as a secure and open way of guaranteeing transparency in gambling albeit it has its challenges.
AJ Hash, a free and open hash trading platform, is aiming to take advantage of decentralized technologies to offer exciting betting games on the blockchain.
The platform is the focus of our blog article today and you will learn key details about how it works and what sets it apart from other blockchain gambling projects.
What is AJ Hash?
As the name suggests, AJ Hash is a hash gaming platform powered by blockchain technology. The platform aims to offer a fair and open experience for users with some of the highest rewards in the industry.
AJ Hash is also making it easier for interested users to play hash betting games from anywhere in the world. Unlike in other blockchain games, you don't need to set up an account or provide any personal details. Just connect your decentralized wallet and start betting.
What are Hash Games?
To better understand how AJ Hash works and what makes it different, we thought it would be nice to first of all give you a basic explanation of hash games. These are basically betting entertainment systems that allow users to play and win rewards based on prevailing odds.
Hash Games originally started in Taiwan before they grew massively in China. Now, each game will have rules and odds. This often depends on the platform you are using.
So, how do hash games actually work from a blockchain point of view? Let's take an example of one of AJ Hash's games called ' GuessEvenOdd'. Here, the system will, first of all, generate a sequence of pseudo-random numbers.
The numbers are then kept in temporary storage where a hash sequence is generated. The sequence is then stored on the blockchain.
Once this happens, you can now go ahead and place the bet. Let's say for example you place an Even bet, right? When the hash sequence is revealed and the last digit in it is even, you win.
How to Bet on AJ Hash
AJ Hash offers a simple 4-step process for new players. First, make sure you have a supported decentralized wallet.
Secondly, head to any exchange of choice and purchase USDT and TRX tokens. You will need this for placing bets. After that, visit the AJ Hash platform and connect your wallet.
Once the wallet is connected, choose the game you want to play. Finally, place your bet, confirm and that's it. No account set is needed here.
AJ Hash: Key Features to Note
AJ Hash also comes with some exciting new features that make it a potentially very decent platform. Here are some of them:
Variety of Games
AJ Hash offers up to 7 different games, each with varying odds. From simple 'GuessEvenOdd' games to the more advanced Baccarat, the platform strives to accommodate as many players as possible.
Odds start from as low as 1.95 and can go as high as 200. It all depends on the game you have chosen. Players will also get important stats for each game including winning streaks, the number of tables available, and so much more.
Banker Mode
This PvP mode is designed to democratize bookmaking. You can join AJ Hash and offer your odds and games. The minimum capital required to become a bookmaker is 5000 USDT. AJ Hash also takes a 1% fee off all profits made. You will however need to get in touch with support to set this up.
Instant Payouts
AJ Hash offers instant payouts for all won bets. Once your wallet is connected, everything else will be done automatically.
For example, all winnings are sent back to the deposit address without the need for any authorization. This means that you can actually keep playing in real-time and stop anytime you want.
Flexible Bet Amounts
The minimum bet amount for any game at AJ Hash is 10 USDT while the highest amount is 20,000 USDT. Although it's a bit higher compared to most P2E games' starter packages, it is quite a huge range. This gives users the flexibility to explore with different bet amounts for different games.
Bonus Rewards
In addition to high odds and payouts, AJ Hash also offers additional bonus rewards. For instance, you can qualify for amazing cash rewards if you bet more than 50 times in a day.
AJ Hash also offers daily referral rewards in fact, just invite more than 2 friends in a day and get USDT rewards. New users also get an instant reward of 42 TRX when they make their first 10 bets in a row.
Can Blockchain Betting Disrupt the Casino Industry?
The traditional casino industry is an old one. The sector has also seen its fair share of disruption with the advent of the internet.
In fact, this report by Acumen Research and Consulting estimates that the online gambling market will hit $175 billion by 2030.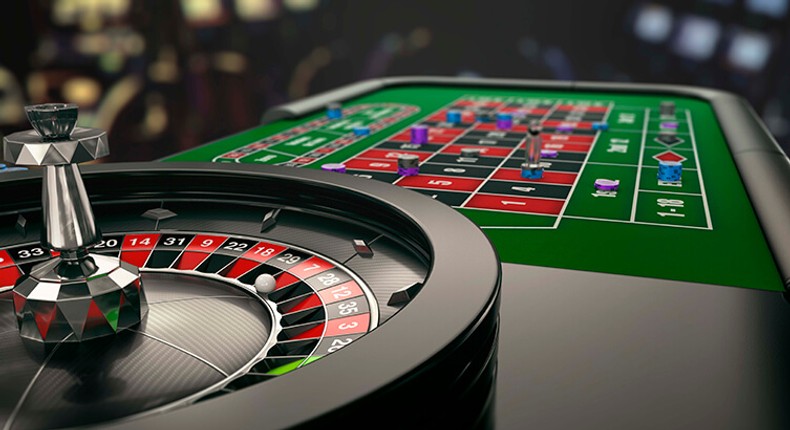 But despite this growth, online gambling still accounts for a very small percentage of the entire global betting and casino industry. The industry is set to touch nearly $700 billion in market size by 2030.
So, can blockchain technology help fill in the gaps left by online betting?
How Blockchain Solves the Online Gambling Problem?
The biggest challenge faced by online casinos is a lack of transparency. The industry has, over the years, been plagued by allegations of scams and fraud.
Although the introduction of certified third-party casino software has helped build trust, it's still nowhere near where it should be. However, the integration of blockchain can solve this once and for all.
Platforms like AJ Hash are not only secure but they offer openness to the public in unprecedented levels of transparency. All wager outcomes can be verified and audited since they are stored in a public ledger.
Also, blockchain gaming can help democratize bookmaking. So, instead of having a centralized entity controlling the odds, individual players can step in and take a small share.
This could potentially trigger a social gambling phenomenon that will ultimately make online betting more intimate. Besides, the rise of fast and low-cost blockchains will ultimately make platforms like AJ Hash easy and cheap to use.