Merit Circle and Vorto have announced a new partnership that allows the two entities to co-develop and launch Hash Rush, an MMO-RTS P2E game primarily inspired by Warcraft, Heroes of Might, and other popular gaming titles.
It's not the first time the Merit Circle DAO and Vorto and collaborating on various P2E and web3 projects. In fact, the relationship between the two has a very long history.
We are extremely excited to officially announce the launch of @PlayHashRush in collaboration with @vorto_official.

The Merit Circle DAO and Vorto go way-back and we're thrilled to embark on this journey together.

Why this is more than an investment ⬇️🧵https://t.co/FuhqrE4WB5

— Merit Circle (@MeritCircle_IO) August 25, 2022
Key Details of the Partnership
Merit Circle is looking to integrate Hash Rush into its growing list of games. Vorto will, however, be responsible for the full development of the game. The studio will bring its technical expertise and experience in the P2E space to fine-tune Hash Rush and prepare it for the competitive market.
On the other hand, Merit Circle will play an integral advisory role. In fact, the DAO has been advising Vorto since the early stages of Hash Rush and will continue to do so after the game is officially launched.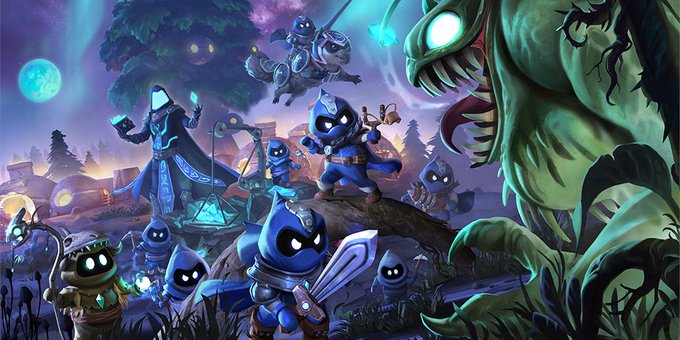 We are also learning that Merit Circle is one of the key investors in the Hash Rush project. It is ,unclear, though, how much money the DAO has put up. Merit Circle is also working hand in hand with Vorto to develop a go-to-market strategy for the game.
Ultimately, the partnership's goal is to create a mutual relationship that will benefit both entities from Hash Rush's revenues.
Integration of the Sphere NFT Marketplace
In early June 2022, Merit Circle announced launching Sphere, an NFT marketplace for in-game assets. The DAO's vision is to make Sphere the go-to platform for people who want to sell or buy gamified web3 assets and tokenized assets from traditional web2 games.
The partnership with Vorto will allow all in-game assets within Hash Rush to transact within Sphere. Merit Circle also notes that Sphere will provide the infrastructure needed to mint Hash Rush NFTs.
Generating More Value for the DAO
In addition to the integration of the Sphere NFT Marketplace, Merit Circle will actively look for more ways to leverage the success of Hash Rush in driving value to its DAO. In fact, the platform is promising holders of its native MC token unique benefits once the Hash Rush P2E game is up and running.
Details about these benefits will be released in the fullness of time. Also, Merit Circle is counting on Hash Rush's success to expand its gaming DAO membership.
The DAO is confident that Hash Rush has the potential to bring in thousands, if not millions, of new members to its community. This will eventually translate to significant financial benefits for MC token holders.
What is Hash Rush, and Why is Merit Circle Excited About It?
There is no doubt Merit Circle is feeling excited about the prospect of Hash Rush and what it can deliver in the future. Well, the game is actually a P2E MMO-RTS metaverse game set in the fantasy world of the Hermeian Galaxy.
The planets within this galaxy have been affected by a crystal storm that threatens to destroy everything in their paths. Heroes must now rise and fight the crystal Scourge and save humanity in the process.
Hash Rush:  Game Mechanics and Ecosystem
Harsh Rush is completely free to play. It gives players an expansive virtual metaverse where they can farm and harvest resources. These resources can then be used to recruit troops, build defenses, and go on quests.
We are also learning that Hash Rush intends to have as many in-game items as possible. The details are still under wraps, but the play-to-earn game wants to give users more incentives to play. It is also likely that a crafting mechanism will be in place, as well as different game modes.
Merit Circle says that Hash Rush has taken all the lessons learned in existing P2E games and integrated them into its mechanics. The game is now promising one of the most sustainable in-game economies in the blockchain gaming space.
Launch Dates and How to Play
Hash Rush will open its closed beta on September 1st, 2022. The beta date has been pushed back several times, so we are hoping Hash Rush will come through this time round. The open beta, on the other hand, will begin on the 15th.
Our beta test launch is moved to September 1rst as our devs are working on making the crafting system work properly and maybe adding a few craftable heroes. 👀

You can also take a look at our newest dev diary 👇https://t.co/LH6TQ2P2Tb#indiedev #p2e #beta #hashrush pic.twitter.com/8us9LN0ymz

— Hash Rush (@PlayHashRush) August 15, 2022
To participate in the game, users must have a Vorto key. The keys are available on the Vorto marketplace for purchase. There will also be several free giveaways. Interested players are invited to follow Hash Rush on its various social pages for details on these giveaways.
The closed beta will feature several game modes too. The crafting mechanism will also be in place. However, other aspects of Hash Rush will launch gradually over time.
Unlocking Potential in P2E
Hash Rush is one of many P2E games that have launched or are planning to launch in 2022. The industry has boomed this year even as the broader crypto market slows. According to the Blockchain Game Alliance, the P2E sector generated $2.3 billion in revenue in 2021.
The revenue is expected to jump substantially this year. Also, the report found that nearly a quarter of all NFT sales during Q1 2022 came from P2E games. These blockchain games are now poised to disrupt traditional gaming, and the future can only get better.
But one challenge that the industry faces is hemorrhaging players. The financial incentive offered by these games is good, but eventually, people get bored. In light of this, a new revolution in P2E gaming is shifting the focus from P2E earnings to the gameplay experience.
In essence, blockchain games want to be exciting and enjoyable to play before they offer a P2E option. This is the most essential step in unlocking the full potential of these NFT games.