Meta, the parent company of Instagram and Facebook, will soon allow the sale and minting of Polygon NFTs on Instagram. This comes as super exciting news, with another company in social media getting involved with Web3. So, let's find out more about this exciting news! 
What is Meta? 
Meta builds technologies to help people connect, find communities, and grow businesses. As a term, meta has become the meaning of something being self-aware or straight-laced. As a company, however, Meta is founded by famed CEO Mark Zuckerberg. The company, founded 18 years ago, owns WhatsApp, Facebook, Instagram, and other products and services. It is regarded as one of the world's most valuable companies and is one of the five huge American IT companies, alongside Microsoft, Apple, and Amazon. 
In 2021, Facebook rebranded, naming itself Meta. This came with a lot of criticism, with criticisms of the social services and how the company operates. Looking at Meta's vision, it is clear that the name change reflects its long-term desire and focus on building the metaverse. In this way, the metaverse refers to a digital extension of the physical world, with Meta getting involved with VR, AR, and NFTs. 
Meta to Allow Minting and Selling NFTs on Instagram
So, Meta is expanding the use of NFTs across all its platforms. This news is quite a shock, especially with the current state of the cryptocurrency market and a slowdown in digital asset trading. 
Instagram is currently developing NFT minting and trading functionality in its app via the Polygon blockchain, with the feature becoming available soon. During Creator Week, Meta announced the news. 
"Creators will soon be able to make their own digital collectibles [NFTs] on Instagram and sell them to fans, both on and off Instagram. They'll have an end-to-end toolkit — from creation (starting on the Polygon blockchain) and showcasing, to selling."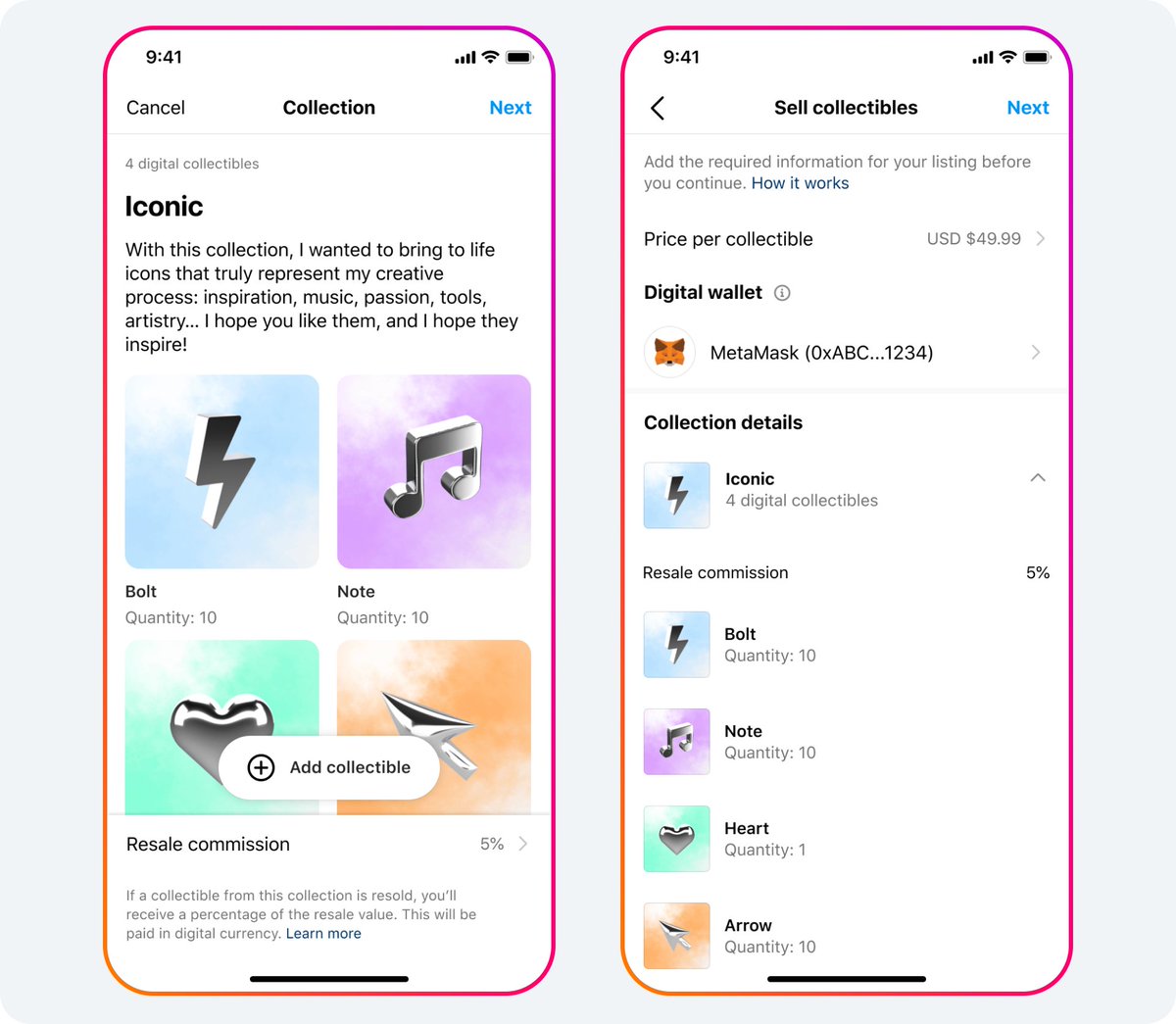 The platform plans to use the Polygon blockchain for minting and pulling metadata from OpenSea. With this new feature, creators on Instagram can make and sell their own NFTs directly to fans. In addition, Meta announced it would allow video NFTs to be shown on its platform, but it won't be introducing any additional fees for selling NFTs for the next few years. ​​
This is one of the biggest pieces of news to come from a social media platform regarding NFTs. Rival social media platform Reddit launched a series of collectible avatars in July, with fans responding enthusiastically. Almost 3 million Reddit users now own digital assets. This is more than the 2 million buyers on OpenSea, the largest NFT marketplace in the world. 
The launch of Meta's NFT comes amid a decline in the value of digital assets this year, which some view as speculative. There has been a 90% decline in NFT trading volume since the market peaked in January. But why is Meta pushing the idea of NFTs? 
Meta and NFTs: Money or Metaverse? 
What are the reasons behind the global company's push for NFTs? Since Meta's profits rely heavily on advertising revenue, the company is trying to find new income sources. The money brands spend on Facebook and Instagram advertising is declining, which is why Meta is searching for additional revenue streams. Meta's shares dropped a huge 25% only last week. This news came after the company revealed its net income had fallen more than 50% in the third quarter of the business year. 
In addition, when we look at social media, it's not hard to notice which social media app is currently dominating the market. Of course, we're talking about TikTok. Due to the success of TikTok, which has been endorsed by celebrities and influencers, Meta has suffered competition.
Stephane Kasriel, Meta's head of fintech, commented about NFTs back in the summer. Meta aims to focus on digital collectibles as part of a way to tempt new influencers to its platforms. Previously, we have seen the options for eligible collectors to launch a subscription service to their fans, allowing them to earn money for their exclusive money. 
NFTs as Revenue
Concerning Meta and its aim to make additional revenue, Facebook released Stars. Gaming creators and influencers on the platform may be eligible for stars in exchange for their content. In the US, gifts launched on Instagram, a similar feature where fans can award their favorite creators gifts. 
Last week, Apple expended the 30% cut it takes on in-app purchases to include NFTs. Meta commented that any app sold through in-app purchasing on Apple or Google would be subject to this 30% platform fee. 
With many ways to access and sell NFTs across its platforms, Meta is expected to get more involved in the metaverse and digital assets in the future.