METAT8, founded by YouTuber and Axie Infinity content creator Elijah, dominates the Axie Infinity leaderboards. As quoted from BSC, 'not only is METAT8 the dominant guild in the Axie Infinity esports scene,' but the team's founders have been crucial in creating the competitive environment behind the game. In this article, we're going to be delving into Axie Infinity and the effect of the pro esports team METAT8. 
What is METAT8?
METAT8 is the marquee sports team in the metaverse, with a host of amazing achievements. As a team, they attract the highest competitors and content creators in the NFT and play-to-earn metaverse. Focusing on inspiring and coaching others in gaming and esports, METAT8 is some of the leaders in PVP games and play-to-earn gaming. 
With founder Elijah ranking at #4, #8, and #9 in Axie Infinity seasons, his team is also ranking #1 and #2 in other seasons. To add, the Axie Pro team is also ranking first in BEAT Esports Invitational and second in FTX Galaxie Cup. At the moment, the METAT8 Axie Pro team consists of the following: 
These six players are some of the leading Axie Infinity esports players in the world. But what's the story behind METAT8, and what are they doing for the game? 
"METAT8 was born out of a love for gaming, crypto, ownership, and self-development. It really formed organically after I began making content and competing in Axie Classic. Before I knew it, I was on a call with 1437 talking about everything Axie and esports related," Elijah told BSCNews. "There wasn't much of an esports scene at the time, just the smaller Classic tournaments and season rewards. At METAT8, we envisioned Axie esports blowing up one day; we built our whole game plan around it."

Source: Twitter
Axie Infinity and METAT8
Elijah, the co-founder of METAT8, rose to fame from his informative Axie Infinity walkthrough videos. Many people had no idea how to play at the start of the game's popularity. Elijah's videos shone a light on how to play the game and how to earn rewards. Consequently, his content on team builds and battle strategies led to the creation of one of the first Axie Infinity Pro teams. 
As the most popular competitive NFT game, Axie Infinity invested in its esports community by granting funds to tournament organizers. This includes the Galaxie Cup and the Axie PH Origins Championship. Galaxie Cup was one of the first championships that METAT8 competed in, leading them to their successful win. When speaking about their success, Elijah spoke about how winning two championships at AxieCon was a huge success in their first year. Additionally, the introduction of this real esports tournament completely upped the stakes, enabling a more competitive esports community.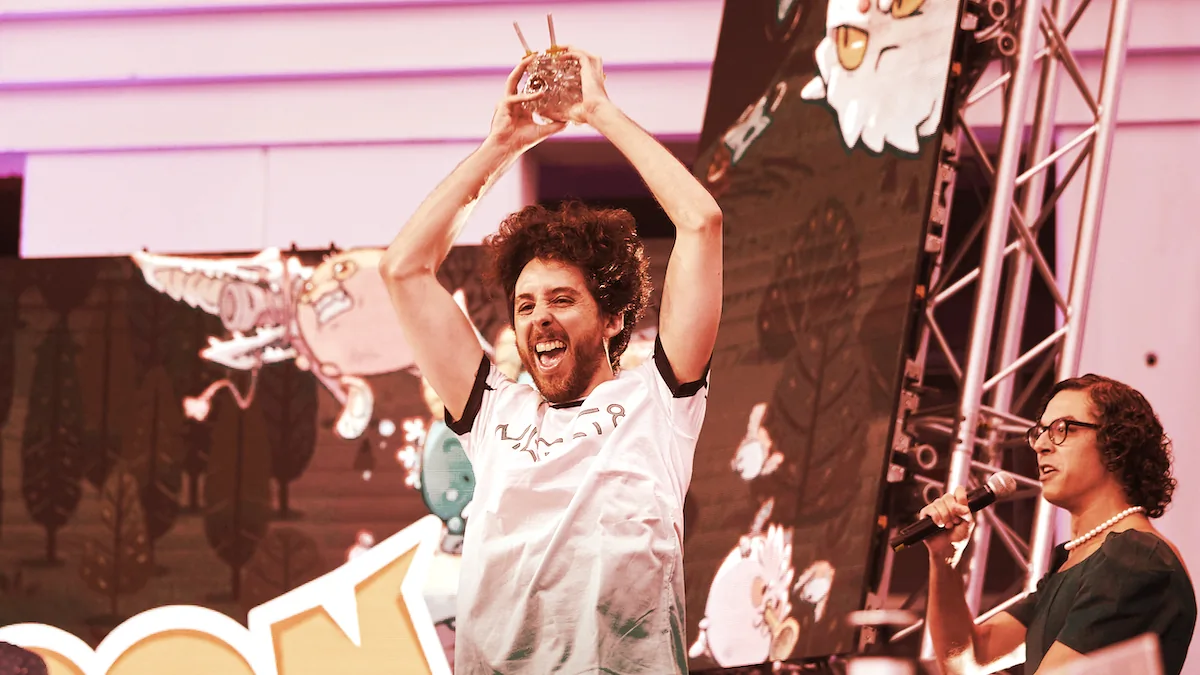 Theeban Siva, along with Elijah, discovered Axie Infinity only last year and was attracted to the platform due to the surging NFT sales and huge player activity. Speaking about this to Crypto News, Siva stated that it felt like a bridge between his gaming passion and his interest in cryptocurrency. As the game and their interest surged, they formed METAT8. 
Crypto and Esports Working Together
The cryptocurrency and esports fields are fuelling the other's success. This is where METAT8 are in the lead, as they're focused on both aspects pretty equally. When speaking about their team, Siva stated: 
"We wanted to have the best possible team and something that's just all about competing and making each other better and stronger. We were making sure that the players in our guild are able to fulfill their dreams of being full-time players, essentially."
Crypto and esports are working together through games such as Axie Infinity. People gravitate towards the game due to the intense PVP gameplay and the ability to partake in regular tournaments and championships each season. Enabling players to earn cryptocurrency through NFTs for their gaming efforts enables the likes of METAT8 to exist. Major esports teams have the opportunity to play for higher crypto stakes and real money, offering a real place for their gaming and crypto passions. 
Axie Infinity has suffered an economic collapse, meaning NFT and crypto prices have decreased. However, the free-to-play trial of Origins and a new rewards model will likely bring new audiences to the game. Regarding esports, Axie Infinity relies on the Axie community and esports teams to compete and invest in the game. At AxieCon, $2.5 million worth of AXS were offered as grants for esports tournaments and events over the next coming months. Siva stated that the esports focus is a differentiating factor amongst NFT-driven games at the moment. 
METAT8 Stats
With a memorable slogan of 'if we don't own it, we don't play it,' METAT8 mostly engages with NFT games, Axie Infinity being the main one. METAT8 players won the two biggest tournaments in the AxieCon final championship, earning over $220,000 in combined winnings. 
Shiva had great success in the Origins tournament, going 12-0 in sets before claiming the winning title. Competing for over ten years in Dota 2, he's also won amazing tournaments playing for teams such as Cloud9. 
Other amazing stats from the team include Elijah ranking 4th in Axie Infinity season 17, Siva ranking 2nd in Meta Guild Invitational 2, BEAT Esports Invitational 2, and FTX Galaxie Cup, and Sebastian Pozzo ranking first in BEAT Esports Invitational. 
With a skilled team primarily ranking in the top ten in every Axie tournament and championship, METAT8 is off the charts right now.