Motearn is joining the fray of Move-to-earn apps in the market. However, unlike other apps, the project is pursuing a more sustainable model that will feature connected tangible NFTs.
The app also promises user privacy by removing GPS tracking and integrating Embry Smart Insoles, a high-tech fitness wearable, into its ecosystem. Motearn is confident that this unique approach will deliver a next-gen user experience.
What is Motearn?
Motearn describes itself as a gamified wellness app incentivizing physical activity through rewards. However, the app sees itself as more than that. Motearn plans to use device-connected smart shoes and integrated tangible NFTs to deliver immense value for its community.
The app also wants to offer a high-tech M2E experience that will feature an array of real-world smart technologies. The project has been in the works for four years. It is being developed by Embry Tech, a wearable technology start-up that aims to leverage web3 technology to promote healthier lifestyles.
What Makes Motearn Different From other M2E Apps?
In recent months, the Move-to-earn space has seen many new entrants. Although STEPN is still the top dog in this area, many apps promise better rewards, sustainability, and relatively manageable starter costs.
So, how is Motearn different from these web3 apps? Well, one unique attribute is how the app can merge web3 and the physical world. For example, unlike other M2E apps where users need an NFT-backed virtual sneaker, Motearn uses Connected Tangible NFTs or ctNFT shoes.
These shoes are then connected to any wearable smart device, including something as basic as a smartphone or more advanced fitness trackers.
The ability to use any wearable tracker device also means that Motearn does not require GPS tracking to account for user physical activities. This allows folks to earn while exercising from anywhere they feel comfortable.
Also, the app will offer outstanding multi-chain capabilities. Although it was initially built on Ethereum, Motearn will be available on BNB and Solana.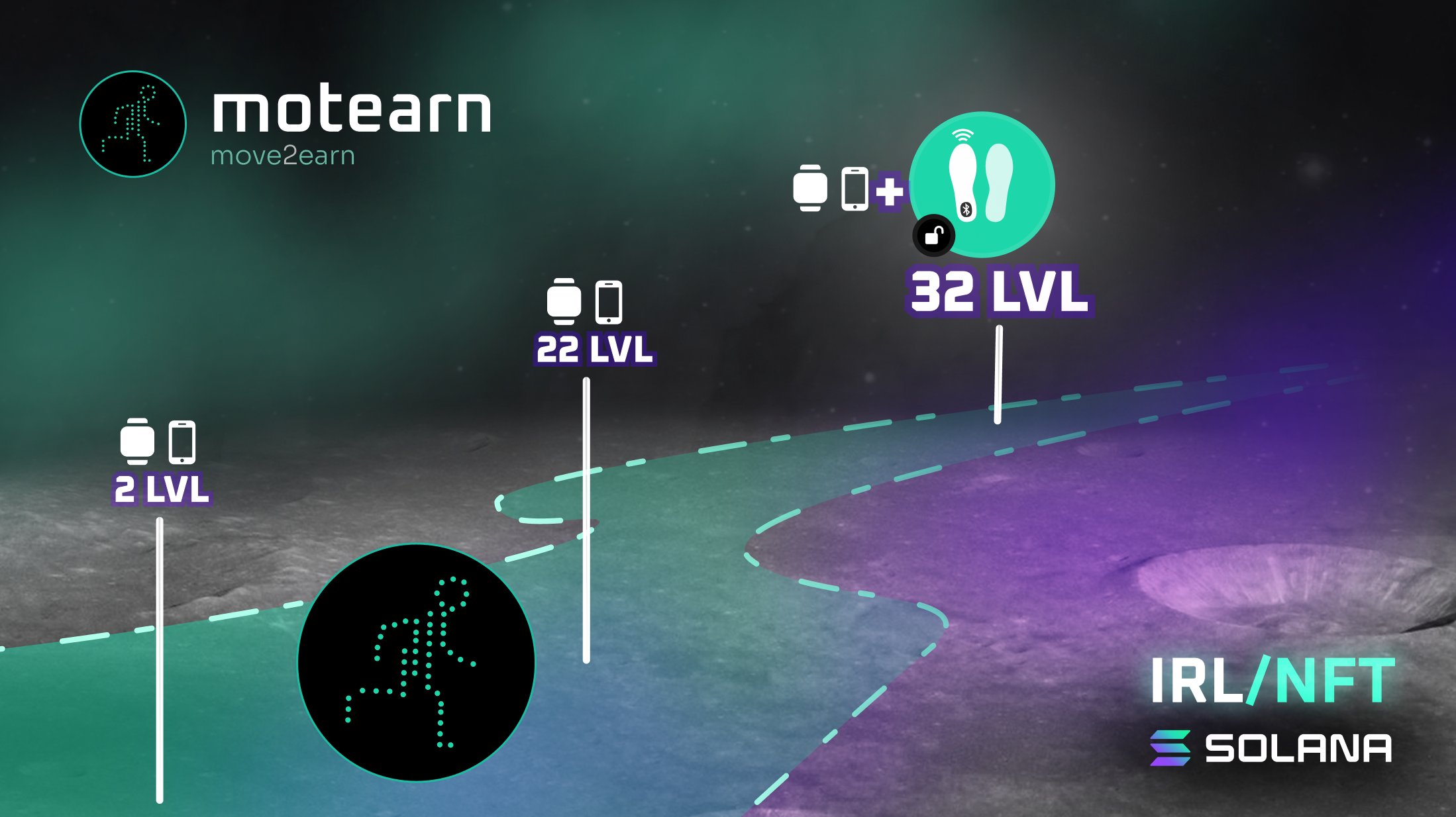 What Are Connected Tangible NFTs?
ctNFTs are basically tokenized real-world items. In Motearn's case, the ctNFTs will be tokenized running shoes. However, the shoes will be connected to smart fitness devices or other wearable technologies that Motearn will deem necessary for its ecosystem.
Motearn believes that this concept will help unlock more utility for its in-game NFTs while giving users the power to control their physical activity and earnings.
The app is planning to release its next ctNFTs drop on September 12th. A total of 3210 ctNFTs will be released on Solana as part of this collection.
Motearn: Key Aspects of Its In-Game Economy.
The Motearn web3 fitness app has three key pillars in its in-game economy. First, the move-to-earn platform offers Embry Smart Insoles, which will be the equivalent of the NFT sneakers users buy when they join STEPN.
Even though the insoles are physical items, they will be tokenized and backed by an on-chain NFT. These high-tech fitness tracking devices would typically cost around $250. But holders of the Genesis NFT collection linked to the insoles will get them for free.
Secondly, the app will feature a dual token system. The in-game utility token, which will also be used to initially pay for rewards, is the MOT token.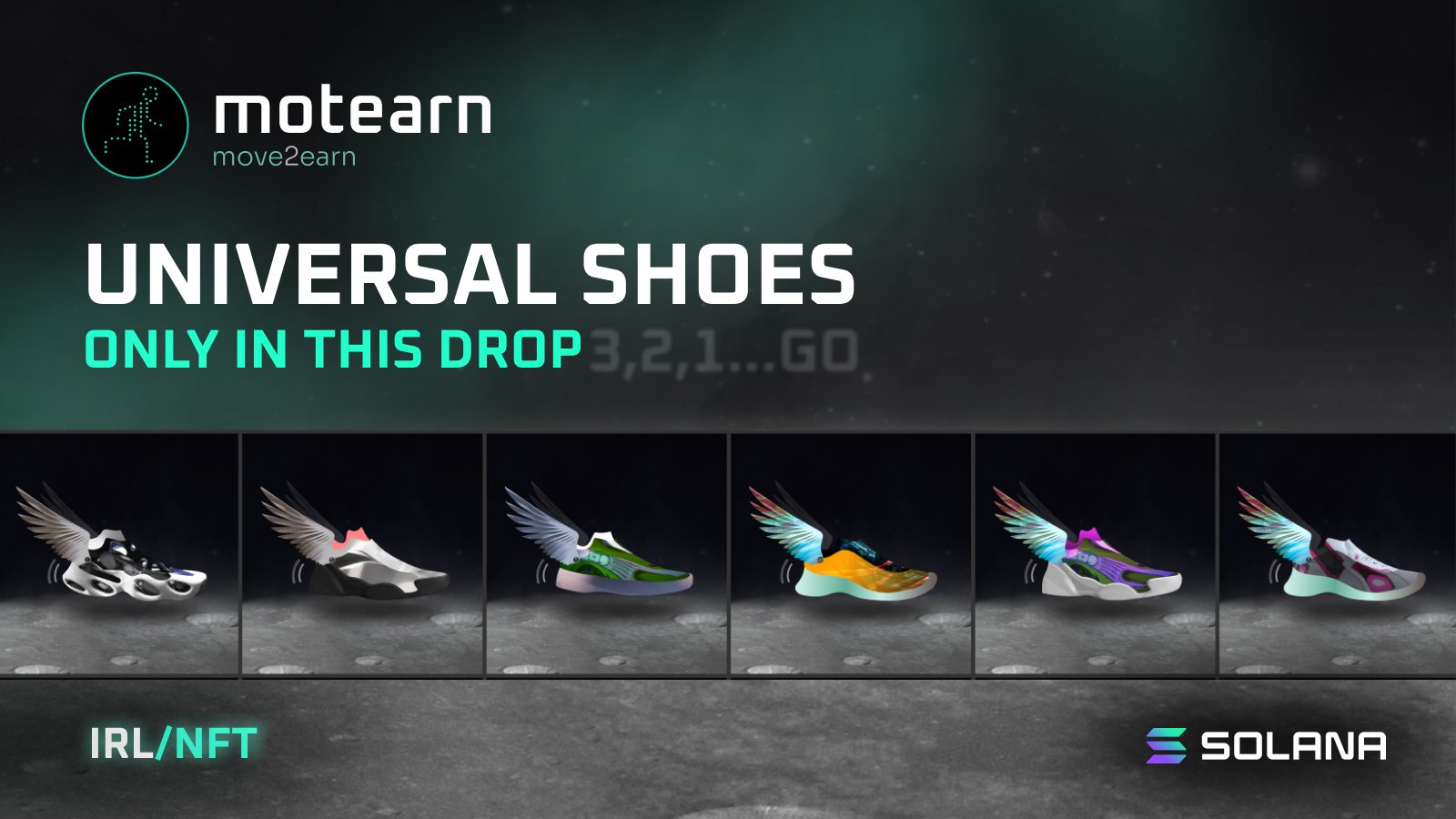 The tokenomics are yet to be announced. However, we know that Motearn intends to offer a staking option where users can generate MOT rewards even without physical activity.
The second token in the system will be EMET. Motearn describes it as the main ecosystem token, which could suggest that, eventually, it will evolve into a governance token as well.
Finally, the web3 lifestyle app wants to build the EMET Market. In other in-game marketplaces in the M2E industry, users trade NFT items alone. But the EMET Market will offer a dual experience.
Here, users can buy both NFT-backed items and physical, real-world stuff. In fact, Motearn plans to have all manner of things, including health insurance discounts, raffles, and so much more.
Can Motearn Solve the Sustainability Problem in M2E?
Motearn has made it clear from the start that its platform will be a more sustainable version of all the M2E web3 apps in the market right now. The project may be on to something.
The incentives regime on Motearn is relatively better compared to other M2E apps. Although the project still rewards physical activity, it is offering an added incentive by giving users the chance to own the Embry Smart Insoles.
What makes these assets more interesting is that they are both tokenized and available in physical form. For this reason, it would make more sense for the average person to join Motearn through a tokenized physical wearable device than just an abstract NFT sneaker.
Motearn will likely maintain strong user growth and retention, which will ultimately play a key role in long-term sustainability.
The Status of the Move-to-Earn Market?
The M2E market boomed quite a bit in and around May this year. Most of this growth was driven by STEPN, but the ensuing crypto meltdown has raised new uncertainties for these apps.
Despite this crypto downfall, the M2E space has established itself as an integral subsector of the decentralized world. In fact, according to data from Coinmarketcap.com, M2E-related crypto coins are now valued at half a billion dollars.
Since this industry started less than 12 months ago, hitting this milestone is commendable. But it's also hard to ignore the fact that STEPN hugely dominates the industry.
The coinmarketcap.com data shows that the GMT token, which is STEPN's governance coin, accounts for nearly 75% of the combined value of all M2E coins. GMT is also the only M2E token to rank among the top 100 crypto projects by market cap.
STEPN is also the most profitable app in the M2E space. For the industry to really scale, we need more apps that would offer serious competition to STEPN in the long term.