The negative sentiment surrounding crypto and NFTs in 2022 is taking a huge toll on Immutable X. The NFT-focused blockchain has seen a sharp drop in NFT sales volume this year as major headwinds hamper growth in the industry.
According to an analysis done by BeinCrypto, Immutable x NFT sales hit $5.2 million in July, the lowest level in 2022. The decline follows a general pattern in the broader NFT market where sales this year have hit record lows.
Immutable X NFTs Sales In Numbers
Immutable X has established itself as the main player when it comes to NFT blockchains. The platform has so far reached lifetime NFT sales of around $230 million, one of the highest in the industry. But 2022 has presented some serious challenges for the chain.
For starters, monthly NFT sales in July declined by nearly 34% compared to just a month ago. Immutable X also appears to be underperforming other blockchains in NFT sales.
Solana, Ethereum, Flow, and Ronin all had better July sales compared to the platform. The blockchain is also seeing a sharp drop in the number of unique NFT buyers.
Unless the current trend in the broader market reverses soon, Immutable X could be heading towards its worse financial year since its launch in 2018.
The NFT Downturn In 2022: Key Stats
The plunge in immutable x NFT sales is not shocking if anything, it follows a trend we have seen since the turn of 2022. NFTs were actually predicted to break records this year. There are still some analysts who believe 2022 sales will jump higher compared to 2021.
But so far, the numbers don't seem to support this thesis. For instance, NFT sales for Q1, 2022 dropped sharply by 47%. Additionally, NFT sales fell below $1 billion for the first time in months. Surprisingly, trends in NFT sales appear to be way off compared to the broader trend in crypto.
In July for instance, the crypto market saw a period of stabilization as prices reversed slightly from the long-term 2022 downtrend. But during the same period, NFTs failed to generate enough demand.
Data from BeinCrypto shows that total global NFT sales in July stood at $647 million, a 26% drop compared to the previous month.
Also, the JPG NFT Index, an NFT- inspired index that tracks blue chip NFT assets, has seen a major downturn this year. According to an analysis by Bloomberg, the index has lost 70% of its value since April.
All these figures point to a growing cloud of uncertainty in the NFT market. But there are still some signs the industry could turn around by the end of the year.
Why Are NFTs Down in 2022?
The drop in Immutable X NFTs sales is the latest sign that NFTs have run into rough waters. There are several reasons for this. First, overall sentiment in the crypto industry has turned negative. This has largely been triggered by growing concerns over inflation and a possible global economic recession.
Hawkish monetary policy by the US federal reserve is also adding to the pain for crypto and NFT investors. Also, the hype around NFTs has dropped significantly compared to its peak.
In 2021 for example, celebrities and major brands were all about NFTs. But somehow this media hype has failed to maintain momentum.
Finally, all industries go through periods of boom and burst. 2021 was the boom year for NFTs with billions of dollars in global sales.
With such a peak, it was largely expected that some market correction was inevitable. How long this correction lasts remains to be seen. But so far, it's been almost six months and things may still get worse before they get better.
Positive Signs to Note
Despite the drop in sales, several signs suggest NFTs are not that badly off. First, the adoption of NFTs has seen some respectable growth, especially among millennials.
This Morning Consult survey found that 23% of all millennials in the US are collecting NFTs right now. Also, the study found that over 40% of people who collect physical items like art would consider NFTs.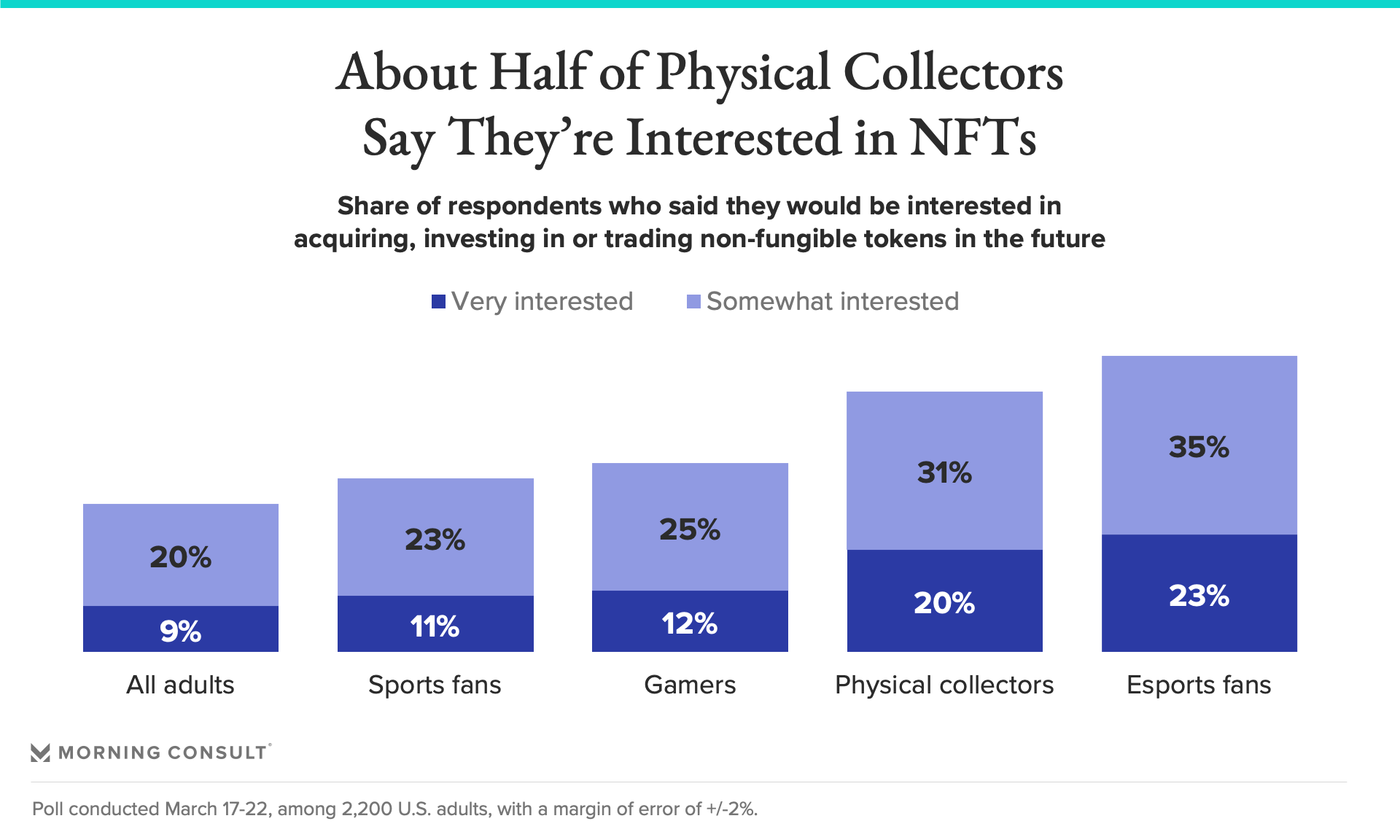 The biggest challenge however is that nearly 50% of all global NFT sales are in the United States. For the NFT industry to truly become a global sector, sales must diversify to other major markets.
China and India have often ranked as two potentially huge players in the crypto industry. But the threat of strict regulation in both countries poses major risks for scaling NFTs outside the United States.
P2E Gaming and Metaverse Projects
NFTs could also benefit significantly from the rise of P2E games. Besides, growth in P2E gaming this year has been impressive, especially considering the overall downturn in the NFT market.
Data by DappRadar, in conjunction with the Blockchain Gaming Alliance, estimates that active P2E gamers in Q1, 2022, surged by over 2000%. The expansion of P2E and metaverse gaming could unlock additional use cases for NFTs and this will likely push sales higher up.
In the future, P2E and metaverse games may account for the biggest share of global NFT sales.
NFTs are Going Mainstream
Before the media buzz around NFTs hit a fever pitch last year, nobody really had any idea what these tokens were and what they can do. But in less than 12 months, NFTs are going mainstream in huge ways.
Some of the leading brands around the world are actively looking at ways to use NFTs for branding. For example, Samsung just announced it's going to offer free NFT rewards to incentivize pre-orders for its latest phones.
Artists and big-name creators are also invested heavily in NFTs. This creates an opportunity to transform NFTs from a niche sector in the crypto market to a mainstream entertainment industry with real-world value.
Now, this will not happen overnight. But there is enough evidence to suggest that use-cases for NFTs could expand massively in the future, especially with the rise of web3.