Sweat Economy has yet again gained more support and another partnership. This time, Paras, the NFT marketplace, has partnered with Sweat Economy. This partnership allows Paras to support using NEAR NFTs for Sweat Wallet. This is super exciting, and we've got all the details for you here. 
What is Paras? 
Paras is an NFT marketplace for digital collectables on the NEAR blockchain. It is an all-in-one place for creators and NFT collectors. Paras only supports NFTs existing on the NEAR blockchain, there are several dedicated collections for games and unique collections that you cannot find anywhere else. 
There is a live auction section on the Paras marketplace where you can view NFTs, with information about when the auction ends. This is pretty competitive, and users are encouraged to bid on their favorite NFTs.
Of course, during the Paras x Sweat Economy partnership, we will expect there to be a Sweat collection on the Paras marketplace. This is likely to be one of the few places that Sweat NFTs are available, and because they're operating on the NEAR blockchain, more users will come to Paras. 
What is Sweat Economy? 
Sweat Economy is the creator of apps such as Sweatcoin and Sweat Wallet. With the new release of Sweat Wallet, Sweat Economy has been making huge moves in the crypto scene. Previously, there was only Sweatcoin. Sweatcoin arguably was one of the first apps to incentivize exercise through movement.
Sweatcoin never dealt with cryptocurrencies. Instead, reward systems and in-game tokens could get you awesome prizes. Some of these prizes can be physical items, but they can also be online training and qualifications. 
Sweat Economy is an ecosystem holding Web2 and Web3 products (Sweatcoin and Sweat Wallet), making huge milestones. This is a unique position to be in, with a huge perspective of what users want and how to get non-crypto users interested in crypto.
Sweat Wallet was the most downloaded DApp in the world within its first week of release. Now, only two or three weeks after its release, the app is the top financial app in 51 countries, with its users walking over 133 million km in two weeks. 
Sweat Economy and NFTs
Previously, Sweat Economy announced its plans for NFTs with a tiny collection. Created on the app Few and Far, the NFTs will be available on the NEAR blockchain and accessible through Sweat Wallet's NFT gallery. With only 10,000 NFTs, they will likely be priced pretty high. The first exclusive collection (containing 10,000 NFTs) will only be available on the Sweat Wallet NFT gallery. 
Additionally, a prize draw for users who surpass the required amount of SWEAT to purchase an NFT. In this prize draw, the winner will receive an NFT, and 5 winners will receive $300 of $FAR, Few and Far's tokens.
With over 200,000 people already signed up for the prize draw, this proves exciting for the future of NFTs in Sweat Wallet. 
The first collection of the 10,000 Few and Far NFTs are not actually Sweat Wallet NFTs, but they are in collaboration with the two companies. We can expect the release of official and native NFTs to the Sweat Wallet app, as you can already see the NFT marketplace is there. 
Paras Partners with Sweat Economy for NFTs
As we know, Paras has partnered with Sweat Economy, and an element of this is to release Paras x Sweat Economy NFTs within Sweat Wallet. With over 120 million users, 19 trillion steps, and 600 brand partners, Sweat Economy is becoming one of the most successful ecosystems in the Web3 and Web2 space.
Paras stated that Sweat Economy has displayed a momentous step into cryptocurrency. An economy using NFTs to grow and improve engagement in the community is impressive. 
We're excited to announce our partnership with @SweatEconomy and support their #NEARNFTs journey👟

Check out our thread below for our collaborations and what's next for us👇 pic.twitter.com/YErO3XBLO0

— Paras: NFT Marketplace (@ParasHQ) October 3, 2022
Due to this, Sweat Economy is hosting an exclusive collection of NFTs in collaboration with Paras. This exclusive collection of 888 NFTs will be available in Sweat Wallet. To add, the prize draw allows certain users to win one of these NFTs. Users who have reached growth goals in Sweat Wallet will be entered into the prize draw, with one lucky winner receiving an exclusive NFT. 
What Does This Mean for Sweat Wallet? 
As we've seen since its release, Sweat Wallet is incredibly popular. At the moment, the SWEAT token is cheaper to mint, hence why there are so many users at the moment.
Sweat Economy is seizing this opportunity, getting a huge variety of partners and crypto fanatics involved. Additionally, with the shift from Web2 to Web3, there are plenty of Sweatcoin users interested in getting into crypto.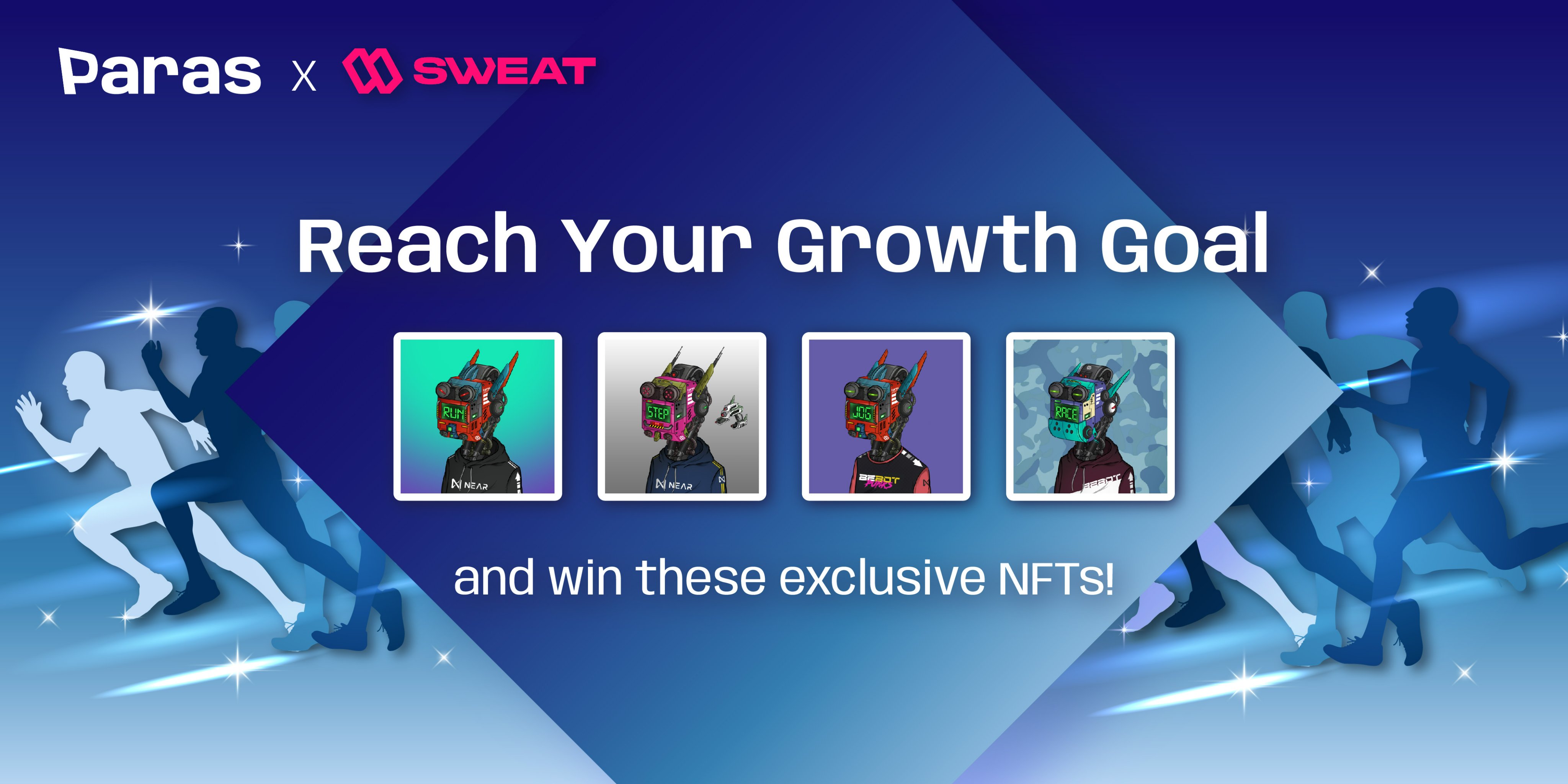 The Paras NFTs look to be an exciting development in the success of the Sweat Economy. With over 600 partners, Sweat Economy will likely have a thriving NFT marketplace within the next couple of years.