Sweatcoin holders, Sweat Foundation Treasury, and SweatCo announce a combined 4.76BN (18%) burn of their SWEAT on-chain.
The move-to-earn game established its new SWEAT cryptocurrency this month as Oleg Fomenko, the co-founder and CPO of Sweatcoin, says "the utility of fitness will expand."
What is Sweatcoin?
Sweatcoin is a move-to-earn app that tracks users' steps in exchange for sweatcoins. The app is free and offers rewards for daily efforts where new-generation currency walkers can spend on products, donate to charity or convert into SWEAT.
The founders  Oleg Fomenko, Anton Deryatka, and Egor Khmelev are building the "sweat economy" to create a healthier and happier society.
According to the site, health has monetary value, and why shouldn't everyone benefit? Since 2015, the M2E app has been trying to connect health and personal wealth to reduce healthcare costs in the community and encourage healthier lifestyles.
The Big Burn
4.76BN SWEAT (18%) burned on-chain 🔥

As promised, Sweat Foundation Treasury and SweatCo immediately burned a combined 4.76BN of their SWEAT on-chain!

Supply burn -18%💧

SweatCo:https://t.co/7G0EkRVUp1

Treasury:https://t.co/obe7EECV10 pic.twitter.com/uUuxMbwTYx

— Sweat Еconomy 💧 (@SweatEconomy) September 14, 2022
"We recently announced an enormous burn of 4.5BN sweatcoins. Because, at TGE, we will mint enough SWEAT to match all sweatcoins in existence, this represents a significant burning of SWEAT." – Sweat Economy
It was only on September 13th that SWEAT cryptocurrency came to the market. By creating SWEAT crypto, users can access blockchain products and services, which would increase the "utility" of SWEAT.
Users can also trade their SWEAT cryptos on most major exchanges. The tokens are compatible with the Near (nep-141) and Ethereum (ERC-20) protocols.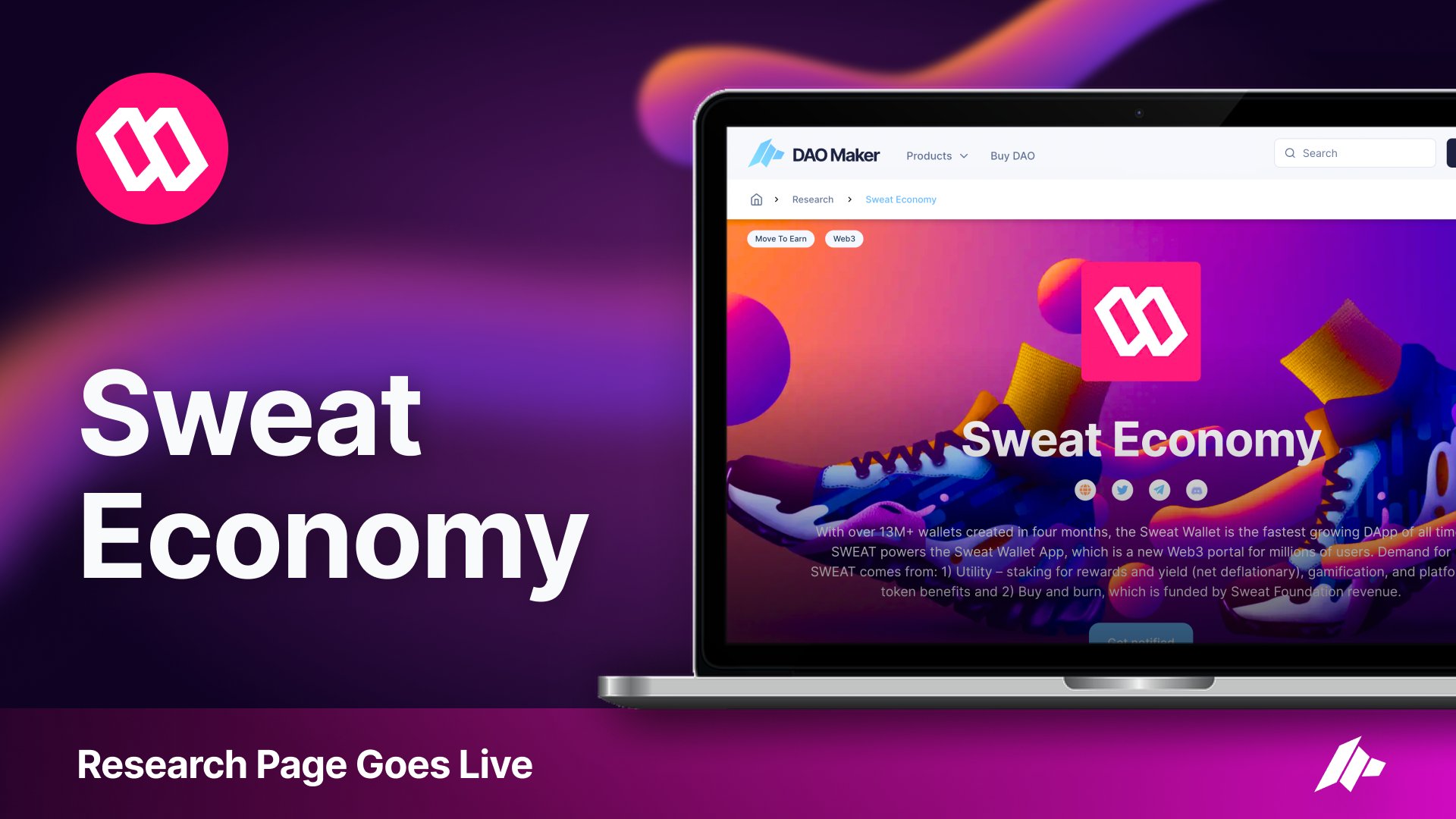 This recent burn will increase the value of the crypto, rewarding investors. A crypto coin burn is similar to a stock buyback. That's when the company that issued the stock buys back some shares and reduces the total number of shares on the market.
Investing In SWEAT
Seven years following the company's launch, crypto wallets have landed. Further to this development, users can now mint their SWEAT tokens at a rate of 1,000 steps to one SWEAT. While previously Sweatcoin existed in a Web2 space where it could be traded for products or donated to charity, it now appears as a web3 offering.
"Sweat Economy is the natural evolution of Sweatcoin. Global, open, and fair, SWEAT is a next generation cryptocurrency that will bring the next billion people into Web 3.0, and make movement part of global GDP." –  The Sweat Economy Litepaper.
For existing Sweatcoin users that opted in before the Token Generation Event, their sweatcoins were matched in SWEAT crypto, starting them off with some money in their wallet.
Everyone else will be starting from square zero – unless they took part in the record-breaking DAO Maker sale ahead of the official launch.
But even new users can get on the walk to earn crypto train, with a user's first 5,000 steps now counting towards SWEAT. With the move into Web3 and the pivot to crypto, Sweatcoin is just adding one more utility source to your steps.
Why The Burn?
In April 2022, Sweat Economy anticipated minting 21BN SWEAT at the Token Generation Event to match all the sweatcoins ever produced. They soon saw, however, that this wasn't the case. There were 25.8BN sweatcoins made at noon UTC on Monday, September 12th, overshooting their prediction by 4.8bn.
Although this shows great confidence in the crypto, this wouldn't do for existing users. This increase of Sweatcoins from 21BN to 25.8BN is partly due to a launch delay and the unprecedented success of the Sweatcoin app and Sweat Wallet.
Nearly 120M users downloaded the game, and the Sweat Wallet saw 13M join. Those 13M crypto users in August alone walked 645, 267, 668 km.
On the one hand, adoption is a vote of confidence from the community. On the other hand, it dilutes the price of an individual token by more than 20%.
Sweat Economy, therefore, chose to burn 4.8BN sweatcoins from existence to bring the minted SWEAT back to 21BN at TGE. They decided to burn these sweatcoins from inactive user accounts. The only cost comes from the Sweat Foundation and SweatCo Ltd.
The Future Of SWEAT
Although the number of steps that will generate SWEAT will remain at 1,000 steps per SWEAT until 2024, the reward for the steps will decrease over time.
The breakdown is as follows:
2023 = 1 SWEAT
2024 = 0.333 SWEAT
2025 = 0.19 SWEAT 
2031 = 0.02 SWEAT
The strategy is risky, as it may result in users leaving the platform when they start to see a decline in their returns.
Since steps are the resource that fuels Sweatcoin's economy, Sweatcoin will need to offer an attractive reward for users to join the company. Initially, the demand curve (red), which represents Sweatcoin's demand for users, starts at a point where the value of steps is high.
Sweatcoin's demand for users will only grow as the business expands. However, as more users join the platform, the amount that Sweatcoin can pay for users' steps falls, and their value declines.
On the supply-side (blue), users supply their steps for rewards. Yet, if the app devalues users' efforts and the marginal cost of rewards rises, users will provide fewer steps over time. They become less active or no longer motivated and could leave the Sweatcoin platform, so supply stagnates and potentially falls.
Ideally, there is an optimal point (red dot) where the number of move-to-earn users will not decrease the value of steps, so users will be willing to supply their steps. This point is called an 'equilibrium' and reflects the optimal market value of the Sweatcoin user's steps.
Read more about what SWEAT has to offer and its additional awards here!