Sky Mavis, the creator of the popular turn-based card game Axie Infinity, has unveiled a robust plan to dominate web3 gaming in the coming years.
The Vietnam-based firm plans to pursue collaborations with innovative gaming studios to create web3 games of the future.
The company also plans to unleash the full power of the Ronin Network and the Mavis Hub platform to provide the much-needed infrastructure to power web3 games.
Inside Sky Mavis's Partnership Plan
According to a post submitted on the Axie infinity blog on Substack, Sky Mavis wants to build robust partnerships with gaming studios that ultimately lead to the creation of "next-generation Smashbox games."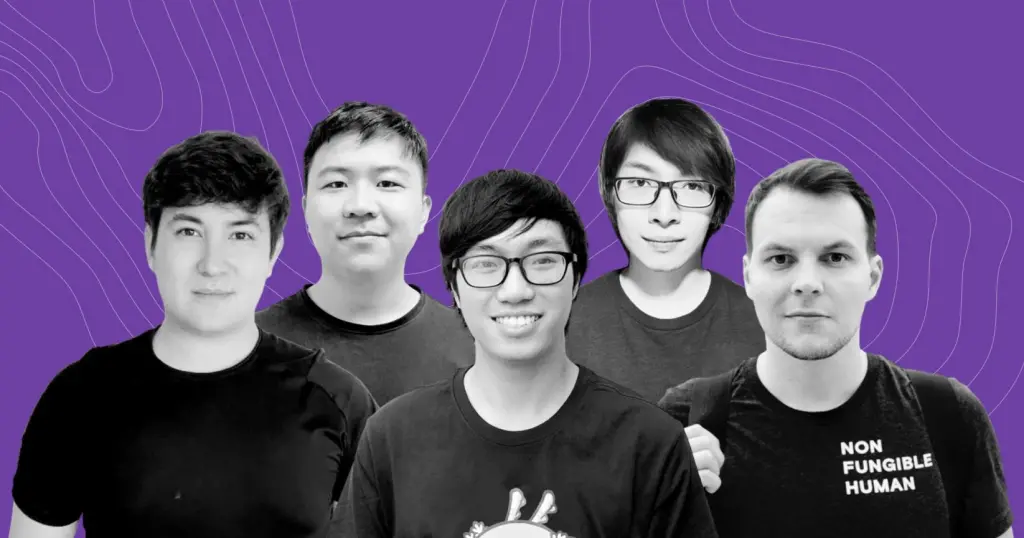 The developer says the plan is based on the feedback it has collected from Axie Infinity players over the last few months.
Mavis adds that it will combine its broad experience in the web3 gaming space together with its robust web3 infrastructure to encourage gaming studios to create and share immersive games with its community.
The ultimate vision for Sky Mavis is to transform Ronin into a highly integrated gaming ecosystem featuring a wide range of games geared for a diversified audience of web3 gamers.
Additionally, it's not just about creating new games. Studios will also get the chance to build on and upgrade existing Sky Mavis games and utilize the company's intellectual property to innovate.
Web3 Gaming Partnerships So Far
Sky Mavis has already been exploring the idea of bringing in third-party studios to create games for Ronin. In fact, the Axie infinity developer says it has evaluated proposals from over 250 gaming studios so far.
However, the company maintains that its screening process is very strict and highly selective. Although Sky Mavis wants to transform Ronin into a web3 gaming hub, a standard is expected from gaming studios that want to take advantage of these partnerships.
After all, the Axie Infinity community is already exposed to a high-end P2E game. Therefore, all games coming to Ronin must either equal or exceed the standard of quality in Axie infinity.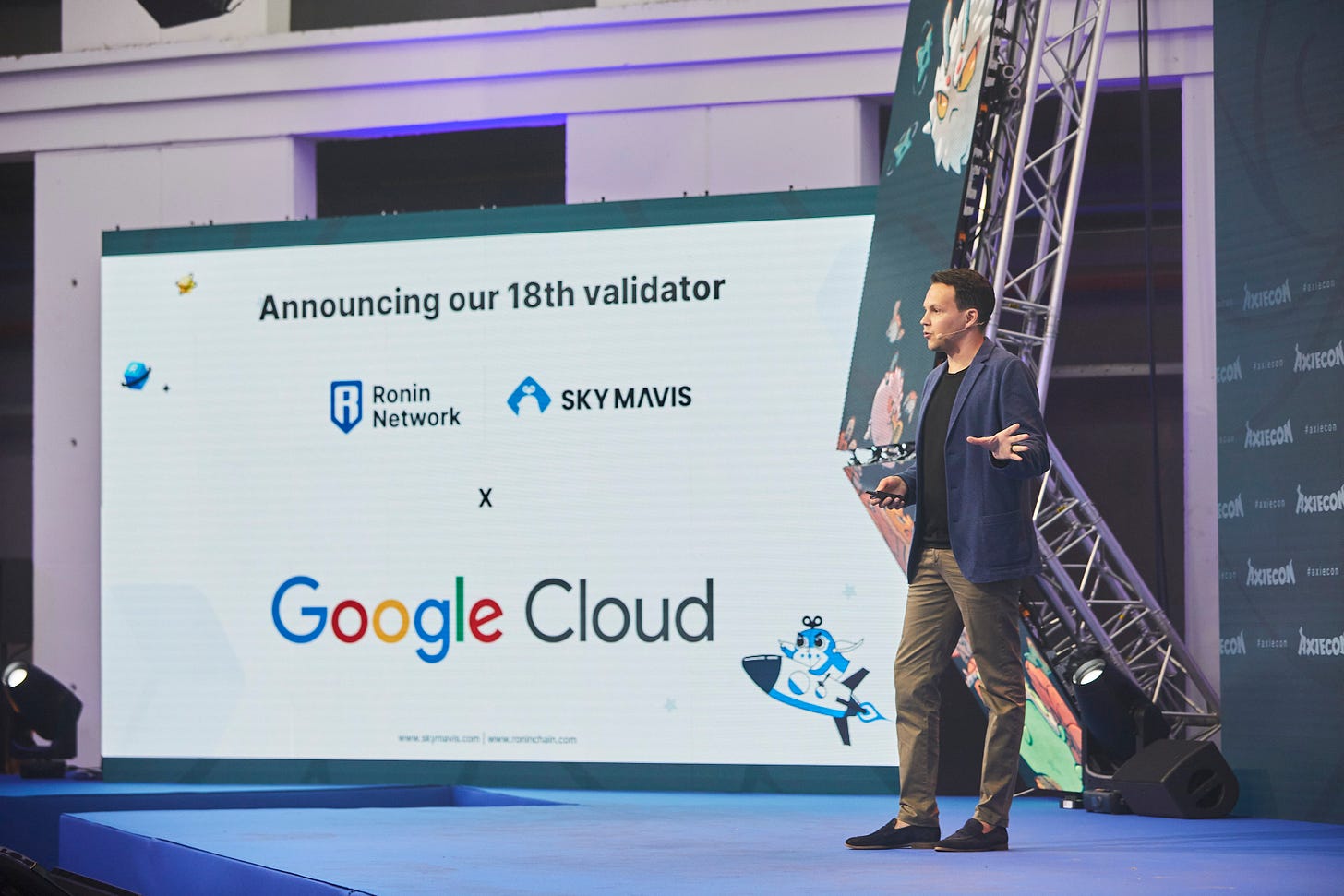 Nonetheless, Sky Mavis says that its vetting mechanism will focus on several key areas. This includes gameplay, in-game economy, NFTs, and any other trends the company may deem fit.
What Sky Mavis Intends to Offer Gaming Studios
Sky Mavis is one of the leading web3 game developers in the world. The company plans to give gaming studios access to its expertise and technical capacity. But there is actually more.
Studios will also get access to a comprehensive developer suite with all the tools they need to build successful web3 games.
The studios will also get to leverage a robust and battle-tested web3 infrastructure. This allows them to create highly scalable and innovative games.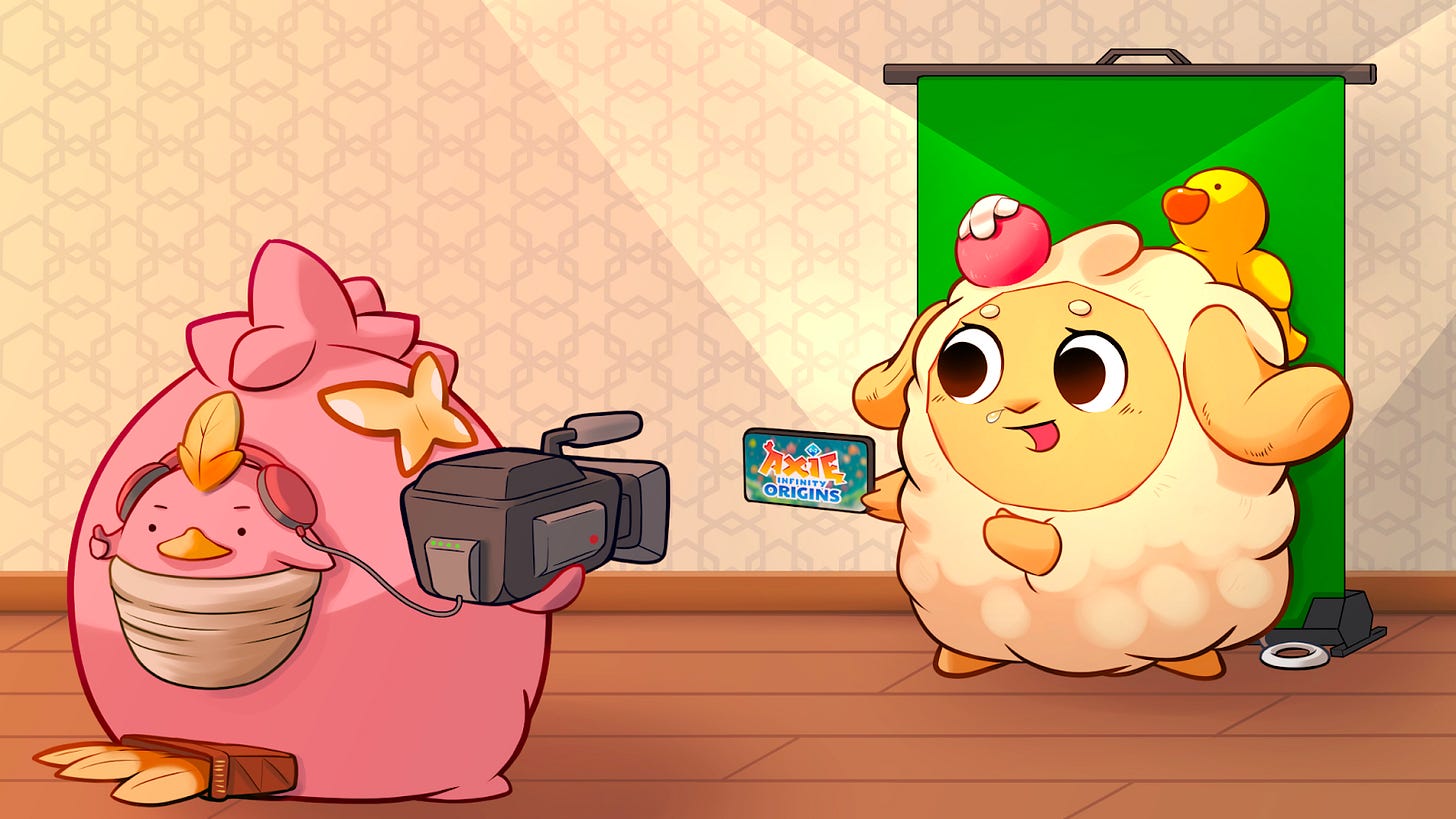 Selected partners will also receive exclusive access to the Sky Mavis distribution mechanisms, allowing their games to reach a much bigger audience.
Partners will also be able to use Sky Mavis as a launchpad and leverage the extensive marketing resources available there to popularize their P2E game.
Finally, Sky Mavis also intends to open up its IP to innovative gaming studios. However, the Axie Infinity developer maintains that this will be done on a case-by-case basis.
What Qualities is Sky Mavis Looking For?
As noted above, the Sky Mavis team is setting very high standards when choosing the studios to partner with. Nonetheless, to stand a better chance of getting a deal, studios must fulfill certain requirements.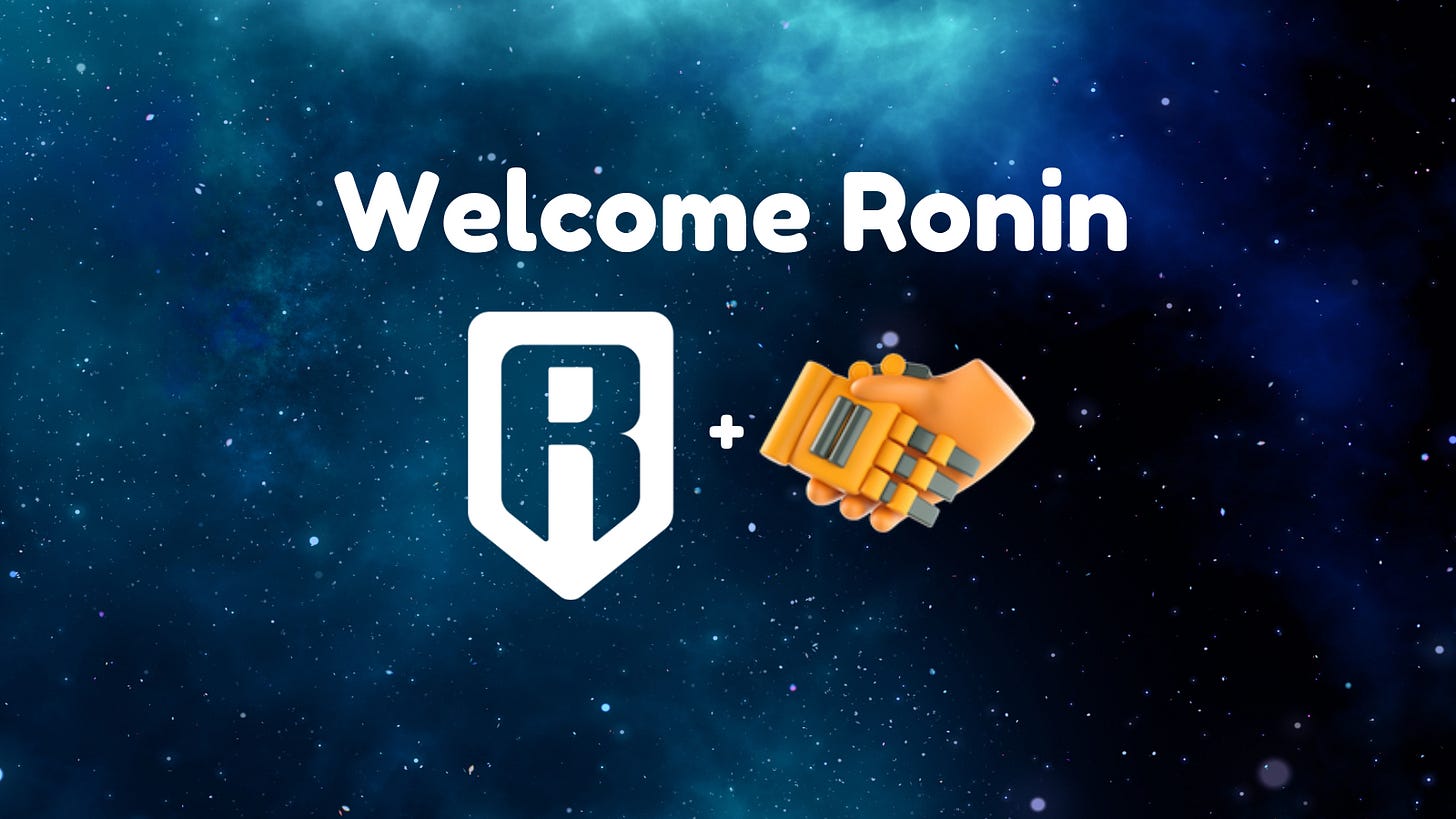 First, the web3 gaming studio must show enough ambition to create next-generation games. These will be games that are much better than what is already out there.
Also, the studios must have demonstratable experience in building successful NFT games. Even if the gaming studio is new, at least one of the founders must have some history in building successful games.
Sky Mavis is also looking to partner with studios that deeply understand web3 games, how they work, and their future. This means studios must show the ability to integrate NFTs, community building and ownership, and exciting in-game mechanics.
The Sky Mavis team also wants to work with studios that are fully aligned with its vision to onboard billions of users into web3.
Axie Infinity: Just the Beginning
For now, Axie Infinity remains the most popular web3 game from the Vietnamese studio. But the developer sees it as the beginning of a much greater story.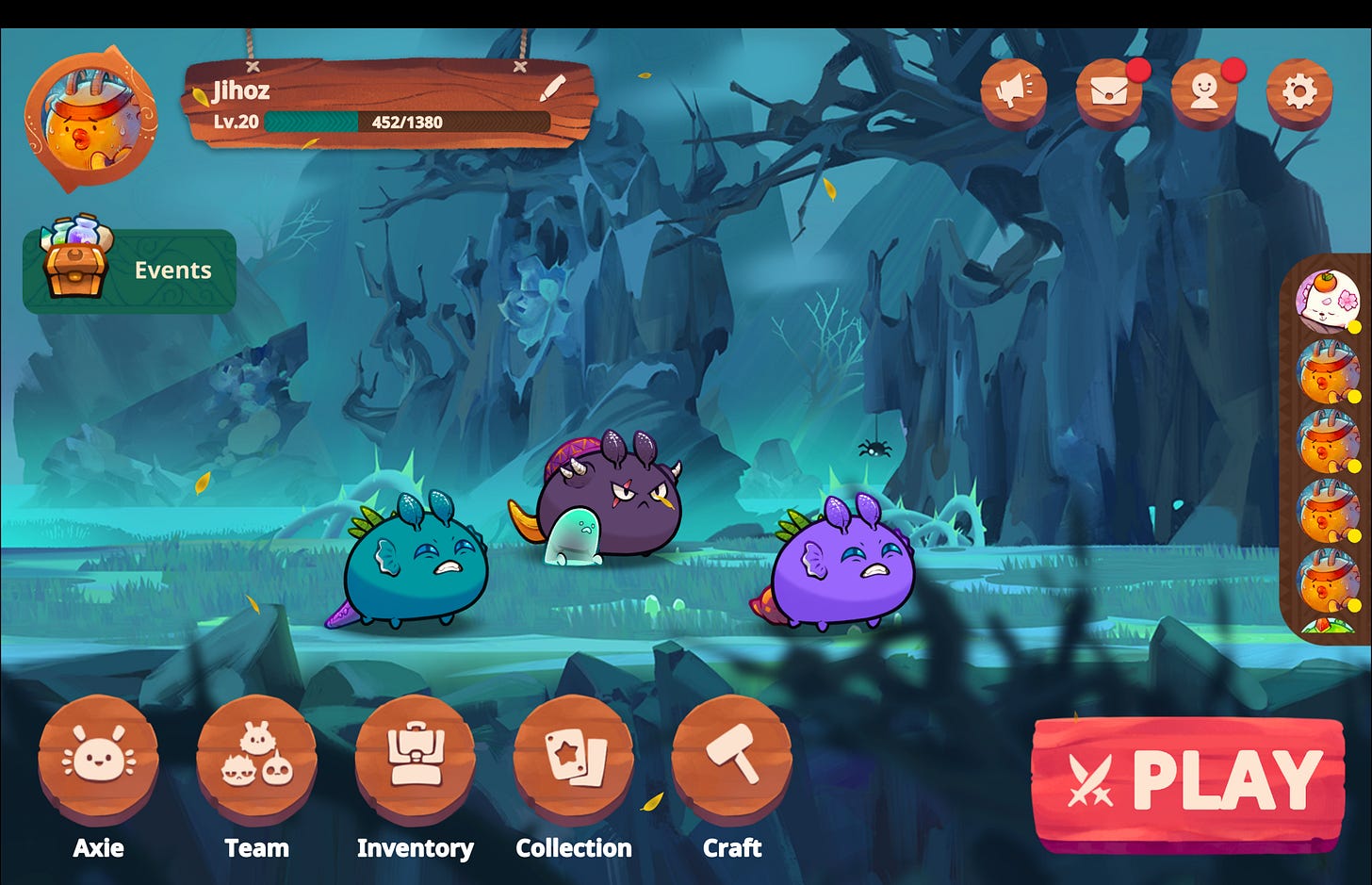 In fact, ultimately, the Axie developers intend to leverage the Ronin network to expand its gaming ecosystem and build more communities beyond Axie Infinity.
But there are still a few challenges to note. For example, this study by Coda Labs found that only 3% of traditional gamers hold an NFT. Since NFTs are central in powering web3 games, there must be better adoption to help accelerate the growth of these games.
However, there is some good news. It seems that most gamers are becoming more aware of NFTs and how they can help improve their gaming experience. The Coda Labs report, in fact, found that at least 89% of gamers are aware of gaming NFTs.
The biggest challenge now for Mavis is to figure out how to bring in traditional gamers and create exciting games that appeal to the average Joe. The Axie developer is counting on its proposed studio partnerships to make this happen.