Star Atlas announced some amazing information this weekend at Solana Breakpoint. There were several major announcements, such as its first multiplayer Showroom interaction and Star Atlas: Golden Era, an upcoming web browser game. There was also a mini-racing tournament and a demonstration of the F-KIT system at the event. So, let's find out more about this! 
Solana Breakpoint 
Breakpoint is a community industry meet, and this year was held in Lisbon, Portugal. Solana Breakpoint happened over the weekend, starting on November 4th and ending on November 7th. The breakpoint aimed to bring together industry leaders, innovators, and builders from around the world.
With a range of speakers, including Anatoly Yakovenjo from Solana Labs, Jack Lu from Magic Eden, and Ori Kwan from Orca, there was a range of exciting things to listen to. 
Breakpoint was decentralized across various locations in Lisbon, letting visitors see the best the city has to offer. The weekend consisted of a full weekend of workshops, speaker talks, and networking opportunities.
Ingrained in this were celebrations from various developers and their success. The main conference went ahead on November 4th, but events started on November 1st. 
The Breakpoint event is an official Solana conference organized by the Solana Foundation. The Solana Foundation is a non-profit organization with headquarters in Zurich, Switzerland. The foundation is relentlessly dedicated to growth, security, and the decentralization of the Solana network. 
What is Star Atlas? 
The game Star Atlas is an exploration, conquest, and political dominance game set in space. It's a blockchain game, meaning there is the opportunity to earn cryptocurrency whilst playing. The game holds a marketplace with a marketplace holding trade spaceships, NFT resources, and other items for gameplay. 
This open-world fantasy game takes place in 2620, and it has a multiplayer-based universe. You must embark on challenging journeys and mine to find resources and outsmart other players in the game.
In the game, you will pay taxes, trade assets, and play the game with others to trade and form alliances. Once alliances have been formed, you can engage in a battle to dominate planets. 
Players can monetize the time and effort they put into the game, earning the $ATLAS game token. This token is the main currency of the game and can be earned by tracking traders, dominating their ships, and selling them on the game marketplace. Once you have $ATLAS, you can trade it in exchange for real currency.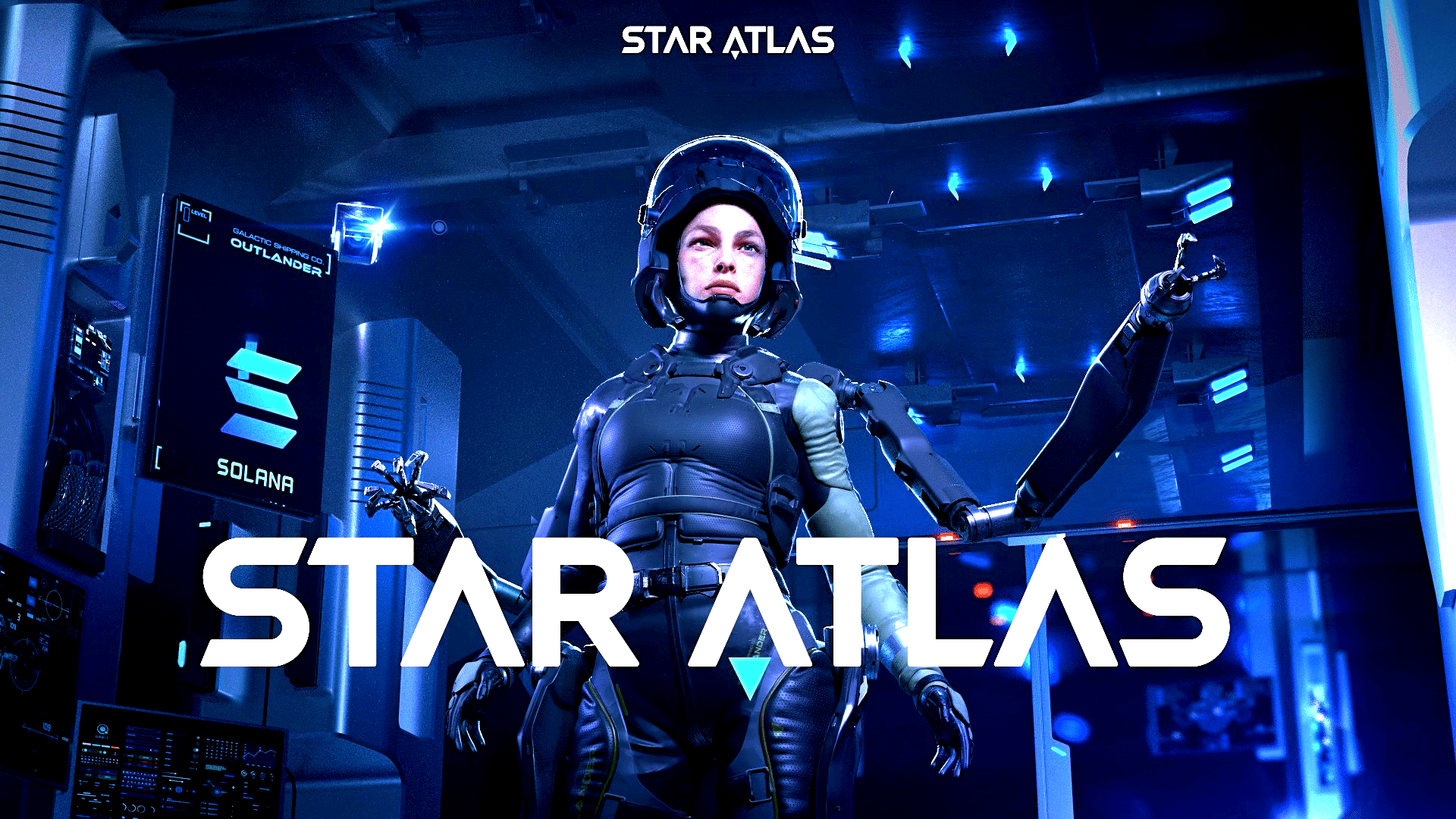 Star Atlas Unveils Roadmap at Solana Breakpoint
Star Atlas made some waves at Breakpoint this weekend. Breakpoint was held in Lisbon and unveiled some great changes for the game. The lead developer of Star Atlas, ATMTA Inc, unveiled a plethora of game announcements related to the development and gameplay of Star Atlas.
This includes the future roadmap, as well as the release date for the Star Atlas graphic novel. ATMTA made all these announcements under the theme 'building on Star Atlas is building on Solana'. 
Star Atlas co-founder and ATMTA CEO Michael Wagner outlined some important information about the project. He mentioned that the project has been in the making for a few years and spoke about plans for its future. He began with the vision that has guided the project since its inception: 
Wagner stated that Star Atlas embodies the essence of Web3 gaming at a unique time in history. He stated that the recent developments in gameplay technology have created an opportunity for a futuristic sci-fi experience that is completely unique. In addition, advancements in NFT standards have allowed the true ownership of items, giving players a new incentive for players. 
Star Atlas brings all the technology together with Unreal Engine 5 graphics. Unreal Engine 5 is a super advanced game development and building platform that creates some truly amazing graphics.
Star Atlas embraces the decentralized ethos of Web3, empowering the community to use and benefit from the technology, as well as participating in the expansion of the project itself. 
Future Changes and Roadmap
Wagner pointed out that Breakpoint is only the most recent milestone in a period full of events and product launches. Previously, the Copa event was held that celebrated guilds operating within the Star Atlas metaverse. This event was also followed by 426LIVE launch events that introduced Star Atlas DAO, POLIS, and ATLAS locking. 
Wagner stated that the multi-year roadmap intends to build an ecosystem of innovation in the blockchain and beyond. 
The Pre-Season and Season 0 will begin and will consist of 4 phases. Release 1 consists of the showroom environment; release two includes the flight and race and multiplayer instances. Release 3 includes crafting building materials and ship cargo and hauling, and release 4 includes ECOS attack, looting, and skins. 
Seasons 1-8 include a range of things from mining careers to refueller and politician careers. Below, we've listed the images that state the outline of each season.