Sweat Economy is moving fast towards integrating NFTs into its M2E ecosystem. The app is teasing its first NFT genesis collection dubbed Sweat Legs. So far, no additional details have been released.
The Sweat team, however, says that it is working on the modalities of Sweat Legs, and soon enough, users around the world will get a rough idea of what this is all about.
Nonetheless, the launch of these NFTs is not a surprise. According to the Sweat Economy roadmap, the NFTs are supposed to be up and running by the end of 2022.
Not long before we reveal everything to you… 🚶💧🎁 pic.twitter.com/hWTWTgQlzd

— Sweat Еconomy 💧 (@SweatEconomy) November 11, 2022
Sweat Legs Genesis Collection: What We Know
As noted above, the Sweat Economy team has been relatively tight-lipped about what Sweat Legs is about. But based on previous discussions by the M2E app, we do have a few hints on what to expect.
First, we expect the Sweat Legs Genesis collection to be the most exclusive of all NFTs available for the Sweat community.
In addition to this, the NFTs should drop through a unique whitelist. The criteria for joining the whitelist will likely come out in the coming weeks.
Also, the NFTs will be a huge part of the Sweat M2E ecosystem. We anticipate that the genesis collection will, in particular, unlock several features and more utility in the move-to-earn app.
How is This Related to Sweat Hero
The possible launch of the Sweat Legs Genesis NFTs also comes a few weeks after the Sweat team announced Sweat Hero. This is an NFT-based P2E game that will be part of the Sweat Wallet.
Just like Sweat Legs, Sweat Hero is still under development. The only thing we know so far is that sales for its initial in-game NFTs will begin in early December.
Get ready for Sweat Hero, our head to head NFT game…

First rare NFT boxes on sale December!💧 pic.twitter.com/iMhJrlph0k

— Sweat Еconomy 💧 (@SweatEconomy) November 4, 2022
Nonetheless, it's hard not to tie these two together. In fact, it will not be a surprise if Sweat Legs is part of the initial NFT collection for Sweat Hero. Despite this, both these developments are crucial in expanding the Sweat ecosystem.
They represent a huge step in transforming the project from just an M2E platform to a more integrated web3 ecosystem. We also expect more details on Sweat Legs and its relation to Sweat Hero over the coming weeks.
Sweat Economy's Forays into NFTs
As the Sweat team gets ready to fully integrate NFTs into its ecosystem, it's worth noting that the move-to-earn app has actually been experimenting with NFTs in the last few weeks. This has largely been done as part of staking rewards in the Sweat Wallet.
For instance, the Sweat team is currently partnering with Near Starter to offer Sweat stakers 30 exclusive NFTs. These NFTs are dubbed Sweat Fishes. The 30 lucky winners who win them will also get $100 as part of the reward.
New collaboration with @nearstarter_fi 🚀

Together, we've created 30 unique SweatyFishes NFTs 💧

Win an NFT in Sweat Wallet now, plus $100 worth of $NSTARTx (@nearstarter_fi tokens!)

AMA with them on our Discord Thursday! (details below) pic.twitter.com/Th1ypFkGys

— Sweat Еconomy 💧 (@SweatEconomy) November 9, 2022
But that's not all. Sweat has also partnered with Few and Far to issue over 10,000 NFTs. In fact, this deal delivered the biggest NFT mint in the history of the Near protocol.
Sweat has also worked with Paras, a leading NFT marketplace on Near, to offer around 900 NFTs for Sweat Wallet stakers. These reward programs have simply given the Sweat team much-needed experience in its journey to becoming an integrated NFT project.
Why are Sweat Leg NFTs Crucial?
Sweat Economy has made it clear that it wants to offer its users more diverse ways to earn. For now, the only way to earn crypto is through movement. But as minting difficulty for the SWEAT token increases over time, the team will roll out more ways to earn crypto.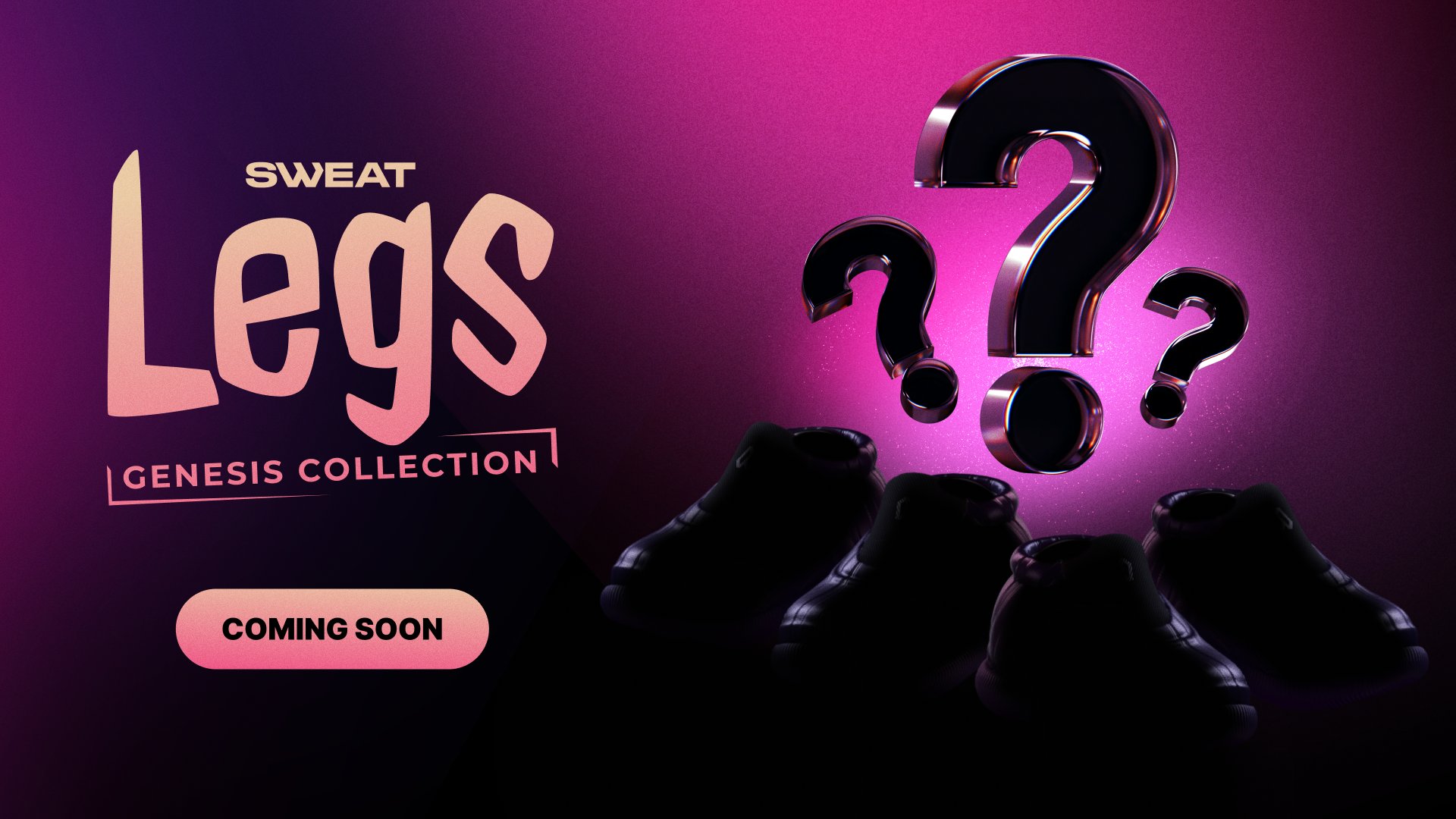 This is where the Sweat Legs NFTs come in. Users will be able to own these digital assets, and if they want, they will also be able to sell them across the Sweat Economy NFT marketplace.
Additionally, Sweat Legs will help expand the utility of the Sweat Wallet. As noted above, holders of these digital assets will likely be able to get access to the Sweat Hero casual NFT game. Here, they will get more opportunities to earn extra crypto.
Beating the 2022 Deadline
The ultimate goal for Sweat Economy is to have the NFTs and the casual game in place by the end of this year. There are only about two months left, and so far, it seems the move-to-earn project is well on track.
However, as we have seen with many web3 gaming projects, nothing is guaranteed. In fact, it is best to wait a few weeks to see if the Sweat team will release more details on the NFTs and the casual P2E game.
That way, it will be much easier to gauge how soon the project will be able to roll out these two crucial elements into the Sweat wallet.
But for now, Sweat Economy is living up to its promise. It's all about offering its users a more robust and well-integrated web3 fitness app.