Sweat Economy, the newest move-to-earn app in the market, has announced that it will be offering a FIFA 2022 World Cup package as part of its rewards for staking.  The app, which launched the SWEAT token earlier in September, hopes to use these new rewards to incentivize more users to stake their SWEAT.  The promotion is also open to all SWEAT token holders around the world.
⚡️Win an official @FIFAWorldCup package for Qatar 2022! ⚽️

Including:

🏟 Tickets

✈️ Flights with @qatarairways

⭐️ 5 star hotel

Stake in the Sweat Wallet app now to be in with a chance of winning this amazing reward! #walkintocrypto pic.twitter.com/mw48GoyEtI

— Sweat Еconomy 💧 (@SweatEconomy) September 19, 2022
The FIFA 2022 Rewards Package: How to Win
The FIFA 2022 reward package by Sweat Economy includes several perks.  But in a nutshell, it's an all-expenses paid trip to attend Qatar's FIFA 2022 World Cup.
The package will include tickets to all stadiums and all matches.  It will also have flights, courtesy of Qatar Airways, and paid accommodation in a 5-star hotel.
This year, the global soccer showpiece event will begin on November 20th and run till December 18th.  This is a slight departure from tradition.  All previous World Cups have been held in June through to July.
Nonetheless, to win this amazing package, users only have to stake SWEAT in the Sweat Wallet App and follow Sweat Economy on its social pages.
Introducing the SWEAT Staking Program
The SWEAT token staking program is a key part of the Sweat Economy roadmap.  In fact, when the move-to-earn project announced its TGE, where 24 billion SWEAT tokens were minted, the next natural step was to encourage staking.
To incentivize its growing community to lock in its tokens, Sweat Economy is offering a 12% Annual Percentage Yield APY.  However, users can make more returns by staking in some liquidity pools.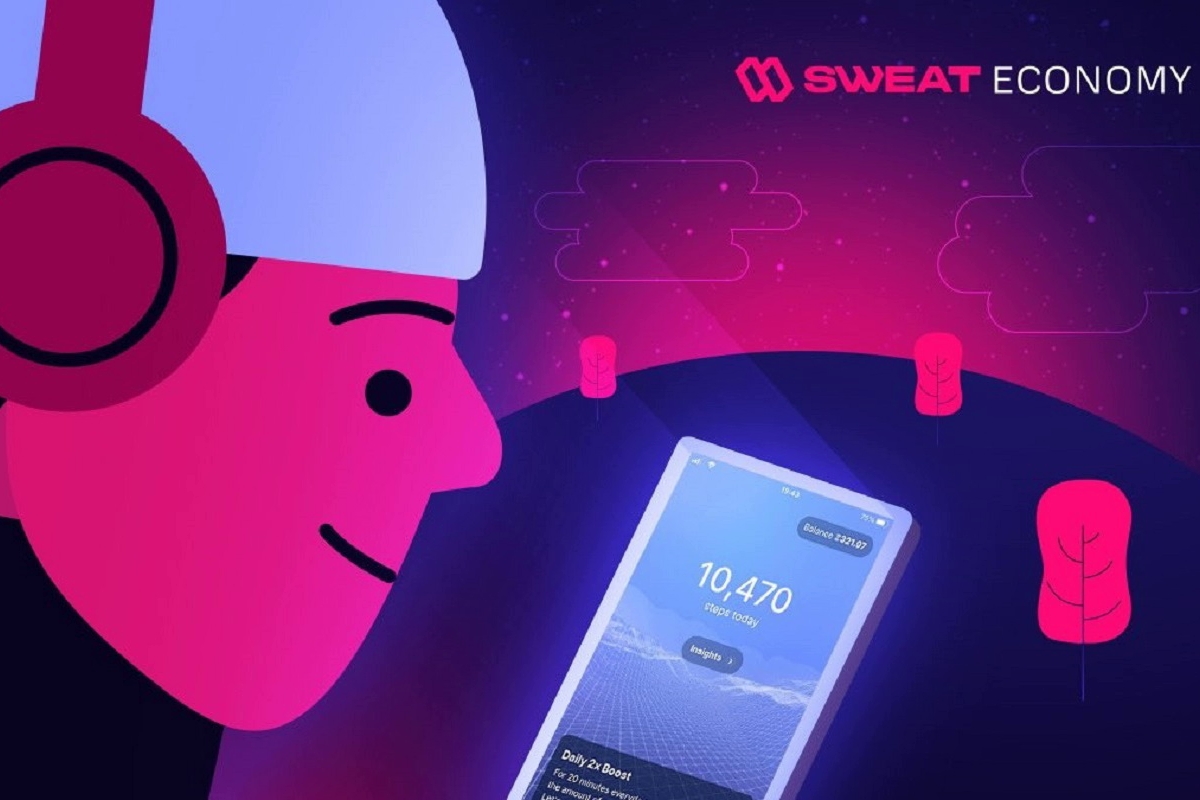 For example, for a limited time only, folks can triple their rewards when they stake with Ref Finance.  This limited offer will run for two weeks to mark the global launch of the Sweat Economy app.
Also, the FIFA 2022 World Cup package is not the only reward.  Stakers also get the chance to win several other goodies, including Macbooks, Air pods, and some gift vouchers.
The Sweat Wallet and Its Role in Sweat Economy
Before Sweat Economy became a web3 move-to-earn application, it was actually a very successful fitness app in many countries.  In fact, Sweatcoin, the web2 fitness app that transitioned into Sweat Economy, already had over 120 million users.
So, to try and bring a sizable chunk of this user base to web3 fitness, Sweat Economy decided to launch the Sweat Wallet in partnership with the Near Protocol.  The wallet is designed to serve as a gateway to the Sweat Economy ecosystem.
From here, users will not only be able to stake their SWEAT tokens, but they can also access additional services through the wallet.
At the Token Generation Event on September 12th, over 13 million registered Sweat Wallets were registered.  Most of these were created by the original Sweatcoin users who wanted to make the transition to web3.
SWEAT Token: Tokenomics Explained for Stakers
Sweat Economy's vision for the SWEAT token is quite lofty.  Nonetheless, the heart of the token utility is in the rewarding movement.  SWEAT Tokens can only be minted through verified movement in the Sweat Economy app.
Also, the SWEAT token is a NEP-141 standard, which means it is built on the Near Protocol.  However, there is a plan to launch a compatible ERC-20 token in the coming weeks.  This will help accommodate more users and add an element of cross-chain interoperability for the app.
Additionally, SWEAT is designed with a decreasing rate of inflation.  This means that as time goes by, it will become harder and harder to mint these tokens through movement.  In fact, after 2024, users will only be able to get 0.11 SWEAT tokens for every 1000 steps.
For now, 5000 verified steps on the Sweat Economy app will get you 1 SWEAT.  However, Sweat Economy intends to add other forms of movement to the reward system.
SWEAT Token Circulation and Supply
Unlike most other cryptocurrencies that have a limited supply, SWEAT is infinite.  In other words, users will continue to mint SWEAT forever.
This idea is based on the need to incentivize movement and exercise in the long run.  Nonetheless, SWEAT tokens can still be vested through staking.
As noted above, over 24 billion SWEAT tokens were minted in the first ever TGE.  The goal was to match new SWEAT tokens with all the Sweatcoins ever generated through the web2 app.
However, 4.8 billion SWEAT tokens were burned immediately after the TGE.  This was done to balance out the supply with earlier expectations of 21 billion tokens.  You can read more about this here.  It is also important to note that not all 21 billion SWEAT tokens at TGE are going into circulation.
In fact, only 10% of this figure is available in liquid form.  The rest are still locked and will be released over two years.  We are also learning that Sweat Economy intends to lead in burning SWEAT tokens in the future.
The Sweat Economy Foundation announced recently that it would dedicate 50% of its profits to burning SWEAT tokens.  In the long run, this could help SWEAT holders actualize real value as early investors.
💧🔥💧🔥
Sweat Foundation commits to use 50% of profits for buy and burn/yield.

🔥Mechanism to balance mass adoption with sustainable economics

🔥Removing SWEAT from circulating supply

Read 👀👇https://t.co/uwtRsCFD6D

Thread 🧵 1/2#walkintocrypto

— Sweat Еconomy 💧 (@SweatEconomy) September 15, 2022
Where Is the SWEAT Token Going?
The 12% annual yield on staking SWEAT tokens is quite good.  It is also standard across the crypto market.  But there is more potential for the token.
First, the Sweat Economy M2E movement has brought over 13 million people to web3.  No other app has single-handedly brought so many people into the blockchain world.
The sweat Economy also comes from a background of success in the move-to-earn space.  Although these milestones were achieved in web2, there is no reason why they cannot be replicated in web3.
This could set Sweat Economy, and by extension the SWEAT Token, on a new growth trajectory.