NFT games employ play-to-earn models that reward players with incentives that can be converted into real-world monetary value.  
As blockchain and NFT ecosystems grow at enormous speed, it can be hard to know which games are lucrative and worth the time playing. 
We compiled a list of games that are easy to learn and have a good potential of making money. 
Gods Unchained
The most popular tactical trading card game (TCG) on the Ethereum blockchain is Gods Unchained. The objective of the game is to defeat your opponents by building the best decks. 
The fantasy-themed game gives each player a free collection of 70 individual cards grouped into six premade decks to start with, so it's free-to-play. 
There're three modes:
The Solo mode in which you play alone against the computer and can familiarize yourself with the gameplay. 
The Constructed mode in which you compete with other players to gain experience points to level up and unlock card packs.
The Ranked Constructed mode. This is the mode you should qualify to benefit from the play-to-earn opportunities. If you win ranked games played against other players, you can increase your rating, unlock core cards, and earn Flux for card crafting. 
Your ability to make money playing Gods Unchained depends strongly on the amount of Flux you earn. That's why you should win as many ranked games as possible. Flux is a resource used to increase the value of the core cards by forging two identical ones into a more valuable new card. Note that for forging, you also need the game's native token GODS which is tradable on third-party exchanges like Coinbase and Kucoin. At the time of writing, its market price is $3.27.
You can sell your forged cards on the marketplace to earn real-world cash.  For example, a YouTuber made 100$ by forging cards, to give you an idea of how much you can make playing the Gods Unchained. 
Splinterlands
Another popular collectible card game in high demand is Splinterlands. It's based on the Hive blockchain. The game has a low-barrier entry model; you start playing with the $10 starter pack Summoner's Spellbook. 
It features a one-to-one battling game mode. To level up, you should win ranked battles, where you're matched with opponents with similar ratings. You must build competitive teams of cards to win and thus increase your rating. 
Winning games allows you to earn Splinterlands' native in-game utility token DEC (Dark Energy Crystals) which has a current value of $0.00381. Another way to earn DEC is to convert your unused cards into it. Rarer cards result in more DEC tokens. Depending on the time you invest in the game and how fast you develop your playing skills, you can expect to earn 30 to $125$ per day. 
DEC can be used to buy and sell game assets, so one way to earn with Splinterlands is to sell your cards on the marketplace. You can also swap DEC for other cryptocurrencies on DEXs like Uniswap. 
The Splinterlands team also issued a governance token, Splintershards (SPS). To encourage players to hold game assets over a long period of time, 400M SPS tokens are being airdropped daily based upon the amount and asset types players have in their accounts. You can view how much each asset type is worth in detail here. For instance, if you have 2000 DEC tokens in your account, you'll receive 2000 SPS airdrop points. 
TownStar
TownStar is a farming simulation game by Gala Games, built on the ethereum blockchain. Players grow crops on their farms and sell them to nearby cities to make money. 
To benefit from the play-to-earn model, you must finish the daily challenges of earning a certain number of stars in 24 hours. Once you do that, you're rewarded with the in-game token TownCoin which you can swap for other cryptocurrencies on Uniswap. TownCoin's value is $0.6081 at the time of writing.
To earn TownCoin, however, you must own at least one TownStar NFT. These NFTs are buildings and items that help you complete the daily challenges more efficiently, for instance, by providing more storage and production bonuses.
The prices of the NFTs differ considerably, some may be really expensive. That's why you should train yourself about the game's most efficient NFTs to make money without a high upfront investment. You can have an idea of how much TownCoin each NFT earns you in this spreadsheet and decide on which one to buy based on your budget. You can view the current prices on the Gala Games' official store or the secondary marketplace OpenSea. Check both sites before buying, because prices of the same NFT assets differ between the two. 
Alien Worlds
The space-themed NFT game Alien Worlds is based on the Wax blockchain. It allows players to make money by mining its native in-game token Trillium (TLM), the price of which is $0.157 at the time of writing. 
Players search and mine TLM on the lands of the seven planets of the gameplay. During your space journeys, there's also the possibility of discovering NFT assets that help you mine more TLM. 
How much TLM you can earn and whether you can get NFTs depends on the tools you use. At a given time, you can use up to three different tool types. 
Apart from lands and tools, another parameter that affects how much you earn is the time period you play. If you play in smaller intervals, you can earn more. However, this requires pressing the "mine" button every time. So, you should be always online. Players who have little time may prefer to play in larger intervals. 
You can use alienworlds.tools to calculate how much TLM and NFT you can earn with different tools and land combinations. 
Farmers World
Another popular NFT game that runs on the wax blockchain is Farmers World.
Three tokens can be used as resources to run the farm: FWW (Wood), FWF (Food), FWG (Gold). You can swap these tokens for other currencies on Alcor. 
This game's play-to-earn model works also through a mining process. Different types of tools help you mine these tokens. You can buy the tools on the wax blockchain marketplace Atomichub. Using a stone axe, for example, you can mine FWW.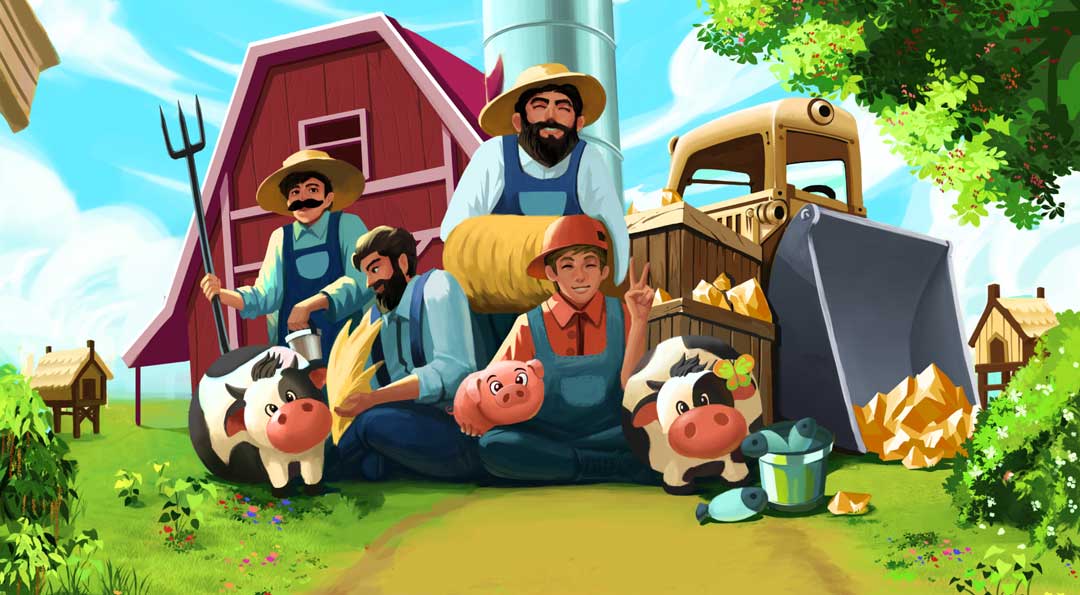 Once you invest in a few starting tools, you can build cow sheds for dairy products or grow crops to earn income. 
Conclusions
Blockchain-backed play-to-earn games offer a whole new world of income possibilities. 
In this article, we presented you with five such games with good earning potentials and low entry barriers.
Your success depends on how much time you're willing to spend playing these games to build up the skills that lead to high rewards in 2022 and beyond.