There are many NFT move-to-earn apps, including STEPN, RunBlox, CALO, and Sweatcoin. These are just a few from the popular trend. But, to earn more tokens, there are things you can do. This includes leveling up and purchasing NFTs, but it also includes finding the best strategy.
In this article, we will discuss the best strategies for these popular apps.
Top Move-to-Earn Strategies for STEPN
STEPN is a popular blockchain-based move-to-earn app. With a huge community, STEPN is the most popular move-to-earn app. To use STEPN, you simply need to download the app, purchase NFT sneakers, and get moving. You can use STEPN while walking, running, or jogging. We have covered STEPN a lot, but we've not discussed the best strategies a great deal.
One of the best strategies to earn money whilst playing STEPN is to trade GST. GST is the main game currency, and you can earn this by running, walking, or jogging. Once your sneakers allow you to earn GST, you can level up your sneakers, allowing you to earn even more. But, you can also buy GST tokens on the marketplace, selling at a higher price in correlation with the market trend.
Additionally, minting sneakers has proven to be a great strategy to earn money in STEPN. You can mint NFT sneakers yourself and generate a new branded sneaker. After this, you can either sell that sneaker on the marketplace, level it up and sell it, or use it yourself to earn more GST. This is a profitable strategy, and you should compare the marketplace prices for sneakers with minting costs to get the best deal. The quality and vintage quality will also affect the value of your sneakers. Of course, other profitable strategies include trading NFT sneakers, badges, and gems. These are valuable in-game items and can be exchanged for a good amount of money.
Top Move-to-Earn Strategies for RunBlox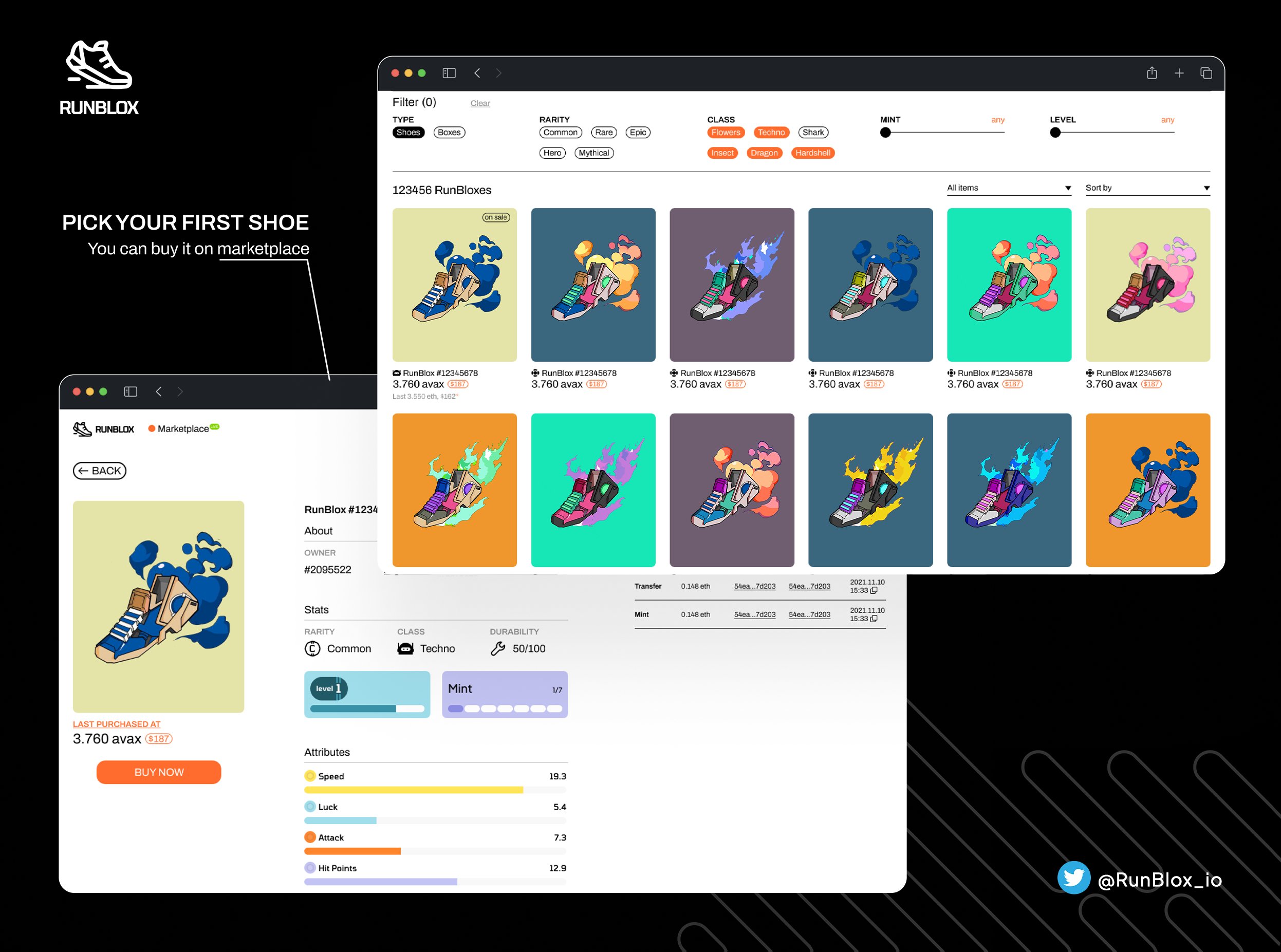 RunBlox works similarly to STEPN, and the NFT sneakers will act as your avatar in the game. Once you have started moving, your sneakers will acquire an earning cap and an energy cap. In order to make RunBlox profitable, you need to level up and invest in your sneakers. RunBlox involves other qualities, including attack, speed, and luck. The higher these attributes are, the more you can earn.
A good strategy to earn in RunBlox is to mint your sneakers. Minting works the same as STEPN, and you can create a vintage sneaker in order to trade it for more money. Additionally, RunBlox allows players to own more than one pair of sneakers, meaning you can double up your rewards when playing. Minting a common shoe with a rare shoe will assure you large earnings when playing the game, and you will also be able to win loot boxes. These boxes contain special awards, and the higher level your sneakers possess, the more rarity of boxes you will receive.
Top Move-to-Earn Strategies for SWEAT
Sweatcoin, part of the Sweateconomy, allows users to earn the game currency in exchange for movement. Sweat refers to the new crypto token released for the game. At this moment, there is no exchangeable token that has real-world value. Instead, Sweatcoin allows users to earn Sweat coins and exchange them for rewards. These rewards can range from fitness supplements, jewelry, and even electronics.
Sweatcoin uses your GPS, phone data, and movement sensors to track your steps. The app works inside and outside, meaning you can increase your rewards when your phone is in your pocket. For every 1,000 steps, you earn 1 Sweat coin. Although this does not sound like a lot, a popular strategy is to level up your rewards by subscribing to the app and becoming a shaker, quaker, or breaker.
Becoming a shaker, quaker, or breaker will cost you a certain amount of Sweat coins a month. However, this strategy is guaranteed to earn you more sweat coins. As a shaker, you will spend 5 sweat coins a month, but you will be able to earn more than 10 sweatcoins per day. As you reach the top level, the breaker subscription, you will be able to gain a maximum of 20 sweatcoins a day. Again, this does not sound like a huge amount, but a lot of rewards cost you between 100-500 sweat coins, so you will be able to increase the number of rewards you can redeem.
Top Move-to-Earn Strategies for CALO
CALO Metaverse is a move-to-earn app that allows users to earn FIT tokens by using NFT sneakers. You can walk, run, jog, and complete challenges with CALO. Aside from moving, the challenges can help you earn more tokens that you can exchange. The CALO token is distributed through user challenges, and this will give you bonus rewards.
The CALO app offers a Gacha box randomly allocated to you while you are moving. Although this is not a strategy, it is filled with stones from levels 1-3. These boxes can help unlock items or NFT items with brands. Earning Gacha boxes can level up your rewards by a significant amount. The Gacha box quality will increase if your sneaker level is high. For example, your rewards will be minimal if you have a level 1 NFT sneaker. Now, if you spend a lot of time walking and earning and decide to invest in your sneakers, you can earn more. Getting your sneakers to level 5 will make your Gacha box rewards more valuable. You can exchange these rewards for money on the marketplace. This is a good strategy to earn more tokens using CALO.
The challenge game mode is also a good strategy to earn more rewards. Although still in development, this gameplay mode means there are weekly and monthly strategies. If you have sneakers of a higher level, you can earn more tokens. The leaderboard will present the prizes, and the top percent of winners will receive a large pool of FIT and CALO tokens and a gold NFT medal. Although there are no clear strategies for CALO, different types of exchangeable rewards allow you to earn more money.
Final Words
CALO, Sweatcoin, RunBlox, and STEPN are all popular move-to-earn apps. STEPN has more strategies, whereas apps such as CALO and Sweatcoin may take a bit longer to figure out. All of the apps offer higher rewards based on your NFT sneaker levels. This is an excellent way to make good passive income from these games. After all, the more you move, the more you earn.