Gary Vee's NFT project has evolved from hand-drawn characters to cartoons. Now, he's releasing real-life plush toys in the form of NFTs. Let's learn more about Gary Vee and his mission into the crypto world. 
Who is Gary Vee? 
Gary Vee, short for Vaynerchuk, is a Belarusian-American entrepreneur and investor. With a huge portfolio of investments and projects, Gary has created several versions of success for himself, from bestselling books to hand-drawn characters. 
Gary is the Chairman of VaynerX, CEO of VaynerMedia, and CEO of VeeFriends. Aside from these astounding achievements, Gary is also a 5 times New York Times best-selling writer. In addition, he has spent the past few years producing videos for his social media platforms.
These videos are often daily documentation of his life, with daily vlogs titled 'DailyVee' and 'WeeklyVee'. Not only this, but Gary also hosts Q&A sessions known as 'AskGaryVee' and 'Tea with GaryVee', where he speaks with other business industry experts. 
What is VeeFriends? 
VeeFriends were created with the vision to bring Gary's ambitions to life. Building a community around his creative and business passions with NFTs is a priority for Gary.
These NFTs are not just a 'trend' but a real passion for Gary. With a huge interest in NFTs and Web3, Gary aims to consult, invest, advise, and speak about NFTs consistently to the wider community, as well as VeeFriends fans. 

VeeFriends is Gary's NFT collection, and it's regarded as a transmedia, entertainment, and events company. The NFT collection consists of 283 characters hand drawn by Gary. All of these characters are based on qualities and traits that Gary loves and aims to inspire in others. 
The NFT collection is minted on the Ethereum blockchain, creating excellent opportunities for utility, collectibility, and community. From simple paper doodles to NFTs, the VeeFriends collection yields more than $300 million of trading volume, leading to some amazing partnerships and conventions. 
VeeFriends NFT Toys Coming to Macy's
Gary's VeeFriends NFTs will be released as plush and vinyl toys towards the end of October. The toys are going to be released through Macy's through their Toys 'R' Us brand, which is set to relaunch in all Macy's in the United States. 
The real-life NFT toys are based on ten of the VeeFriends characters, and each one is different. They were designed by Gary in collaboration with entertainment startup Toikido. The announcement is the very first series of plus collectible characters. 
The collection launches on October 17th, and it plans to successfully bring NFTs to life. In the collection, each plush collectible VeeFriend will have a QR code printed onto it. This QR code enables you to see a 3D animated short film or a character song. This totally depends on the plush toy you have, and there are six main characters to choose from. 
Andry Kraniak, President of VeeFriends, spoke about how to get hold of the plush toys. 
"VeeFriends aspires to bring value to our community — selected holders will get first access to claim the collection, and all of our community will get priority to RSVP at the in-store events. It's just one more way we want to connect with our community and show them the development of the IP behind the characters."
Each one of these characters has a unique story and a bespoke trait. Some of these include common sense, gratitude, and willfulness. Let's find out more about the characters. 
VeeFriends Characters
As mentioned above, these NFT toys are designed in the theme of ten of the VeeFriends characters from the broad NFT collection. 
Featured plush characters include: 
Common Sense Cow

Willful Wizard

Practical Peacock

Gratitude Gorilla

Genuine Giraffe

Be The Bigger Person
They're priced at $25, and they're 10" in size. 
VeeFriends figure collectibles: $30 for a 6" figure. 
In addition, there will be the VeeFriends blind box, available from October 17th. This box includes the same characters, with four extra characters you could end up with. Priced at $10 for a blind box, you're entitled one 2" figure per box. The unique characters include: 
Adventurous Astronaut

Patient Panda

Empathy Elephant

Heart-Trooper
Previous VeeFriends NFT Collections
This is not the first NFT collection from the mind of Gary Vee. Earlier this year, VeeFriends released its Series 2 NFT collection. Previous to this, there were 10,255 Ethereum NFTs in 2021, and they were created directly from Gary's doodles.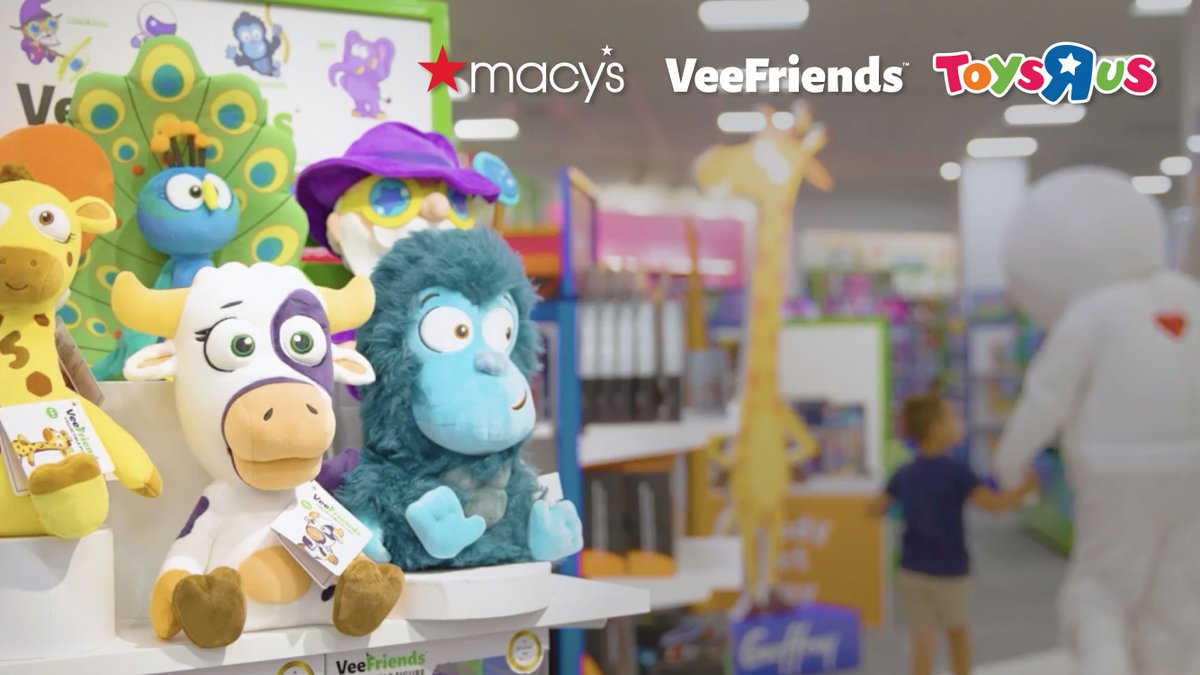 The Series 2 NFTs consisted of 55,000 marker-based doodles NFTs with a more cartoon-like appearance. In order to show these NFTs, Gary hosted the Gary Vee NFT Show through his event VeeCon. This went ahead in several states and was a pretty successful event. 
How to Buy the Macy's NFT Toys
So, the collection will be available for pre-order from October 4th and will become available in-store from October 17th. So, if you're interested in these toys, you can pre-order online, and buy them in-store in Macy's.