Fortress Blockchain Technologies, a web3 infrastructure development start-up, has raised $22.5 million in seed capital. Based in Las Vegas, the company aims to develop and deploy innovative financial services in Web3.
🚨 Fortress Closes Seed Funding Round of $22.5M 🚨

Hit the [LINK IN BIO] to read more below about our most recent #funding round and how we are expanding our team & products to transform #Web3, and the way we conduct #business and engage with consumers today. pic.twitter.com/8sLbiXhrvA

— Fortress.XYZ (@FortressXyz) August 9, 2022
Fortress is also working to build a suite of API – Embeddable web3 products, including wallets to support digital collectibles. The $22.5 million will help expand its B2B business and scale growth in the near term.
More Details About the Seed Round
The $22.5 million seed round was led by Ayon Capital and Soaring Investment Management, a company associated with Fortress's CEO Scot Purcell. There were also some contributions from unnamed angel investors.
This is the first major funding round for Fortress Blockchain Technologies. The company intends to use the money to, first of all, expand the development of its propriety web3 technologies in the long term.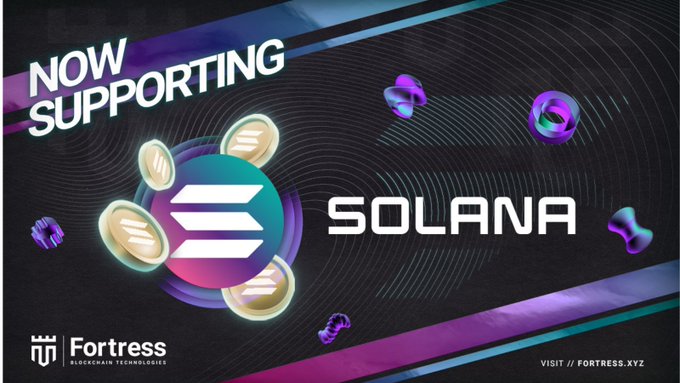 The firm is also investing heavily in creating financial regulatory technologies under its wholly owned subsidiary Fortress Trust. We are also learning that the Vegas-based startup is planning to expand its B2B sales team as it looks to expand its technology to a broader market.
For now, Fortress has 85 full-time employees. This number will likely jump significantly through this latest capital injection.
What Does Fortress Blockchain Technologies Do?
Fortress Blockchain Technologies offers foundational web3 infrastructure for NFTs and crypto innovators. The firm does this through a suite of API-enabled products that make it easier for developers to create and deploy web3 solutions.
Fortress has also developed cross-chain technologies that allow clients to launch, manage, and organize NFTs across several different chains. The firm is also offering plug-and-play payment solutions for businesses that want to venture into web3.
Also, Fortress has developed an all-inclusive NFT studio that allows brands to create NFTs in minutes. Ultimately, the firm wants to become a one-stop-shop web3 infrastructure with growing incentives for developers around the world.
The Race to Dominate Web3 Infrastructure
Web3 infrastructure will provide the basis for the adoption of innovative web3 technologies built through DApps. A lot of companies are racing to dominate this space and Fortress is just one of many.
The main key to web3 infrastructure is nodes. This is how web3 apps can communicate with the blockchain. So, to be able to create a robust environment for web3 apps, the world needs massive investment and deployment of node infrastructure.
But there is a flip side to this. Running a node is energy intensive and can cost a lot of money. Besides, although the existing node infrastructure right now can serve millions of people, it remains highly centralized.
80% of all web3 nodes are based in the United States and Germany. For this industry to scale fully, we need to start seeing a more democratized infrastructure regime spread all over the world.
Despite this, the web3 infrastructure development sector remains highly competitive. Although some companies like Ankr and QuickNode are racing to dominate the space, newer more ambitious entrants are still rising.
The Biggest Challenges for Scaling Web3 Infrastructure
Innovation around web3 technology is growing. More startups are pushing the bounds of this nascent era of technology but despite this, several challenges still remain. First, one area that has hampered growth is web3 interoperability.
You see, every blockchain is built with its mechanism of validating transactions. For example, an NFT built on Solana cannot be transacted on Ethereum directly. Until now, blockchain bridges remain the most popular interoperability solutions across web3 infrastructure.
And while these solutions have done well to fill in this gap, they have been targeted by hackers at unprecedented levels. This analysis by CNBC found that hackers have stolen well over $1.4 billion from blockchain bridges. This creates massive counterparty risks for people who want to do business in the web3 era.
Also, making the transition from web2 to web3 is not necessarily easy for the average person. According to Find Stack, about 68 million people use web3 right now. Now compare this to the 5 billion people who use the normal web2 internet.
For web3 to become dominant, the barriers of entry need to be lowered significantly. In fact, infrastructure projects that provide plug-and-play solutions will likely scale faster.
Growing Financing
The Fortress Blockchain Technologies $22.5 million seed round is a sign of how money has been flowing towards major web3 infrastructure projects. And it's not just about specific projects per se. There are funds now that are being set up to support innovative companies around this area.
For example, in June, Binance announced a new $500 million fund that will target promising web3 startups. Also, LongHash Ventures, a web3-focused investment fund recently announced a $100 million fund for similar projects.
LongHash had initially created a $15 million but has decided to up the ante in anticipation of significant growth in this space. There have also been a few web3 infrastructure companies that have raised significant amounts of money.
InfStones for example, a Dallas-based startup, raised $66 million in June barely weeks after raising $33 million in the first round of funding. This brings total investment in the firm to around $100 million.
There is growing excitement about these startups and more investments will likely pour in moving forward. But money alone will not address the innovation gap between web3 and web2. It will take time before these technologies become globally accessible.