Splinterlands is a popular NFT-based game consisting of tournaments and quests. The game is perfect for people of all levels, whether you are a complete beginner or an expert. 
Similar to games such as Axie Infinity, Splinterlands is about the battle. When you get started with Splinterlands, you must build a collection from the Splinterlands catalog. But, what is the best starter build for Splinterlands?

First, let's get into the basics of the game…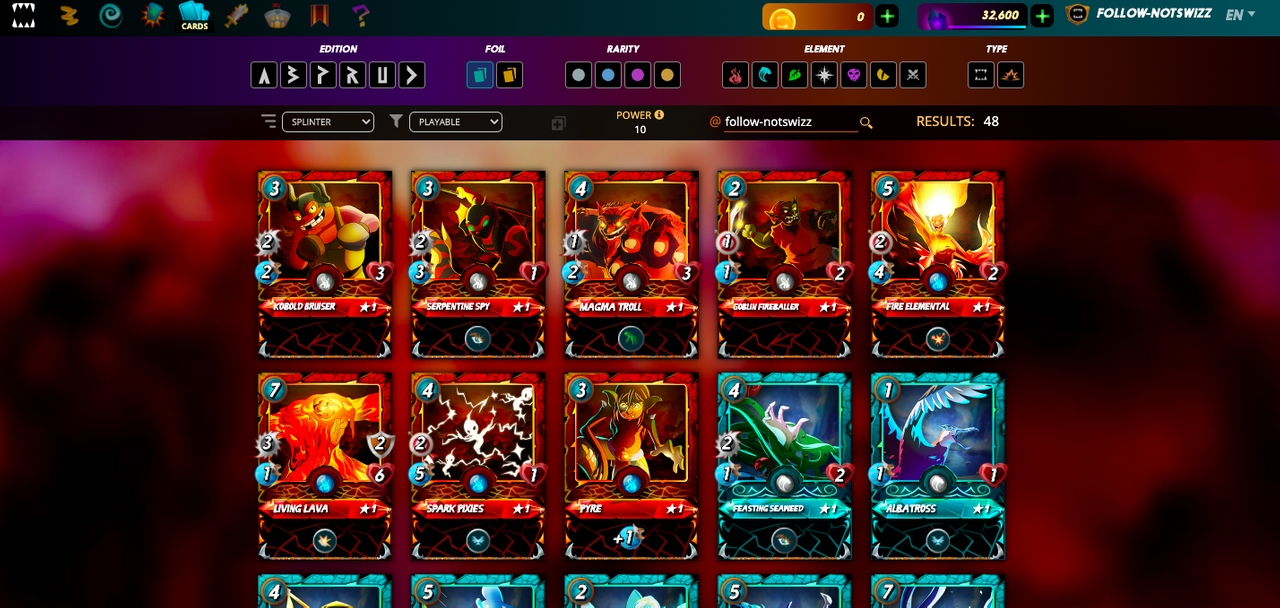 What Is Splinterlands?
Splinterlands is a free to play blockchain card-trading game. It is pretty simple, and the game operates on the Hive blockchain. When you play Splinterlands, you fight against mythical creatures and monsters to gain in-game rewards. 
Splinterlands has attracted a card lovers community, due to the virtual card trading style of the game. As of now, the game has almost 300 different cards to combine and build an ultimate deck. If you are brand new to this game, it is pretty simple to understand, and get into. 
In its basic terms, you collect digital cards. You can buy packs of cards, or simply use the free cards that are provided for you. Once you have your cards, you can create a team using your chosen cards. Once you have chosen a team for your cards, you get into your strategy-driven battle.
Splinterlands Cards

Each card in Splinterlands is an NFT, meaning they have different values and attributes during and after gameplay. You can also swap and trade your cards to get better ones in your build.
So, as a beginner player, you will begin with the same set of cards as every other beginner player. These cards are free, and they give you a good basis to build a good card collection. To add to your card builds, you can purchase more. Each card pack purchase you make will contain one rare Splinterland card, meaning you can win more battles.
PeakD explain card rarities quite nicely in this article.
Additionally, you can buy NFT Splinterland from the online marketplace, where you can weigh up their attributes and abilities. 
So, what cards are there in the game?
As many other play to earn NFT games go, the cards (NFTs) are categorised into common, rare, epic, and legendary. For cards like legendary, you have a tiny percentage of ever finding one. However, each card pack contains one rare card, which is pretty good to build up your collection. 
Not only are the cards categorised into rarity levels, but also editions. For example, there are five different editions. This includes:
Azmare Dice (special edition cards purchased with DEC tokens)
Alpha Edition Cards (valuable cards – can be converted into Beta cards)
Beta Cards (almost 1 million of these, includes summoners and monsters)
Promo Edition (Essence Orb pack, over 200,000 of them)
Untamed Edition (1.5 million from summoner to monster – not rare)   
Splinterlands Gameplay
Splinterlands gameplay is dynamic and fun, with many tasks to complete, as well as battles. You should set up a game plan before you start, though.
Quests
Part of the gameplay includes daily quests, and the more you complete and win, the better your chance of winning an NFT card. As a Splinterlands player, you will have access to one new quest every twenty-four hours. There are a few different types of quests, and we will look at these below. 
Splinter Quests
Splinter quests entail winning ranked battles using a summoner from the Quest splinter. If you can win using a splinter card, you have won the game. You can use an earth splinter, water sprinter, fire splinter, death splinter, life splinter, or dragon splinter. This game is about strategy, so you need to strategize what splinter cards you might use. For example, you would not want to use a dragon splinter without a dragon summoner. 
Ability Quests
Ability quests do not rely on splinters, but a specific ability on one of your cards. To beat your monster opponents, you need a monster with the dominating ability in your stack to win the battle. 
Splinterlands Battle
When you battle, you have to build and draft a team.
Once you know your team, you can choose wild or battle format modes. You should look at your team line up, including any splinters and elements that you are allowed. You will also be able to see summoners, and you need to choose one. By choosing a summoner card, you are finding out which monster card you can draft for the remainder. So, pick a summoner and a monster. The cards that will be summoned by the summoner will appear.
Best Starter Build for Splinterlands
Now we have a basic knowledge of how the game works, let's look at the best starter build for your battle. 
When it comes to cards, the game sticks to six classes that we spoke about above (fire, earth, water, life, death, and dragon splinters). For a good chance of winning the battle, you should check out these particular cards. 
Water 
In terms of water, you need a smart strategy, and water provides this. 
There are two water summoners, Alric Stormbringer and Bortus. Bortus is good for increasing magic damage, and Alric will decay your opponent's magic allowance. 
Fire
Fire, the most brutal element. These cards work against the life class, as well as shield tanks. 
Serpentine Spy is a good option, due to the low cost, and high opportunity ability. Additionally, Fineas Rage is great for a starter's build. The card has a high speed, as well as a strong power shot. This is also a beginner-friendly card. 
Earth
Earth cards are necessary for a strong, reliable battle. 
The Stole Golem card is one of the best cards to have in your starter build. This card costs less, and it has a strong shield ability, perfect to block your opponents. Additionally, the Wood Nymph card is a healer. This means these cards have a high health level, but they quickly deplete. They are cheap to buy, and will protect your other cards. 
Life
Life cards are difficult to play, but strong when they are played right. 
The Feral Spirit card is cheap, with a high speed, and dodging ability. This can block any opponents, and their potential damage. The new Venari Crystalsmith card is high in health, with a good speed and damage control ability. 
Death
Death cards have high strength and health. Using a summoner will also reduce the melee damage done to your opponent. 
There is the Death Elemental which has a sniper ability, or the Soulstorm which is cheap, and high in strength. To add, the Soulstorm card has flying abilities, which just adds to the awesomeness. 
Final Words
There are hundreds of cards to choose from when playing Splinterlands. Every card has its own abilities, and no cards are entirely neutral. There are cards that will benefit you as a beginner in Splinterlands, and some are pricey incredibly well. The best starter build for Splinterlands is highly debated, but with these suggested cards, you will have a great chance of winning. We hope you have learnt some helpful tips from our article!